Need a quick snack for game day or a fast snack for the kids? Try these Easy Cauliflower Tater Tots! All you need is five ingredients, a blender and maybe a dipping sauce or two.
Yes, it's possible to recreate the texture of hot, greasy, addictive tater tots without using a single white potato. In this recipe, cauliflower is the perfect stand-in for a Paleo-friendly appetizer, snack, or side. We knew cauliflower could do so much more than rice!
These Cauliflower Tater Tots are perfect for kids and picky eaters alike. Enjoy! Tip: Serve with some homemade Creamy Cauliflower Dip.
Add power-packed superfood veggies to every meal with these easy cauliflower recipes.
Click here to get your FREE copy of our Cauliflower Recipe Guide!
Deanna Dorman
Easy Cauliflower Tater Tots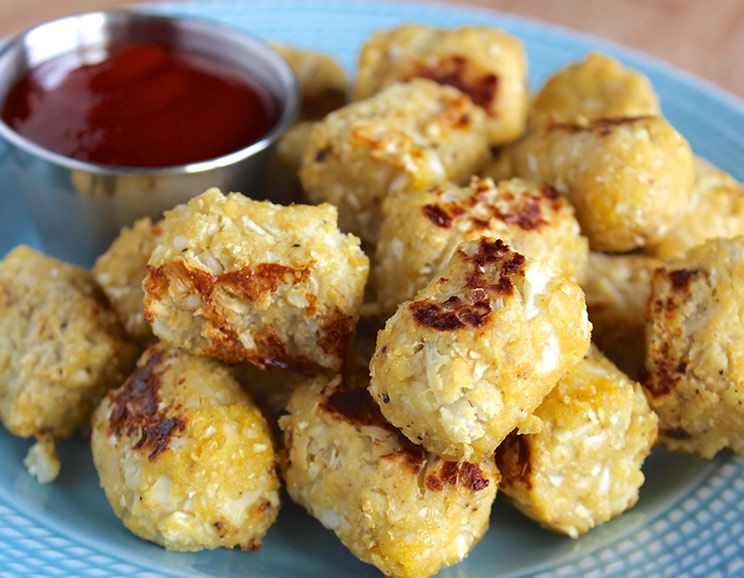 Cook Time:
25 mins
25 minutes
Prep Time:
10 mins
10 minutes
Easy Cauliflower Tater Tots
Cauliflower replaces potatoes for a perfectly Paleo appetizer, snack, or side!
Ingredients
½ head large cauliflower, cut into florets

2 eggs, lightly beaten

¼ cup coconut flour

½ teaspoon garlic powder

¼ teaspoon onion powder

salt & pepper to taste
Instructions
Preheat oven to 400 degrees. Lightly grease a baking sheet with the coconut oil.

Steam the cauliflower florets in a large saucepan with an inch or so of water for 5 minutes until tender, but not mushy.

Place steamed cauliflower in a food processor and pulse a few times until the cauliflower is about the size of rice OR finely chop the florets until the size of rice.

In a medium bowl combine all ingredients and mix well.

Scoop out mixture 1 tablespoon at a time and shape into oval shapes. Place tots on the prepared baking sheet and bake for 20-22 minutes, flipping halfway through.
Watch the Video Recipe Below!
*Oops! We mixed the garlic with the coconut flour in this video. So unless you like your tater tots extra garlicky, make sure to put ¼ cup coconut flour instead + just add ½ teaspoon garlic powder!
(You'll Also Love: Buffalo Cauliflower Bites)