Make dinner a cinch with this crunchy Almond Crusted Chicken and Broccolini you can make in one pan!
No need to use heaps of oil to achieve a crispy chicken that satisfies. Instead, opt for nutrient-rich nuts that effortlessly create a crunchy coating for chicken. This recipe is ready to serve in one hour and works great for busy nights!
When it comes to creating Paleo bread crumbs (that don't skimp on crunchy texture), nuts are a no-brainer. You can use anything from macadamia to walnuts, or even almonds. Simply combine them in a food processor and pulse into fine breadcrumbs. To cut back on prep time, prepare the almond coating ahead of time and store in a dry cool spot for up to two weeks.
Love slow cooker recipes?
Click here to get your FREE copy of our delicious Slow-Cooker Recipes!
When it comes to seasoning these almond breadcrumbs, let your imagination run wild. Smoked paprika will add a savory barbecue flavor, while dried dill and onion powder taste similar to ranch dressing. Because almonds have a mild flavor, they lend themselves to all your favorite flavors.
To get started, combine the almonds and dry spices in a food processor. Finely crumble the almonds into breadcrumbs and transfer to a shallow dish. In a separate dish, whisk the egg. For convenience, set up your workstation in the order the coating will be applied (chicken, egg wash, bread crumbs, baking pan).
Next, dunk your chicken breasts in the egg wash and shake off any excess. Transfer to the breadcrumbs and dredge in the almond coating. Place onto a baking sheet and repeat with remaining chicken, then bake for 25 minutes. While the chicken bakes, prepare the broccolini. Feel free to also sub in broccoli florets or broccoli rabe, if you prefer. Toss the broccolini in melted ghee and garlic, then place onto the baking sheet with chicken. Return to the oven for 20 minutes and serve warm!
Jennafer Ashley
Almond Crusted Chicken with Broccolini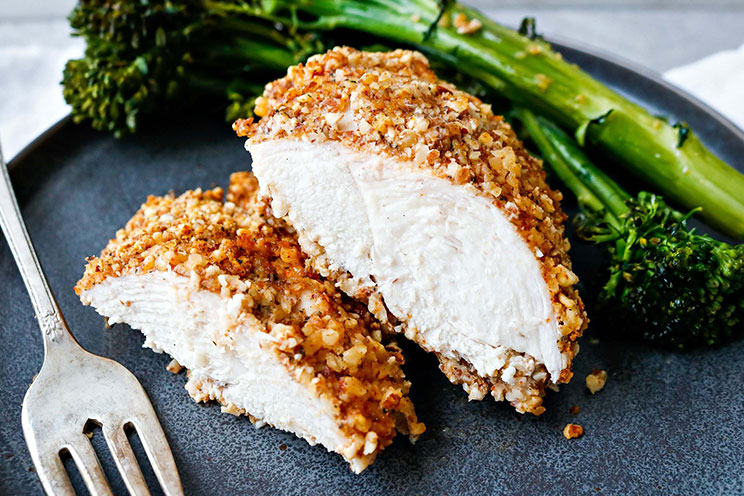 Cook Time:
45 mins
45 minutes
Prep Time:
15 mins
15 minutes
Almond Crusted Chicken with Broccolini
Make dinner a cinch with this crunchy almond-crusted chicken and broccolini you can make in one pan.
Tools
Large baking sheet

Parchment paper

Food processor

Medium mixing bowl
Ingredients
1 cup raw almonds

1 t paprika

2 t dried basil

1/2 t onion powder

1/4 t sea salt

1/8 t black pepper

1 large pasture-raised egg

4 (6 oz) chicken breasts

12 oz broccolini

1 T melted ghee

1/2 t minced garlic
Instructions
Preheat oven to 350ºF and line a baking sheet with parchment paper.

In a food processor, combine almonds and dry seasonings. Pulse until almonds are crumbled into breadcrumbs for about 1 minute. Transfer mixture to a shallow plate.

In a separate shallow dish, whisk egg. Blog any excess moisture from chicken breasts and dunk each into egg wash. Shake off excess egg and dredge the chicken in the almond mixture on all sides. Place onto the baking sheet and bake for 25 minutes.

In a medium mixing bowl, toss broccolini with ghee and garlic. Remove chicken breasts from oven and use tongs to move chicken to one side. Add broccoli to pan and return to the oven for an additional 20 minutes.

Serve warm and enjoy!
Looking for Paleo ingredients? Here are a few we'd recommend:
Raw almonds (NOW Foods)
Paprika (Simply Organic)
Onion powder (365 Everyday Value)
Coarse sea salt (AztecSeaSalt)
Black pepper (Frontier)
Ghee (Pure Indian Foods)
(You'll Also Love: Winner Winner Cashew-Crusted Chicken Dinner
)