This Paleo Creamy Chicken Salad is packed with a spicy flavor. A delicious, no-cook meal for warm weather!
Have leftover chicken on hand? Roasted, grilled, baked – whatever chicken you have, you can easily turn it into a creamy Paleo-friendly chicken salad with a hint of spice! Celery, sliced grapes, paprika, horseradish and Paleo mayo are the only ingredients you need to make this quick chicken salad.
The best part? There's no cooking involved! Just mix and stir! The ingredients come together in just a few minutes, and it stores beautifully in the refrigerator for days. Don't be afraid to leave the mayo in the salad either. The longer the ingredients stay together in the refrigerator, the more the sauces and spices marry, deepening the flavor!
Love slow cooker recipes?
Click here to get your FREE copy of our delicious Slow-Cooker Recipes!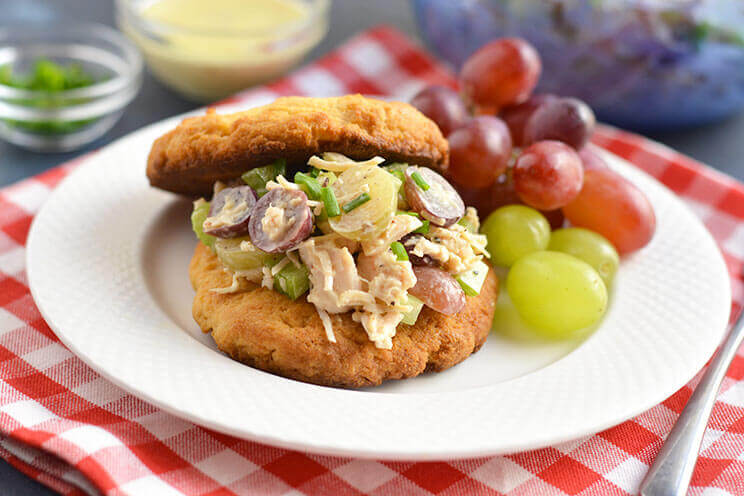 Want to take the recipe up a notch? Add more fresh veggies and spices to the recipe. Not only is it a smart way to use old vegetables, but also an easy way to add more of them into your diet.
A rainbow of bell peppers and cucumber are some favorite additions along with chili powder and cayenne pepper to spice things up. Don't be scared to use other spices and experiment with the flavors either. The recipe is adaptable to whatever flavors you like, perfect for accommodating picky eaters.
Serve this creamy chicken salad for BBQs, family get-togethers, quick late night meals or a healthy lunch to take to work or school.
Serve your chicken salad alone, on a bed of greens, or for a real sandwich-like meal, in between two slices of coconut flour biscuits or almond flour bread. Make sure you save extra grapes to serve on the side. They add a nice cool effect to this spicy dish.
Megan Olson
Easy Creamy Chicken Salad Recipe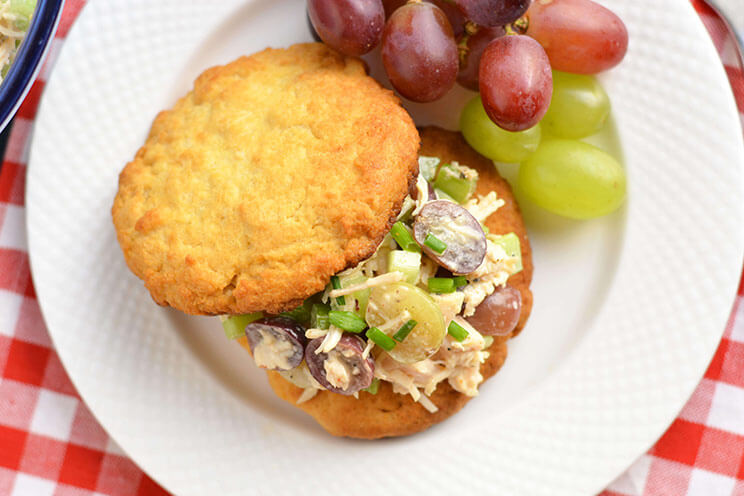 Prep Time:
20 mins
20 minutes
Easy Creamy Chicken Salad Recipe
This Paleo Creamy Chicken Salad is packed with a spicy flavor. A delicious, no-cook meal for warm weather!
Ingredients
1 lb pre-cooked chicken, shredded

1 cup seedless grapes, sliced in half

2 celery ribs, diced

½ t paprika

½ cup Paleo mayo

1 T horseradish

2 T chives

Pepper, to taste
Instructions
In a small bowl, combine Paleo mayo, paprika and horseradish. Set aside.

In a large bowl, combine the chicken, grapes and celery. Sprinkle with pepper to taste.

Pour the mayo sauce over the chicken and toss to combine.

Place the mixture in the refrigerator for 30 minutes to marry the flavors.

Serve alone, on a bed of greens, or in between two slices of Paleo bread.
Tip: Check out our recipe for Paleo mayo here.


(You'll Also Love: Healthy Grilled Cheese Sandwich Recipe)
Lose weight, fight inflammation, and soothe your digestion with delicious meals like juicy skirt steak with cucumber & radish salad, succulent pulled pork, and more!
FREE Cookbook:
80 Gourmet Paleo Recipes from
a Professional Chef trained at Le
Cordon Bleu in Paris
FREE Cookbook:
80 Gourmet Paleo Recipes
from a Professional Chef
trained at Le Cordon Bleu
in Paris