With a rainbow of antioxidant-rich veggies, these beef and shrimp spring rolls are a feast for the senses.
This recipe replaces traditional rice paper with collard green leaves to keep things light and healthy. Collards are filled with vitamin K and are hearty enough to wrap up fresh meat and veggies to the brim! Thinly sliced matchstick carrots take the place of vermicelli noodles, while purple cabbage adds an abundance of immune-boosting antioxidants, and cucumber offers a burst of refreshing flavor.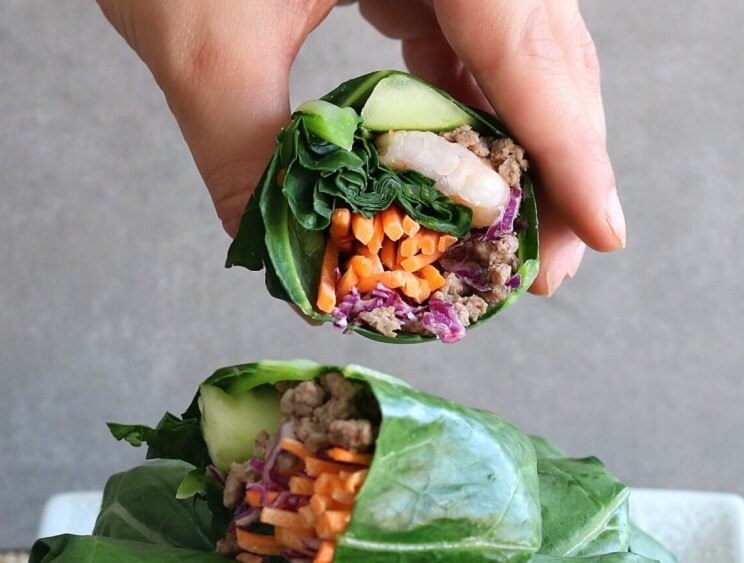 Since you can't have shrimp spring rolls without something to dip them in, a creamy almond butter sauce does the job. It's made with tangy fresh lime juice, toasted sesame oil and coconut aminos, for a decadent sauce that can also be served over veggie noodles or as a marinade for grilled chicken.
Want to go Paleo? Not sure where to start?
Start with this FREE Paleo For Beginners Guide Today!
Start by removing the stems of the collard green leaves with a knife, and submerging them into boiling water. This quickly tenderizes the collard greens just enough to make them foldable and less tough. Pat the leaves dry and fill them with the cooked ground beef, shrimp, the veggies and fresh sprigs of cilantro. If you want, you can also add fresh chopped garlic and ginger for even more flavor. Fold the sides of the collard leaves in and roll from the bottom up, tucking firmly. Slice the shrimp rolls in half and serve alongside almond sauce for dipping.
For more Asian-inspired meals, try one of these Paleo recipes:
Jennafer Ashley
No-Rice Beef and Shrimp Spring Rolls with Almond Butter Sauce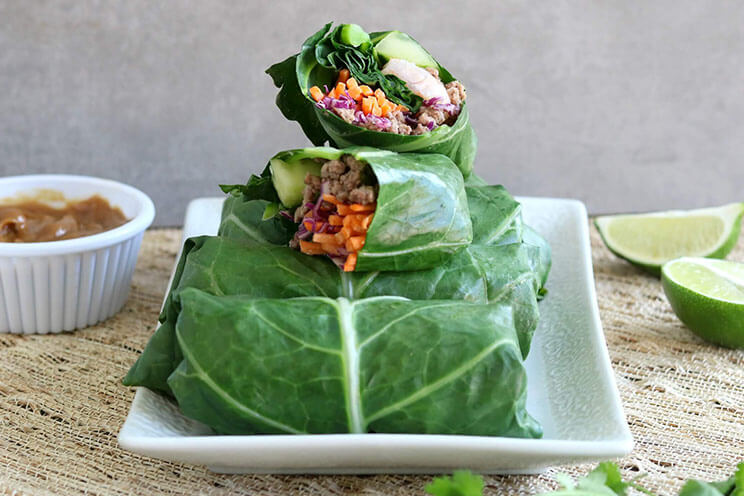 Cook Time:
13 mins
13 minutes
Prep Time:
15 mins
15 minutes
No-Rice Beef and Shrimp Spring Rolls with Almond Butter Sauce
With a rainbow of antioxidant-rich veggies, these beef- and shrimp-packed spring rolls are a feast for the senses.
Tools
Stock pot

Tongs

Skillet

Paper towel

Wooden spatula

Whisk

Sharp knife
Ingredients
For the Spring Rolls:
6 collard green leaves, stems removed

1 T coconut oil or butter

1/3 lb ground grass-fed beef

1/2 cup purple cabbage

1 cucumber, sliced into 1/2 inch thick sticks

1 cup matchstick (thinly sliced) carrots

6 sprigs cilantro

1/3 lb small shrimp (cooked, peeled, deveined, tails removed)
For Almond Dipping Sauce:
1/2 cup creamy almond butter

2 T lime juice

1 T coconut aminos

1 T toasted sesame oil
Instructions
Fill the large stock pot with water and bring it to the boil. Turn the heat off. Place the collard greens in the hot water and submerge them using the tongs. After 2-3 minutes, use the tongs to remove the greens, and pat the leaves dry with the paper towel.

Melt the coconut oil or butter in a skillet over medium heat. Add the ground beef and cook for about 10 minutes, until lightly browned. Use the wooden spatula to break the beef into small pieces.

Lie the collard greens flat with the dull side facing up, and assemble each with veggies, a sprig of cilantro, 2-3 shrimp and 2 tablespoons ground beef. Tuck the sides in and roll lengthwise. Slice in half with a sharp knife.

Whisk together the ingredients for the Almond Dipping Sauce in a small bowl. Serve the wraps alongside the sauce for dipping.

(You'll Also Love: Spicy Avocado Shrimp Tower)
Lose weight, fight inflammation, and soothe your digestion with delicious meals like juicy skirt steak with cucumber & radish salad, succulent pulled pork, and more!
FREE Cookbook:
80 Gourmet Paleo Recipes from
a Professional Chef trained at Le
Cordon Bleu in Paris
FREE Cookbook:
80 Gourmet Paleo Recipes
from a Professional Chef
trained at Le Cordon Bleu
in Paris