Sizzle garlic shrimp in buttery Hawaiian-inspired sauce for a flavorful, one-pan meal!
You only need a few ingredients, a blender, and a skillet to cook up this crazy addictive shrimp. The hardest part is waiting for the shrimp to marinate in a lemony mayo before tossing it onto a hot skillet. What are you waiting for?
How To Make It Authentic
For this garlic shrimp recipe, we draw inspiration from the food truck culture within Hawaii's north shore region of Oahu. This area is known for cooking up buttery shrimp in a mixture of garlic, mayonnaise, and zesty lemon juice.
Want to learn more about Paleo and how it can help you?
Grab our FREE "What Is Paleo?" Guide by Clicking Here!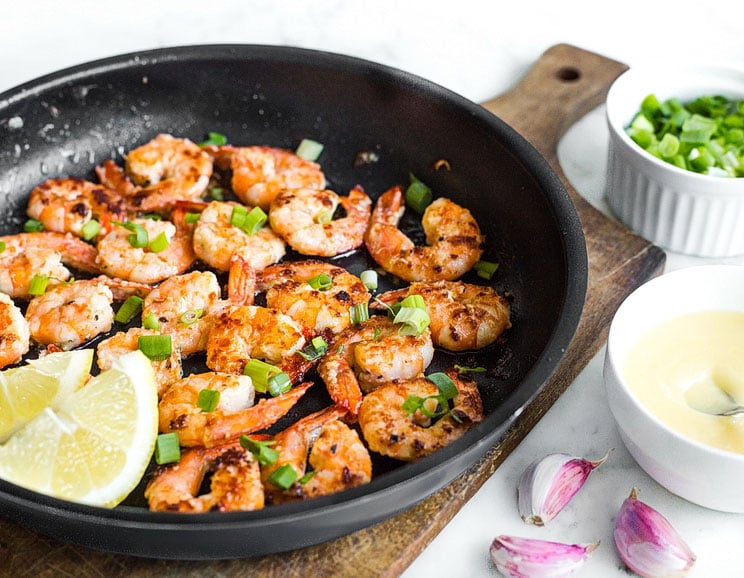 To make our own Paleo version, we swap out traditional dairy butter with ghee in order to nix the lactose. For the mayo, we use a homemade version that leaves out added sugars and refined oils (this 5-minute recipe is our favorite).
The Best Ways To Serve It
Since this garlic shrimp is traditionally paired with rice or macaroni salad, we suggest that you serve it with Paleo-friendly cauliflower rice or steamed veggies instead. They're also great as shareable appetizers you can serve with dippable sauces.
Helpful Tips For Getting Started:
Swap out the lemon juice. You can use fresh lime juice instead for a more tropical flavor.
Crank up the heat. If you'd like your garlic shrimp to be a little spicier, add one teaspoon of paprika to kick it up a notch.
Felicia Lim
Garlic Shrimp Tossed in a Buttery Hawaiian Sauce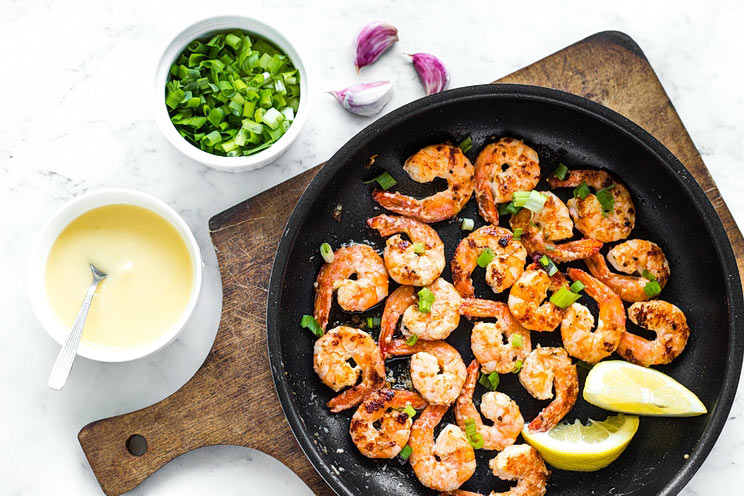 Inactive Time:
30 mins
30 minutes
Cook Time:
15 mins
15 minutes
Prep Time:
5 mins
5 minutes
Nutrition facts:
20 grams of protein
4 grams of carbohydrates
63 grams of fat
Garlic Shrimp Tossed in a Buttery Hawaiian Sauce
Sizzle garlic shrimp in buttery Hawaiian-inspired sauce for a flavorful, one-pan meal.
Ingredients
½ cup Paleo mayonnaise

¼ cup fresh lemon juice

1 t salt

1 t ground black pepper

½ cup melted ghee, cooled

¼ cup melted coconut oil, cooled

2 T sliced garlic

1 lb raw large shrimp, peeled, deveined, tail on

¼ cup chopped scallions, for garnishing

2 lemon wedges, for garnishing
Instructions
Marinate the shrimp with mayonnaise, lemon juice, salt, and black pepper. Let the shrimp soak in the juices for at least 30 minutes in the refrigerator.

Combine the ghee, coconut oil, and garlic in a blender on high speed. Pulse until you get a well-blended, thick yellow mixture. Set aside.

Place the shrimp in a single layer on a skillet over medium heat. Cook for at least 4 minutes on each side, or until cooked through.

Add the ghee mixture to the pan and toss with the shrimp for the next 3 minutes. Remove when fragrant and the mixture has melted.

Garnish the shrimp with chopped scallions and lemon wedges. Enjoy!
Looking for Paleo ingredients? Here are a few we'd recommend:
Primal mayonnaise (Primal Kitchen)
Black pepper (Frontier)
Ghee (Pure Indian Foods)
Cold pressed coconut oil (Viva Naturals)
If you liked this recipe, you'll love the gourmet meals in our Paleo Eats cookbook! Enjoy ridiculously tasty meals like Bacon Bars, Mongolian Red Pepper Beef, Pulled Pork, and more. Get the book shipped to your door for FREE – just pay for shipping!