A handful of ingredients and 10 minutes of prep make this rustic almond flour bread, the perfect accompaniment to Paleo chili or a hearty soup.
This nourishing bread has a dense and chewy texture balanced by an herby blend of oregano, garlic and pepper. The smell of oregano fills your house when the bread comes out of the oven, perfectly browned and crackly on top.
For a snack, toast up a slice slathered with nutty ghee or a rich compound butter.
Love Almond Flour Recipes? Then you'll love our FREE Almond Flour Recipes.
Click here to get your FREE copy of our delicious Almond Flour Recipes!
Courtney Hamilton
Rustic Almond Flour Bread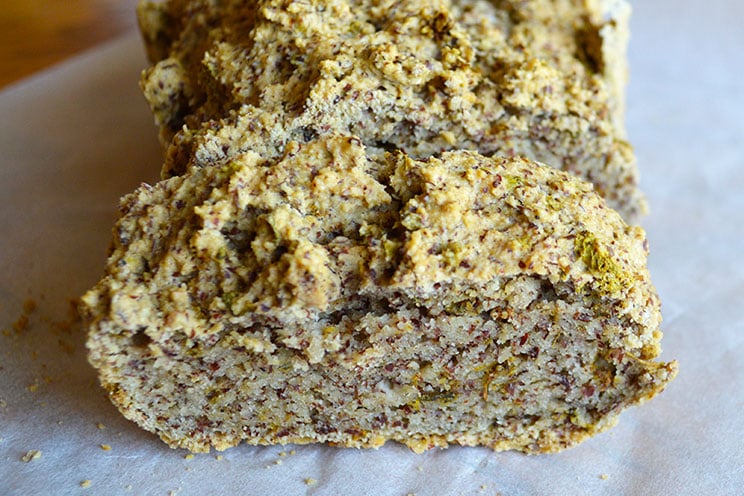 Prep Time:
10 mins
10 minutes
Rustic Almond Flour Bread
The perfect accompaniment to Paleo chili or a thick and hearty soup.
Ingredients
2 cups almond meal

¼ cup tapioca flour

½ t baking soda

1 t garlic salt

1 t dried oregano

1 t ground black pepper

3 eggs

¼ cup almond milk

1 T ghee
Instructions
Preheat oven to 350°F. In a large bowl, mix together almond meal, tapioca flour, baking soda, salt, oregano and pepper.

In a separate bowl, whisk together eggs, almond milk and ghee. Pour wet ingredients into dry and stir to combine. Mixture will be thick.

Pour batter into loaf pan and bake for 1 hour.
Looking for Paleo ingredients? Here are a few we'd recommend:
Almond meal (Barney)
Tapioca flour (Authentic Foods)
Baking soda (Bob's Red Mill)
Black pepper (Frontier)
Ghee (Pure Indian Foods)
(You'll Also Love: Coconut Flour Cinnamon Sweet Potato Bread)
Enjoy amazing walnut muffins… savory omelets… banana cookies… and even chocolate! Eat your favorite foods and stay fit and healthy at the same time.
Get started on your Paleo
weight-loss journey today
with our beginner-friendly PaleoHacks Cookbook
Get started on your
Paleo weight-loss
journey today with
our beginner-friendly
PaleoHacks Cookbook