These Paleo Almond Flour Pancakes are light, fluffy, and only have three ingredients!

Pancakes were made for weekend mornings, and this Paleo recipe requires just three simple ingredients: almond flour, eggs, and vanilla extract.
You'll start by whisking the eggs and vanilla together before adding in the almond flour. For these, try to use almond flour instead of almond meal. Almond meal is made from ground-up almonds with the skins ON, while almond flour is made from ground-up almonds with the skins OFF. Almond flour makes for a smoother pancake batter.
Love almond flour recipes? Get our free almond flour recipe cookbook here!
I like using coconut oil to heat up the skillet and ensure that the pancake batter won't stick to the pan.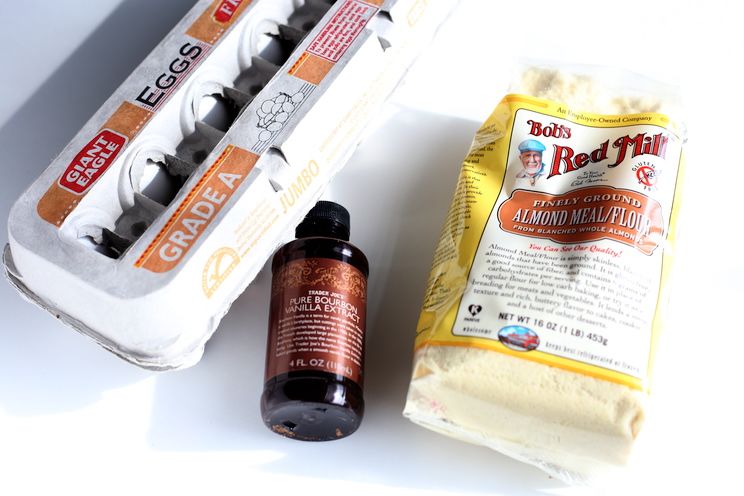 This recipe should make 4-6 pancakes depending on their size — enough to feed your entire family or just you with some leftovers.
Perhaps the best part of this recipe is the dollop of almond butter on top. You can use almond butter in place of maple syrup, or both.
These pancakes will satisfy just about anyone's tastebuds, and the fact that they're grain-free, dairy-free, and require minimal ingredients is a major bonus.
Erin Druga
Almond Flour Pancakes

Cook Time:
10 mins
10 minutes
Prep Time:
3 mins
3 minutes
Almond Flour Pancakes
These almond flour pancakes are super easy to make and require minimal ingredients!
Tools
Large Mixing Bowl

Skillet
Ingredients
1 cup almond flour

4 eggs

1 t vanilla extract
Instructions
Whisk eggs and vanilla together in a large bowl; stir in almond flour.

Melt a bit of coconut oil in a skillet over medium heat.

Once the skillet is warm, pour some of the batter into the skillet to form a pancake. Once batter starts bubbling on one side, use a spatula to carefully flip pancake over and cook on the other side.

Repeat this process until the batter is done and all pancakes are made.

Top with almond butter and enjoy!
Looking for Paleo ingredients? Here's what we recommend:
Almond Flour (Bob's Red Mill)
Cold Pressed Coconut Oil (Viva Naturals)

(You'll Also Like: 17 Pancake Recipes Worth Waking Up For)