Want take-out but none of the grease-laden ingredients that come with it? This Paleo-friendly cauliflower shrimp 'fried rice' will satisfy your cravings while still keeping it healthy and deliciously quick.
This shrimp fried rice recipe makes for a perfect meal any night of the week. Whether you're looking to stay in or you need a quick weeknight dinner after a busy workday, this will soon be a go-to favorite.
From start to finish, this dish only takes 20 minutes to whip up and is bursting with flavor. Shrimp make for a quick-to-cook protein, so why not take advantage and create a meal that's easy to make?
Love slow cooker recipes?
Click here to get your FREE copy of our delicious Slow-Cooker Recipes!
Cauliflower is our star ingredient here. In this recipe we'll be making a primal eater's favorite substitute — cauliflower rice! This versatile veggie also makes for a delicious alternative to quinoa, couscous, and other grains. (It's even the secret ingredient behind these Paleo tater tots and mac and cheese!)
It's a cinch to make. The easiest way is to throw a handful of cauliflower florets into your food processor and pulse it a few times until it reaches a "rice" consistency. If you don't have a food processor or blender, don't worry — simply mince up the florets until they reach a pea-sized shape, and you're good to go!
After you've made your "rice," simply throw everything in a pan and sauté it all together. The final pop of flavor comes from the coconut aminos. They make the perfect Paleo substitute for soy sauce, and still provide all the flavor for this Asian-inspired dish.
Deanna Dorman
Cauliflower Shrimp 'Fried Rice'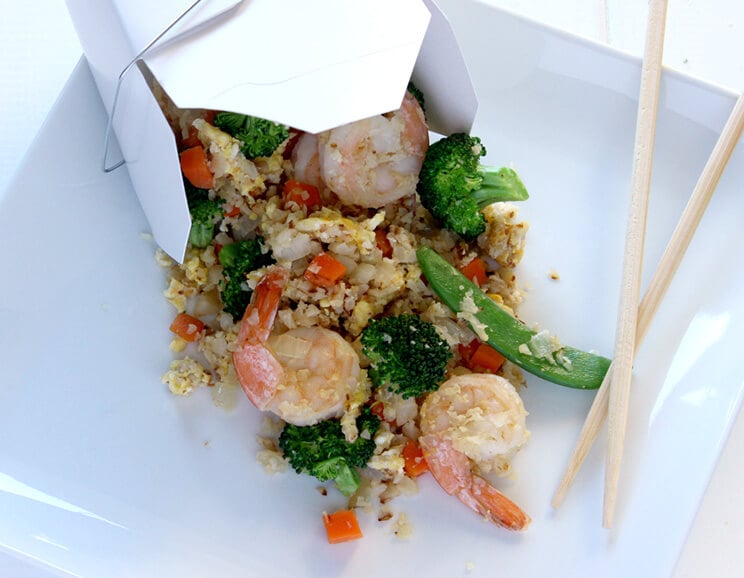 Cook Time:
20 mins
20 minutes
Prep Time:
15 mins
15 minutes
Cauliflower Shrimp 'Fried Rice'
Chow down on this grain-free fried rice with shrimp and fresh veggies.
Tools
Food Processor or Knife

Large Skillet
Ingredients
1 large head of cauliflower, cut into florets

1 lb shrimp, peeled and deveined

1 T coconut oil

1 head of broccoli, chopped

2 large carrots, diced

1 cup sugar snap peas (omit if on a strict Paleo diet)

½ onion, diced

2 garlic cloves, minced

2 eggs

1 T coconut aminos
Instructions
Make cauliflower rice by placing the cauliflower florets into a food processor and pulse a few times until you have pea-sized pieces OR mince with a sharp knife if you don't have a food processor.

Heat 1 teaspoon coconut oil in a large skillet over high heat.

Saute shrimp for 3 minutes or until pink. Remove from heat and set aside.

Discard any liquid in pan, lower temperature to medium-high heat, and add remaining coconut oil.

Add the cauliflower rice to the pan and saute for about 5 minutes or until the cauliflower has cooked off most of its moisture.

Add in the onions, broccoli, carrots, and snap peas, and cook for 2-3 minutes, or until the onions are translucent.

Create a space in the middle of the pan, crack the eggs in the middle, and allow to cook for a minute. Start to scramble the egg into the "rice" mixture and allow eggs to cook through.

Stir in the cooked shrimp and coconut aminos, and serve!

(You'll Also Love: Ancho Chile Chicken Fajitas on Cilantro Lime Cauliflower Rice)