Wonderfully hot and cheesy, this Paleo Parmesan dip is a crowd-pleasing appetizer.
Cauliflower is a nutritional hero of the Paleo world, packed with vitamins, minerals and fibers. This multitasking veggie seamlessly blends in with just about any recipe, making everything from soups to sauces, and even desserts, extra silky without any obtrusive flavors. In this flavor-packed dip, cauliflower pairs with Paleo Parmesan and coconut milk to create a thick, cheesy consistency.
Simply chop the cauliflower into small florets, and toss them with all the other ingredients into the slow cooker to let it do all the work.
Love slow cooker recipes?
Click here to get your FREE copy of our delicious Slow-Cooker Recipes!
When the cauliflower mixture is cooked through, let it cool slightly before blending until very smooth in the food processor. Sprinkle the dip with paprika and serve it with sweet potato chips or your choice of veggies.
Tips:
If you like the dip hot and spicy, add some jalapeño and cayenne powder to the cauliflower mixture.
If you are using a small food processor, blend the soup in small batches. Rule of thumb: Don't fill the bowl more than halfway!
Leftovers can be kept in an airtight container in the fridge for about five days. Reheat in the oven just before serving.
Dina Hassan
Crock Pot Cauliflower 'Cheesy' Dip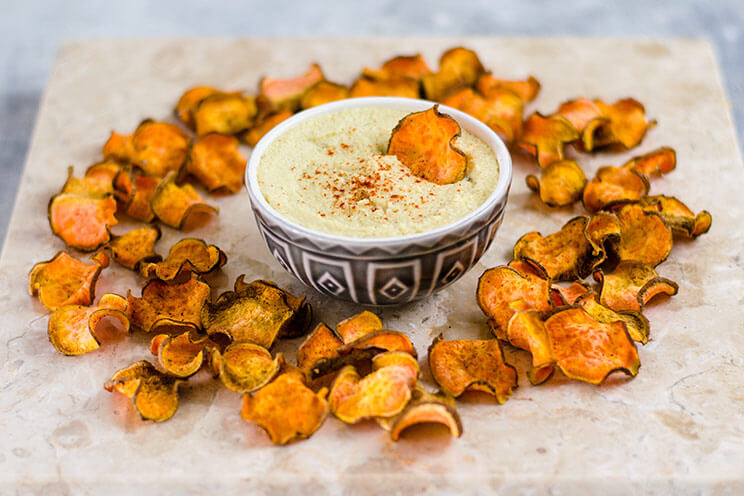 Prep Time:
5 mins
5 minutes
Crock Pot Cauliflower 'Cheesy' Dip
Wonderfully hot and cheesy, this Paleo Parmesan dip is a crowd-pleasing appetizer.
Tools
Slow cooker

Food processor or blender
Ingredients
1 medium cauliflower head, chopped into florets

1 ½ cups Paleo Parmesan (see link to the recipe below)

1 cup coconut milk

1 cup chicken or vegetable broth

2 garlic cloves, minced

Pinch of paprika

Pinch of onion powder

Salt and pepper to taste
Instructions
Chop the cauliflower florets into small pieces and transfer to the slow cooker.

Add the Paleo Parmesan, coconut milk, chicken broth, garlic, paprika, salt and pepper.

Cook on high for 2 hours, until the cauliflower is tender.

Let the cauliflower mixture cool before transferring it to the food processor. Blend until creamy and smooth.

Pour the mixture into serving bowls, sprinkle with paprika and serve with sweet potato chips.
(You'll Also Love: Creamy Cauliflower Dip Recipe)
Lose weight, fight inflammation, and soothe your digestion with delicious meals like juicy skirt steak with cucumber & radish salad, succulent pulled pork, and more!
FREE Cookbook:
80 Gourmet Paleo Recipes from
a Professional Chef trained at Le
Cordon Bleu in Paris
FREE Cookbook:
80 Gourmet Paleo Recipes
from a Professional Chef
trained at Le Cordon Bleu
in Paris