Here's a Paleo take on the shrimp tower often found in sushi restaurants. Bursting with clean Asian flavors, this chilled appetizer is the perfect way to impress your guests.
Sushi restaurants often offer shrimp stacks or towers on their menu. They are a layered mix of rice, shrimp, avocado, and cucumber. The flavors blend together to create a mellow dish that's a refreshing go-to when the weather heats up. These towers aren't something most of us would attempt to make in our own kitchen, but they are an easy dish to create. I think it's the layering factor that seems tricky to most people.  But all you'll need is a measuring cup to create the perfect-sized tower.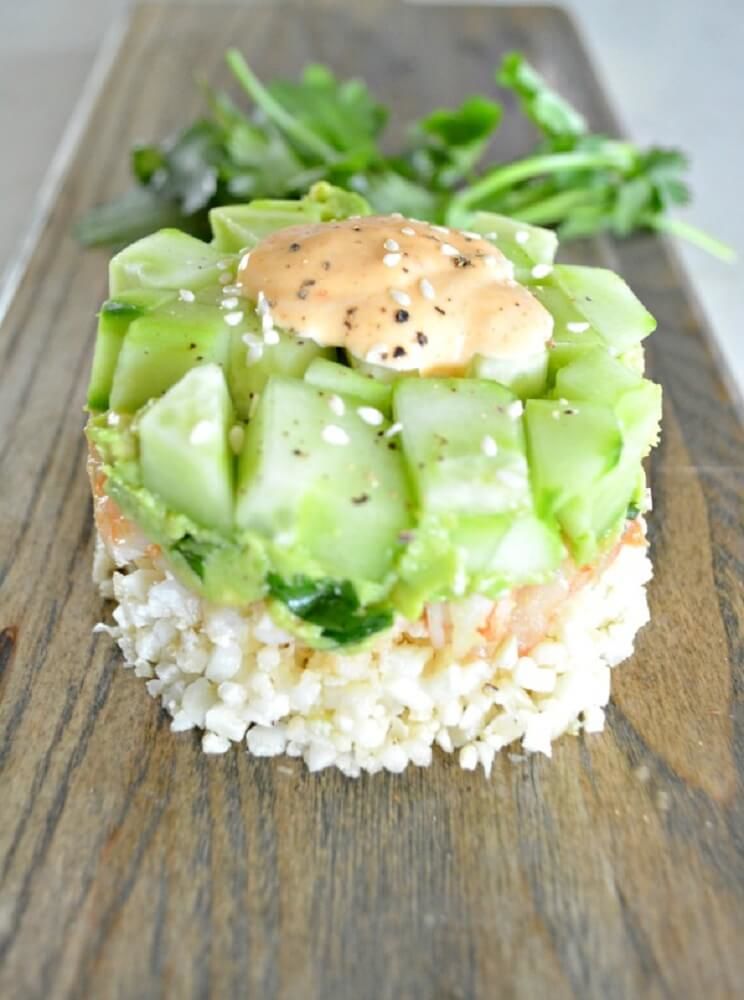 Want to go Paleo? Not sure where to start?
Start with this FREE Paleo For Beginners Guide Today!
To make this recipe healthier, I simply switched cauliflower with actual rice. All you need is a head of cauliflower and a food processor to create your own cauliflower rice at home. You can also use bagged cauliflower rice, which you can find at most health food stores; it's great to have on hand in a pinch. To give the rice a nice nutty flavor add a drizzle of sesame oil. Separating seasonings adds a different dimension of flavor to each layer. To add a light saltiness to the recipe and enhance the other flavors add coconut aminos to the shrimp.
Every great sushi recipe needs a little spice, so once you remove each stack from the measuring scoop, give it a dollop of spicy Paleo mayonnaise and a sprinkle of sesame seeds. And heart-healthy avocado serves as a glue that holds the stack of cucumbers and shrimp together
With a rainbow of colors, this dish is visually beautiful and it rivals any restaurant shrimp stack. And best of all, it's Paleo-approved!
Jennafer Ashley
Spicy Avocado Shrimp Tower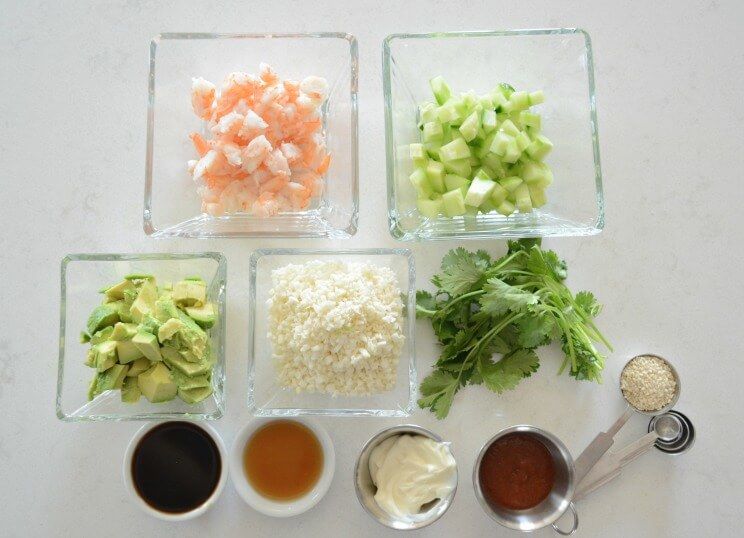 Prep Time:
30 mins
30 minutes
Spicy Avocado Shrimp Tower
This tower has layers of rice, shrimp, avocado, and cucumber.
Ingredients
1 C cauliflower rice

1 C avocado(diced)

1 C cucumber (peeled and diced)

1 C cooked shrimp (peeled tails removed and coarsely chopped)

1 T cilantro (finely chopped)

1 T sesame oil

1 T Coconut Aminos

2 t Sriracha sauce

1/3 C Paleo mayonnaise

1 T sesame seeds

Black pepper to taste
Instructions
Make cauliflower rice by placing florets in a food processor. Pulse until finely chopped.

Combine cauliflower rice and sesame oil. Stir and set aside.

In a small bowl, gently mash avocado until slightly chunky. Stir in cilantro.

In a separate bowl, toss shrimp in Coconut Aminos to coat.

Mix mayonnaise with Sriracha sauce.

Using a one cup measuring scoop, layer 1/4 cup of cucumber, spread avocado, shrimp, and finished cauliflower rice. Gently press into cup.

Set a plate on top,then flip the measuring cup over. Lightly tap on the top to release.

Top each shrimp stack with spicy mayo, sesame seeds, and black pepper.


(You'll Also Love: Protein-Packed Mango Shrimp Hand Rolls)