On a warm day, few dishes satisfy like a chilled, nutty noodle salad. These almond zucchini noodles are smothered in a creamy sesame sauce for the perfect Paleo takeout replacement.
The spiralizer has quickly become one of my favorite kitchen tools. With the twist of a handle, this inexpensive gadget effortlessly turns any vegetable into curly noodle-like strands. Veggie noodles are perfect for topping your favorite sauces. We've created everything from chicken alfredo with yellow squash to sweet potato noodles with poblano sauce by using vegetable noodles!
Zucchini is particularly easy to adapt into most noodle dishes and all types of cuisines. Be sure to leave the skin on your zucchini, as it houses most of the vegetable's fiber and antioxidants.
Want to go Paleo? Not sure where to start?
Start with this FREE Paleo For Beginners Guide Today!
I love this chilled peanut-noodle salad, which is on the menu at many Asian restaurants. So once I had a spiralizer, I knew what I'd be making first. With the noodles covered, I wanted a Paleo sauce that mimicked the peanut version I loved so much. The combination of toasted sesame oil and creamy almond butter gives it a decadent flavor and aroma.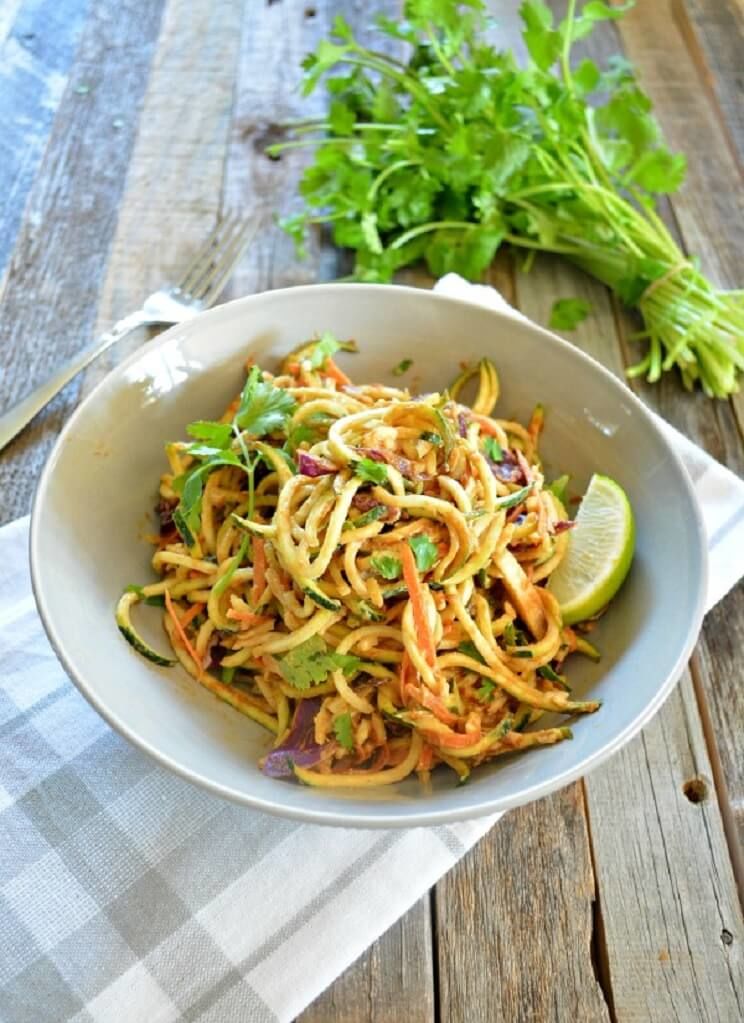 This sauce is on the thicker side for good reason: I've made similar zucchini noodles before, and I found that once chilled, the dish gets watery from the moisture in the zucchini. So a thick sauce helps the recipe from becoming too liquidy. Fresh vegetables (like purple cabbage and shredded carrots) add color and crunch to this raw salad. A little heat from chili flakes and grated ginger add a kick to the sauce.
From start to finish, these almond zucchini noodles only take 20 minutes to put together, which makes it an ideal make-and-take dish for busy weekdays. When refrigerated, the prepared dish holds up for 3 days, and it's even better the next day, after all of the ingredients have married. But let's be honest, there aren't going to be any leftovers.
Jennafer Ashley
Spicy Sesame Almond Zucchini Noodles

Prep Time:
20 mins
20 minutes
Spicy Sesame Almond Zucchini Noodles
On a warm day, few dishes satisfy like a chilled, nutty noodle salad!
Ingredients
The Salad:

2 medium zucchini (ends cut off)

1/2 cup cabbage (shredded)

1/2 cup carrots (shredded)

1 handful cilantro (chopped)

The Dressing:

1/2 cup creamy almond butter (at room temperature)

1/3 cup toasted sesame oil

1 T blackstrap molasses

2 T lime juice

1 t ginger (grated)

1/2 t chili flakes
Instructions
Using the 3mm blade of spiralizer, slice zucchini into a large bowl. Add cabbage and carrots. Set aside.

Combine ingredients for dressing. Stir until smooth and thick.

Pour dressing over zucchini. Stir to coat. Garnish with cilantro. Refrigerate until ready to serve.
Watch the Video Recipe Below!



(You'll Also Love: Zucchini Noodles Drizzled in Tahini Bacon Sauce)