Tender beef gets coated in a sweet and spicy marinade, then tossed with fresh sweet potato noodles for a comforting dish.
Inspired by classic Korean  flavors, this savory dish is made with tender strips of beef, sautéed veggies, and a sauce that doubles as marinade.
The sesame marinade coats the steak, while adding a rich nutty flavor to each bite. Bright red Gochugaru powder (Korean ground pepper) brings a sweet and spicy heat to the sauce. You can find this powder in most Asian grocery stores or online retailers.
Love pasta? Grab your spiralizer and crank out these amazing veggie noodle recipes!
Click Here to Get Your FREE recipe book of 20 Easy Ways to Use Your Spiralizer.
When cooking, allow the skillet to heat for a couple minutes before adding in the steak. This will allow the meat to easily sear on the hot pan and achieve the perfect texture.
Spiralized strands of sweet potato noodles step in for ramen while adding a boost of fiber. Unlike zucchini noodles, sweet potato noodles are lower in water content and won't get overly soft when sautéing. Add them to saucy recipes like curries or stir-fries.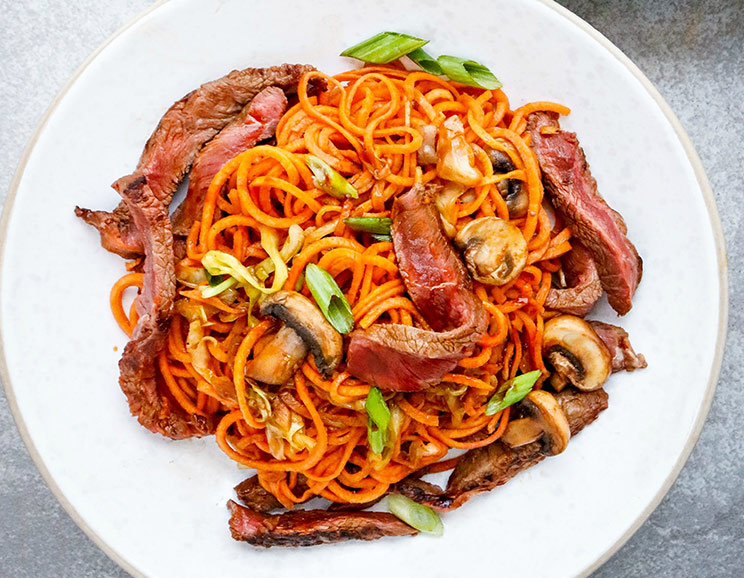 To get started, make the marinade and pour half of its contents onto the steaks in a glass container. Refrigerate for at least one hour or up to eight hours to increase the flavor and tenderness. Then, spiral slice the sweet potatoes and place into a medium mixing bowl, using a three-millimeter blade. The thin texture will be perfect for soaking up all the sweet and spicy flavors from the marinade. Set aside and wait for the steak to finish.
After the steaks are done marinating, drain out the juices and blot dry with a clean paper towel. Place a cast iron pan over medium-high heat for two minutes and add the meat to the skillet. Sear on each side for two minutes to achieve a medium-rare steak (for medium, cook another minute). When ready, set the steaks on a cutting board and allow to rest for five minutes. Slice into thin strips and set aside.
Next, reduce the heat to medium and add the avocado oil to the pan. Sauté the cabbage and mushrooms for five minutes, stirring occasionally. Add the sweet potato noodles and pour remaining marinade into the pan. Use tongs to evenly distribute the ingredients and continue cooking for two more minutes. Add the sliced steak and toss again. Remove from heat and garnish with green onion. Serve hot and enjoy!
Tips:
For easy prep, spiralize the sweet potatoes and chop the veggies ahead of time. You can refrigerate them in separate containers and use when ready.
Make the marinade ahead of time and marinate the steaks overnight, prior to cooking.
Jennafer Ashley
Spicy Korean Beef Sweet Potato Noodles

Inactive Time:
1 hr
1 hour
Cook Time:
15 mins
15 minutes
Prep Time:
10 mins
10 minutes
Spicy Korean Beef Sweet Potato Noodles
Skip the takeout and whip up this one-pan Korean beef skillet with sweet potato noodles and spicy-sweet marinade.
Tools
Small bowl

Spiral slicer

Medium mixing bowl

Medium cast iron pan
Ingredients
For Marinade:
1/4 cup coconut aminos

2 T lime juice

2 T toasted sesame oil

1 T honey

1 t fresh ginger, minced

1 t garlic, minced

1/2 t Korean red chili pepper (Gochugaru)
For Beef Skillet:
8 oz sirloin steak

2 medium sweet potatoes, peeled

1 T avocado oil

1 cup white mushrooms, sliced

1 cup shredded green cabbage

1/4 cup green onion, thinly sliced
Instructions
In a small bowl, whisk together ingredients for marinade.

Place the steaks in a glass container and pour in half of the marinade. Cover and refrigerate for at least 1 hour (or up to 8 hours for more flavor).

In the meantime, prepare the sweet potatoes by removing the ends and spiral slicing them with a 3-mm blade. Place them into a medium bowl and set aside.

Remove the steak bowl from the refrigerator and drain out the marinade. Blot the steak dry using a clean paper towel and heat a medium cast iron pan over medium-high for 2 minutes.

Place the steaks into the pan and cook for 2 minutes on each side. When done, remove from pan and place onto a cutting board to rest for 5 minutes. Slice them into thin strips and set aside.

Heat the avocado oil in the same pan over medium heat. Add the mushrooms and cabbage, then sauté for 5 minutes.

Toss in the sweet potato noodles and remaining marinade, using tongs to gently coat. Continue cooking for 2 more minutes before adding in the steaks. Serve hot and garnish with green onion.
Looking for Paleo ingredients? Here are a few we'd recommend:
Raw honey (Bee Farms)
Avocado oil (Bella Vado)

(You'll Also Love: One Pot Beef Stir Fry with Zoodles
)