Ladle meaty red sauce on top of sweet potato fettuccine noodles for a pasta dish with zero grains!
If you're craving pasta on the Paleo diet, you'll love this gluten-free noodle hack. Easy to make, this quick meal feeds a crowd and sneaks in plenty of hearty veggies!
How to Make Sweet Potato Noodles Using a Potato Peeler
To get a similar look and texture of traditional fettuccine, we skip the spiralizer and use a potato peeler instead. This technique creates thin, ribbon-like strands you can prep and boil just like traditional pasta.
Love slow cooker recipes?
Click here to get your FREE copy of our delicious Slow-Cooker Recipes!
To get started, use the peeler to whittle the potato from top to bottom until there's nothing left. Next, stack the wide strips together and thin them down further by cutting them lengthwise with a knife. Aim for slicing the strips into similar sizes to match the width of traditional noodles.
For easier prep, shop for sweet potatoes that are longer and more evenly shaped. The larger the potato, the longer the strips and more pasta-like slices you can create. You can also peel the potatoes ahead of time and store them in the refrigerator until you're ready to cook.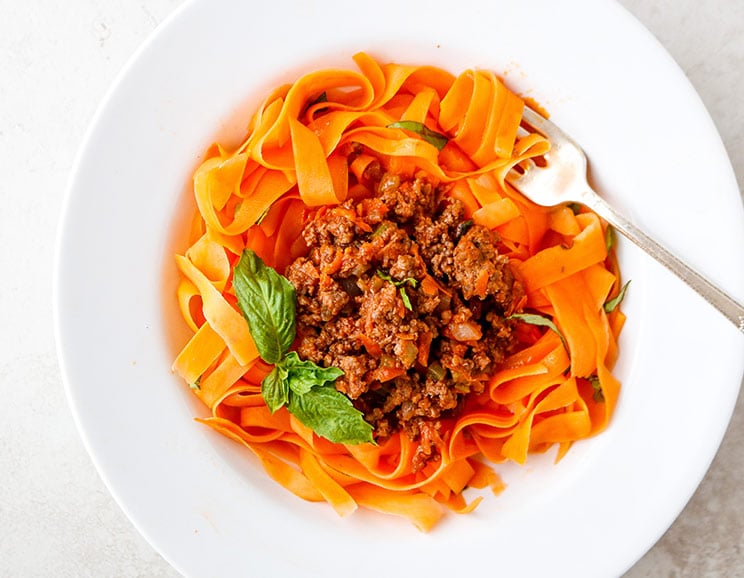 Load Your Bolognese Sauce With Extra Veggies and Protein
This Paleo-friendly take on the Italian meat sauce gets extra flavor and nutrition from finely chopped celery, carrots, and onions. If you want to add even more veggie power, you could toss in finely chopped mushrooms for extra vitamins and umami flavor.
The grass-fed ground beef in this recipe packs in a healthy amount of protein with garlic, nutmeg, and bay leaves. When cooking the meat, make sure to break it up into smaller crumbles so that it cooks evenly throughout. While we opt for traditional beef, feel free to experiment with ground turkey or pork for a different take.
Jennafer Ashley
Sweet Potato Fettuccine with Bolognese Sauce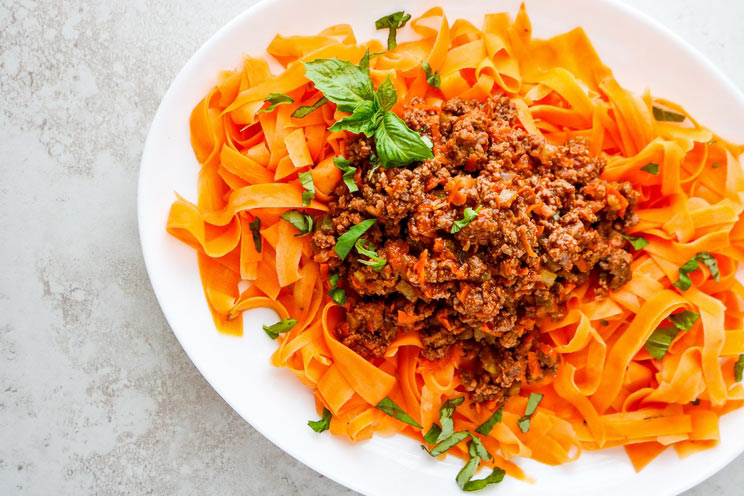 Cook Time:
28 mins
28 minutes
Prep Time:
20 mins
20 minutes
Sweet Potato Fettuccine with Bolognese Sauce
Ladle meaty red sauce on top of sweet potato fettuccine noodles for a pasta dish with zero grains!
Tools
Medium skillet

Potato peeler

Large stock pot
Ingredients
For the Bolognese Sauce:
1 t olive oil

1 cup finely chopped celery

1 cup grated carrot

1/2 cup finely chopped sweet white onion

1 t minced garlic

1 lb ground beef

1/8 t nutmeg

1/2 t sea salt

1 cup tomato sauce

2 dried bay leaves
For the Sweet Potato Noodles:
2 large sweet potatoes, skins removed

4 cups water

2 T fresh chopped basil
Instructions
To Make the Bolognese Sauce: Heat olive oil in a skillet over medium heat and toss in the celery, carrots, onions, and garlic. Sauté for 5 minutes, stirring occasionally.

Add the ground beef, nutmeg, and sea salt next. Use a spatula to crumble the beef and continue cooking for 10 more minutes, stirring regularly.

Pour the tomato sauce into the meat mixture and stir it well. Add the bay leaves and cover the mixture, then reduce the heat and let it simmer for 10 minutes.

To Make the Sweet Potato Noodles: While the sauce cooks, use a potato peeler to whittle the sweet potatoes from top to bottom into thick strands.

Slice the strands into 3 to 4 thinner slices, resembling fettuccine noodles.

Bring 4 cups of water to a boil over medium heat in a large pot. Add the sweet potato noodles and boil them for 3 minutes.

Strain the noodles and transfer them to a serving platter. Top them with Bolognese sauce and garnish with chopped basil.

Serve hot or store leftovers in the refrigerator for up to 1 week.
Looking for Paleo ingredients? Here are a few we'd recommend:
Olive oil (Sky Organics)
Ground nutmeg (Simply Organic)
Coarse sea salt (AztecSeaSalt)

(You'll Also Love: 9 Healthy Gluten-Free Pasta Recipes)