A sink-your-teeth strawberry butter cake filled with creamy nut butter and topped with coconut flakes.
Some of the best desserts can be whipped up without any baking necessary. With the help of a blender or food processor, you can whip up this raw strawberry butter cake in no time. Let the freezer do all the work, so you can sit back while your not-so-hard work quickly becomes a mouthwatering, sink-your-teeth-into cake!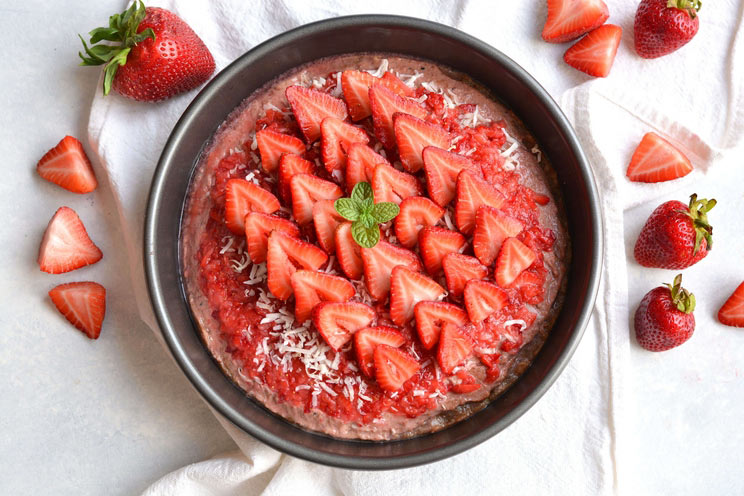 The crust of this Strawberry Butter Cake is made from a nutty mixture of walnuts and Brazil nuts. Soaked dates and shredded coconut flakes bring the crust together with a few turns of a food processor. It's the perfect go-to crust for any no-bake recipe.
The filling is a homemade strawberry and dragon fruit almond butter, spread generously over the crust. It adds just the right amount of sweetness and creamy texture. Make the almond butter ahead of time so the flavors of the nut butter can really mingle and marry, making the filling layer of this cake even richer.
Love Paleo Desserts?
Get our FREE Paleo Dessert Cookbook here!
For the top layer, fresh strawberries are blended with maple syrup. You can make it smooth if you prefer, but leaving it a little chunky gives the cake an extra layer of texture. You can also get creative here and substitute another berry or fruit to transform the cake into something equally delicious, yet completely different!
This strawberry butter cake can be served as a healthy dessert or nutty snack. It's perfect for warm weather entertaining!
Megan Olson:
Strawberry Butter Cake with a No-Grain Crust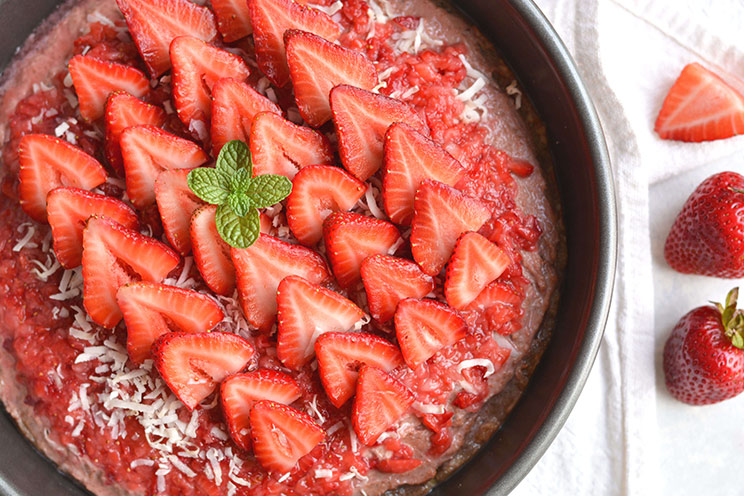 Cook Time:
50 mins
50 minutes
Prep Time:
20 mins
20 minutes
Strawberry Butter Cake with a No-Grain Crust
A sink-your-teeth strawberry cake filled with creamy nut butter and topped with coconut flakes.
Tools
Food processor

6-Inch round pie pan
Ingredients
For the Crust
1 cup walnuts

2/3 cup Brazil nuts

½ cup pitted dates, soaked in water for 1 hour

¼ cup unsweetened coconut flakes

pinch of sea salt
For the Filling
1 cup Strawberry Almond Butter (see link above for recipe)
For the Sauce
1 cup fresh strawberries

1 T maple syrup
For the Topping
1 cup freshly sliced strawberries

¼ cup coconut flakes
Instructions
Add walnuts, Brazil nuts, soaked dates, coconut flakes and salt to a food processor or blender; process on high until combined and sticky.

Lightly grease the bottom of a 6-Inch round pie pan or springform cake pan with coconut oil. Using your hands, press the nut mixture firmly into the bottom of the pan and into the corners to form a crust. Freeze for 10 minutes.

Remove the crust from the freezer and spread the Strawberry Almond butter over the crust in an even layer. Place the pan back in the freezer for 10 minutes.

Meanwhile, prepare the sauce by blending strawberries and maple syrup until chunky and smooth.

Remove the pan from the freezer, and spread the sauce over the top in an even layer.

Sprinkle with coconut flakes and top with sliced strawberries by gently pushing the strawberries into the sauce.

Place in the freezer for a minimum of 30 minutes to harden. Store in the freezer until ready to eat!
Tip: Click here to find our Homemade Strawberry Almond Butter Recipe.

(You'll Also Love: No-Bake Paleo Mint Chocolate Cheesecake)