These sweet, buttery Paleo Butter Fingers are made with just 7 ingredients and a surprise inside!
A bite-sized treat reminiscent of your favorite candy bar that's gluten-, grain-, dairy- and refined sugar-free.
Growing up, butter fingers were one of my favorite candy bars. There's something about a candy bar with a hard chocolate outside and a creamy, crunchy inside that I cannot resist. So, we transformed this childhood favorite into a decadent, Paleo-friendly treat that keeps things simple and healthy.
Love Paleo Desserts? Then you'll love our FREE Paleo Dessert Cookbook.
Click here to get your FREE copy of our delicious Dessert Recipes!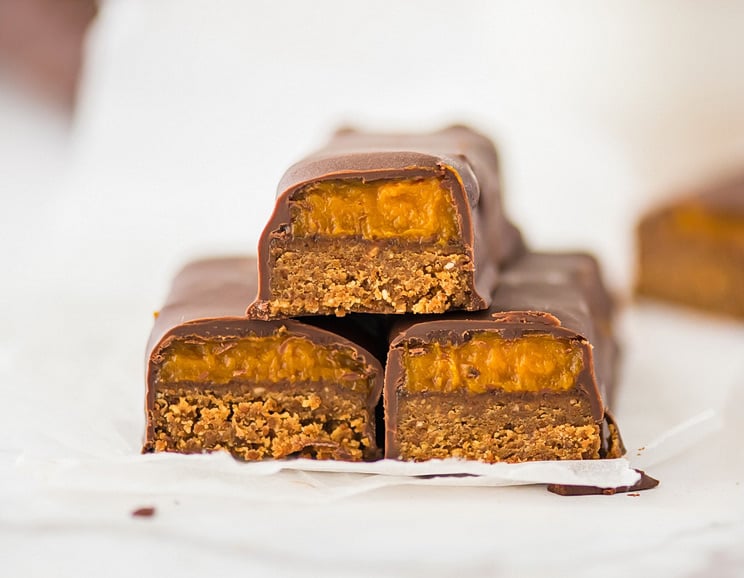 To give the bars that signature orange center, we used pureed pumpkin. While you can't taste the pumpkin in the recipe, you do get an extra creamy texture that's to-die-for when combined with the dark chocolate.
You don't have to be a confectioner to make these candy bar knock-offs. In fact, they're no-bake; you just have to warm the nut butter and coconut sugar to melt them together to give the bars their sweet, nutty crust. With the dark chocolate and pumpkin layered on top, these heavenly Paleo Butter Finger bars are guaranteed to have everyone coming back for more!
Tip: When spreading the first layer into the pan, it'll be very sticky. I found that using a combination of my fingers with a small plastic spatula made this easier.
Megan Olson
Paleo Butter Fingers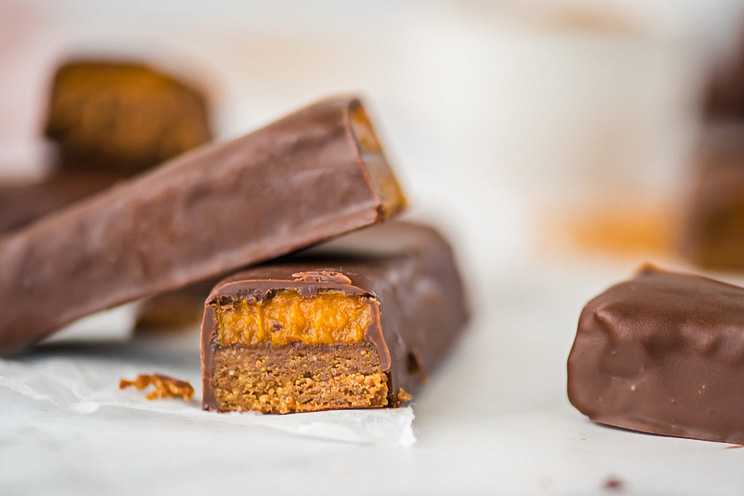 Inactive Time:
1 hr
1 hour
Cook Time:
5 mins
5 minutes
Prep Time:
30 mins
30 minutes
Nutrition facts:
2 grams of protein
20 grams of carbohydrates
9 grams of fat
155 calories
Paleo Butter Fingers
This sweet, buttery bite-sized treat is reminiscent of your favorite candy bar.
Ingredients
1 cup coconut sugar

1/3 cup unsalted almond butter

½ cup pumpkin puree

½ t vanilla extract

2 T coconut oil, melted

2 T butter, room temperature

¼ cup dark chocolate

Optional: sea salt for sprinkling
Instructions
Bring a small saucepan to low heat. Add butter, almond butter, vanilla extract and coconut sugar. Stir until the ingredients are combined and the mixture becomes sticky, about 3-4 minutes.

Line a 9x5-inch meatloaf pan with parchment paper, allowing the paper to hang over the edges of the pan for easy removal.

Spread the mixture from the saucepan into an even layer on the pan. Be sure to spread it into the corners as well.

Next, layer the pumpkin over the crust in an even layer.

Place in the fridge to set while you prepare the chocolate.

Make the chocolate by melting chocolate and coconut oil in a small saucepan over low heat.

Spread the chocolate into an even layer over the bars. Optional: sprinkle with sea salt and place extra chocolate chips on top, gently pressing into the chocolate so they set.

Place back in the fridge to set 1 hour.

Remove from fridge and lift the bars out of the pan with the parchment paper.

Place on a hard surface. Slice into 12 bars using a large knife and devour!
Looking for Paleo ingredients? Here are a few we'd recommend:
Almond butter (Barney)
Vanilla extract (Frontier)
Cold pressed coconut oil (Viva Naturals)
Sugar-free dark chocolate chips (Pascha)
Coarse sea salt (AztecSeaSalt)
You'll Also Love: Paleo Milky Way Bars