A cacao crust and real mint flavor makes this creamy, no-bake mint chocolate cheesecake a dessert favorite.
What to do when you're craving cake, but don't want to turn on the oven? The answer: Raw Paleo cheesecake! This egg-free mint chocolate cheesecake sets in the refrigerator — no baking needed.
The chocolatey crust is made from a combination of almond meal and raw cacao powder. Almond meal is a great source of fiber, while cacao is a powerhouse of antioxidants and iron, so this cookie-like crust is actually pretty good for you! Coconut oil quickly binds the crust together when chilled, so the crust can be sliced into without crumbling.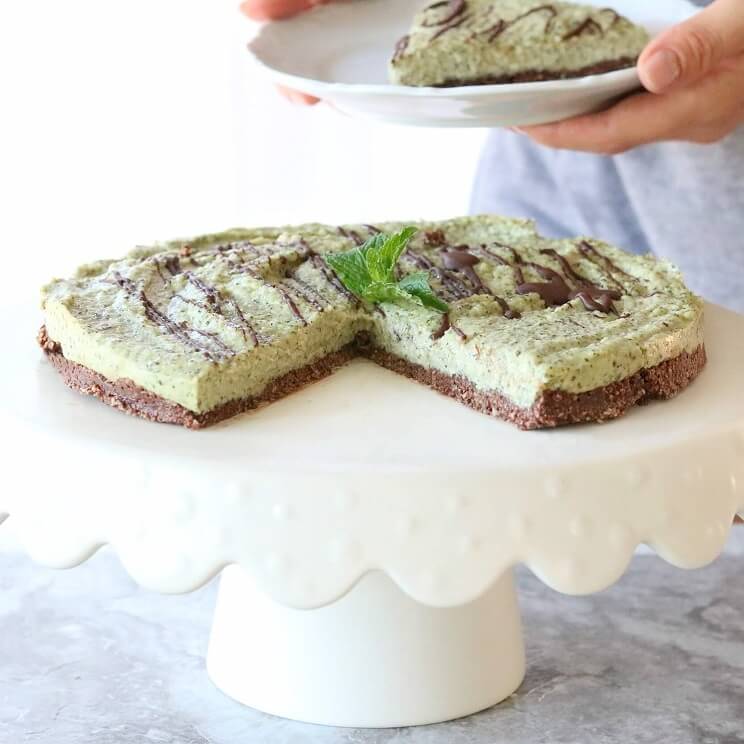 The base of the creamy mint filling is made from soaked cashews and coconut cream. Soaking cashews for a few hours, creates a smooth texture when blended, and it's easier on the digestive system too. Raw honey is added for sweetness, and fresh mint adds a beautiful green color and cool freshness.
Love Paleo Desserts? Then you'll love our FREE Paleo Dessert Cookbook. Click here to get it!
You'll need a good food processor to make this mint chocolate cheesecake. Combine the ingredients for the filling, and pulse until extremely smooth. You may have to work in batches if you're using a smaller food processor. Turn the food processor to a low speed and drizzle in the coconut oil to ensure that it blends evenly before it can turn solid. Spread the mixture over the chocolate crust, and refrigerate at least two hours to completely set. For an extra indulgence, drizzle melted dark chocolate over the top before slicing.
Jennafer Ashley
No-Bake Paleo Mint Chocolate Cheesecake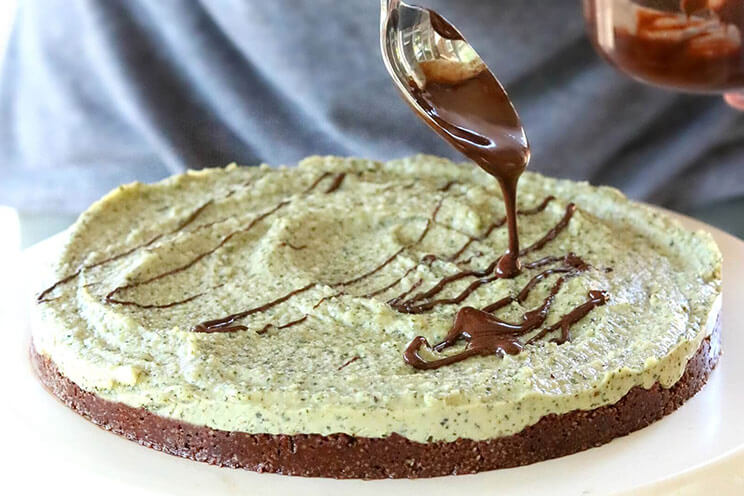 Cook Time:
5 mins
5 minutes
Prep Time:
15 mins
15 minutes
No-Bake Paleo Mint Chocolate Cheesecake
A cacao crust and real mint flavor makes this creamy, no-bake cheesecake a dessert favorite.
Ingredients
For Crust:
2 cups almond meal

1/2 cup cacao powder

1/2 cup melted coconut oil
For Mint Filling:
2 cups raw, unsalted cashews (soaked in water at least 4 hours)

1 1/2 cups coconut cream

2 cups mint leaves, loosely packed

2 T raw honey

2 T coconut oil, melted

1/4 cup unsweetened dark chocolate chips (optional)
Instructions
Grease a 9-inch springform pan with coconut oil and set aside.

In a mixing bowl, combine almond meal, cacao powder, and melted coconut oil. Stir well to moisten. Press into the prepared pan. Place in the freezer to set while preparing the filling.

Drain the liquid from the cashews and combine in a food processor with coconut cream, mint, and honey. Pulse until creamy, and mint is completely blended. With the food processor on low, drizzle in the coconut oil.

Pour the mixture evenly over the crust and refrigerate for two hours to set. Before serving, melt dark chocolate using a double boiler and drizzle over the top.
Looking for Paleo ingredients? Here are a few we'd recommend:


(You'll Also Love: No-Bake Paleo Peppermint Chocolate Cheesecake)