Pick, pinch and pull at this Paleo Monkey Bread for a doughy, portion-sized snack!
The secret to this Paleo-friendly monkey bread? Sweet potatoes! Baked and puréed sweet potatoes give the bread a soft, light texture so you get pinch-able pieces of sweet dough, just like the original recipe. Grain-free flours made from almond, coconut and cassava mixes with the sweet potato to create a light, flavorful bread.
Start by roasting the sweet potatoes a day in advance – about two medium sweet potatoes will yield two cups. Let the sweet potatoes cool before peeling the skin, then add them to a food processor or high-speed blender to purée. Store in a container in the refrigerator until ready to make your monkey bread.
Love Coconut Flour Recipes? Then you'll love our FREE Coconut Flour Recipes.
Click here to get your FREE copy of our delicious Coconut Flour Recipes!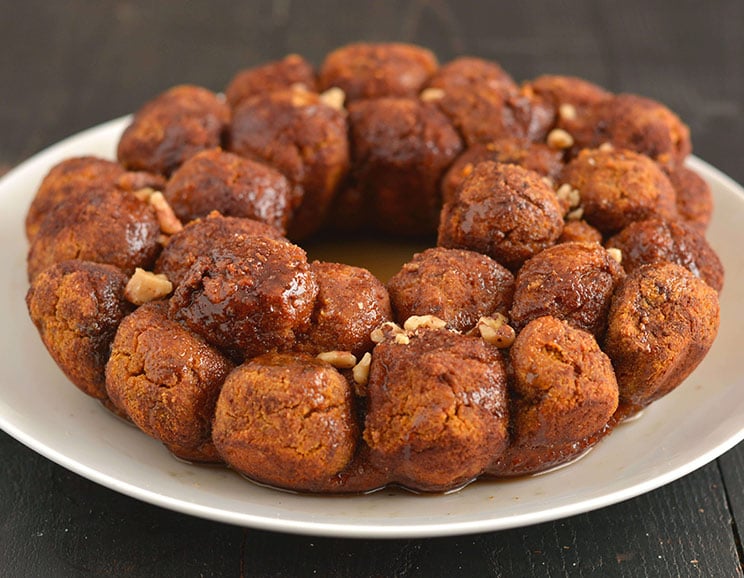 Make the monkey bread dough by slowly incorporating the dry ingredients to wet. Once the dough is formed, it's important to chill for at least 15 minutes to harden. This will help the dough roll into pinch-able, bite-sized balls. If you find it's still not rolling into balls, you will need to chill the dough a little longer.
Once the balls are formed, roll them in a mix of coconut sugar and cinnamon, then stack together in a Bundt pan. The dough will stick together just enough so you can pull out bite-sized pieces!
Cool your monkey bread to room temperature, then drizzle maple syrup and sprinkle walnuts over the top. It makes for a delicious treat with coffee in the morning or a yummy dessert after dinner!
Megan Olson
Pinch Me Monkey Bread Recipe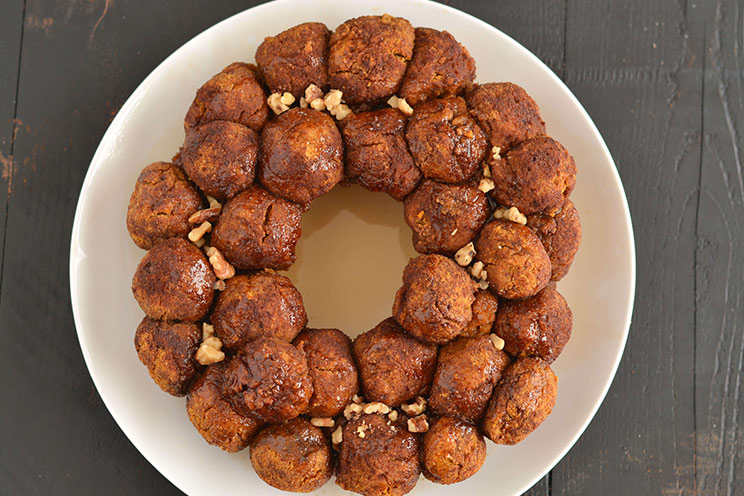 Cook Time:
30 mins
30 minutes
Prep Time:
35 mins
35 minutes
Pinch Me Monkey Bread Recipe
Pick, pinch and pull at this Paleo Monkey Bread for a doughy, portion-sized snack!
Tools
Bundt pan

Mixing bowl

Standing mixer
Ingredients
For the Bread
4 large eggs, room temperature

¼ cup coconut sugar

¼ t salt

1 t vanilla extract

2 cups sweet potato (roasted, peeled and puréed)

1 t cinnamon

1 t baking powder

2½ T psyllium husk

2 T arrowroot powder

½ cup cassava flour

1 cup coconut flour

1½ cups almond flour

½ cup melted coconut oil
For the Topping
1/3 cup coconut sugar

1 t cinnamon

1 T grass-fed butter or palm shortening
Ingredients
Optional: 1/3 cup maple syrup and walnuts for coating after baking
Instructions
Preheat the oven to 375°F. Prepare a Bundt pan by lightly greasing with melted coconut oil so the bread won't stick.

Place eggs, coconut sugar, salt, vanilla and sweet potato in a standing mixer or use a bowl with a hand mixer to blend the ingredients.

In a separate bowl, sift together the cinnamon, baking powder, psyllium husk, arrowroot powder, cassava flour, coconut flour and almond flour.

Add half the flour to the egg mixture and combine. Then add coconut oil and remaining flour mixture. Stir until combined. Do not overmix.

Place the dough in the refrigerator to chill a minimum of 15 minutes.

Prepare the topping by combining the coconut sugar and cinnamon on a plate.

Remove the dough from the refrigerator and roll into 1-inch balls. Roll them in the sugar mixture, coating them well. Then place in the pan. Repeat until all the dough is gone.

Break up the butter or palm shortening into small pieces and spread them over the dough.

Bake for 30 minutes.

Remove the monkey bread from the oven and cool 15 minutes. Then flip onto a plate, drizzle maple syrup over the top, add walnuts and serve!
Looking for Paleo ingredients? Here are a few we'd recommend:
Coconut flour (Nutiva)
Almond flour (Bob's Red Mill)
Cold pressed coconut oil (Viva Naturals)
Arrowroot starch (Authentic Foods)
You'll Also Love: Ciabatta Bread Recipe (Gluten Free, Grain Free)