Grab your spoon and dive into this fruity, creamy spread: strawberry pink almond butter with fresh dragon fruit!
Nut butters are a great way to add healthy fats into your diet. They can be creamy or crunchy, and can take on many different flavors. Making your own nut butter at home is incredibly easy to do and a great way to control the ingredients. All you need is a high-speed blender or food processor to get started.
This imaginative pink almond butter goes beyond your standard spread by flavoring it naturally with strawberries and dragon fruit.
Want to learn more about Paleo and how it can help you?
Grab our FREE "What Is Paleo?" Guide by Clicking Here!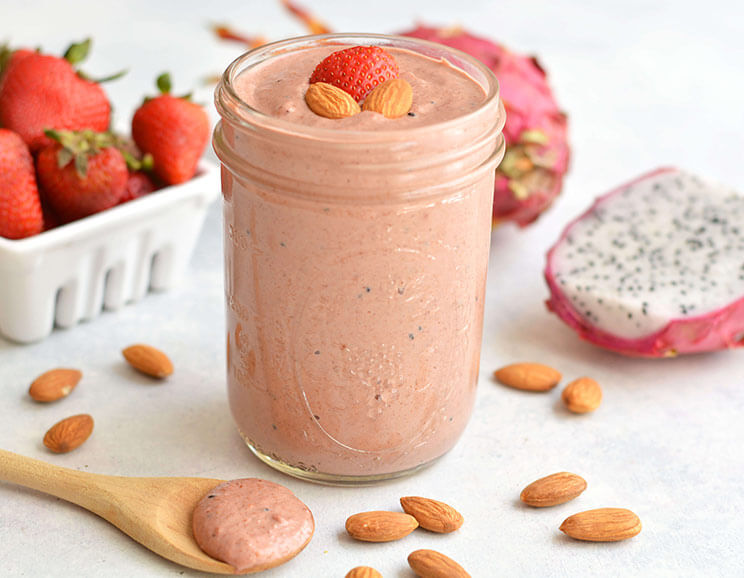 Dragon fruit is a little-known ingredient that comes from the papaya family. If you haven't tried it, you must! The taste is subtle and adds a unique texture to foods. It enhances this nut butter with its tiny seeds so you get a fun, tiny crunch in every bite.
The dragon fruit and strawberries add a good amount of liquid to the nut butter, so you don't need to add oil to the recipe to get the smooth consistency.
You can also easily customize this pink almond butter with other fruits. Raspberries, blueberries, pineapple and mango would be delicious substitutions!
Enjoy your Strawberry Nut Butter on a slice of Paleo coconut bread, in a smoothie bowl with fresh fruit, or right out of the jar!
Megan Olson
Pretty in Pink Almond Butter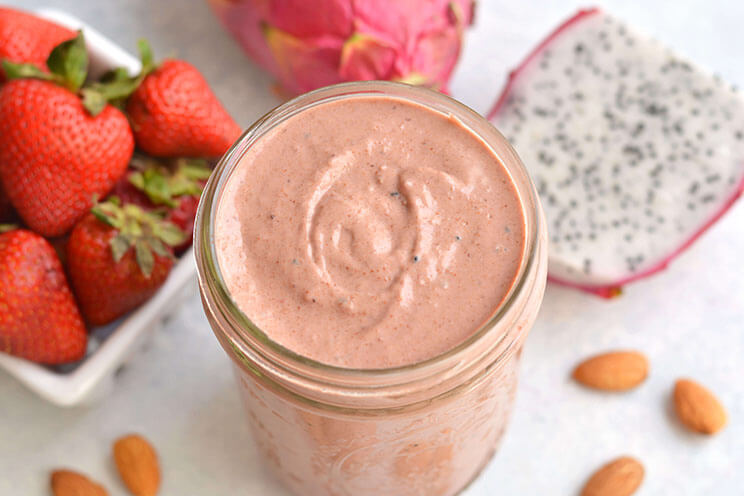 Cook Time:
10 mins
10 minutes
Prep Time:
20 mins
20 minutes
Pretty in Pink Almond Butter
Grab your spoon and dive into this fruity, creamy spread: strawberry almond butter with fresh dragon fruit!
Tools
Baking sheet

Parchment paper

Food processor

Glass jar
Ingredients
2 cups raw almonds

½ t vanilla extract

1 T maple syrup

1 cup fresh strawberries

1 cup dragon fruit
Instructions
Preheat oven to 350°F. Prepare a baking sheet with parchment paper. Spread the almonds out evenly.

Bake for 8-10 minutes.

Remove from the oven and cool.

Transfer roasted almonds to a food processor or high speed blender with maple syrup and vanilla. Blend on high for 15 minutes or until almonds are broken down into a thick, creamy consistency. You may need to stop every 5 minutes or so to scrape down the sides of the food processor.

Add strawberries and dragon fruit, then blend on high for another 3-5 minutes until fully broken down and incorporated into the almond butter. Store in a glass jar in the fridge.

(You'll Also Love: The Easiest Almond Butter You'll Ever Make)