Blend up this 4-ingredient collagen smoothie for a nutritious, gut-healthy breakfast!
If you want a smoothie that tastes like a milkshake, we have just the recipe for you. Milkshakes typically come with a ton of added sugars and dairy milk, and can cause unsettling side effects.
This super-indulgent collagen smoothie ditches the ice cream in favor of full-fat coconut milk and frozen strawberries. We also skip the refined sugars and opt for raw honey to keep it light and sweet.
Love Paleo Breakfasts? Then you'll love our FREE Paleo Breakfast Recipes.
Click here to get your FREE copy of our delicious Breakfast Recipes!
The best ingredient is a sneaky scoop of collagen, which gives this smoothie extra staying power.
What Are The Health Benefits Of Collagen?
If you didn't already know, collagen is a powerhouse ingredient that can do amazing things for your health. You'll get a healthy dose of protein while improving your skin, restoring your gut, and protecting joints and bones. (1)
Collagen Peptides Makes All The Difference
This recipe uses collagen peptides, which have a mild taste and blend effortlessly into smoothies, puddings, and coffee.
It's better to use the peptides rather than gelatin (which is another form of collagen) to prevent it from gelling up. Peptides also digest faster than gelatin, making it a good choice for sensitive stomachs.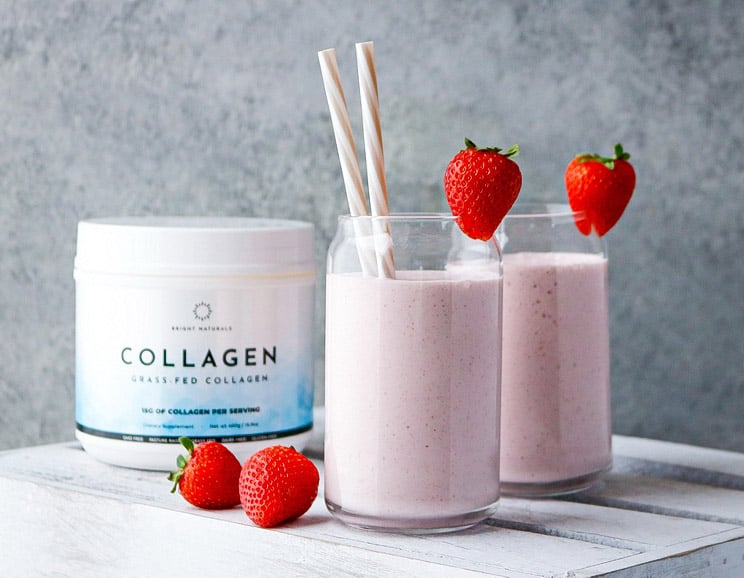 Here's Why We Skip The Ice
No need for ice in this recipe! Antioxidant-rich frozen strawberries add all the cold refreshing flavor and texture you need without ice watering down your smoothie. You can purchase pre-frozen strawberries at your local grocery store or freeze fresh ones yourself – just give them at least four hours in the freezer before blending up this collagen smoothie.
Going Dairy-free With Coconut Milk
Full-fat coconut milk helps create a rich texture similar to heavy dairy cream. It's also vegan-friendly and great for all dietary preferences.
Helpful Tips To Get Started:
Make it the night before. Store this smoothie in the fridge for a grab-and-go breakfast in the morning!
Add more berries. Try adding half a cup of blueberries or blackberries to add an extra boost of antioxidants.
Swap out the honey. Use equal amounts of maple syrup or one ripe banana for a different take.
Jennafer Ashley
Strawberry Collagen Smoothie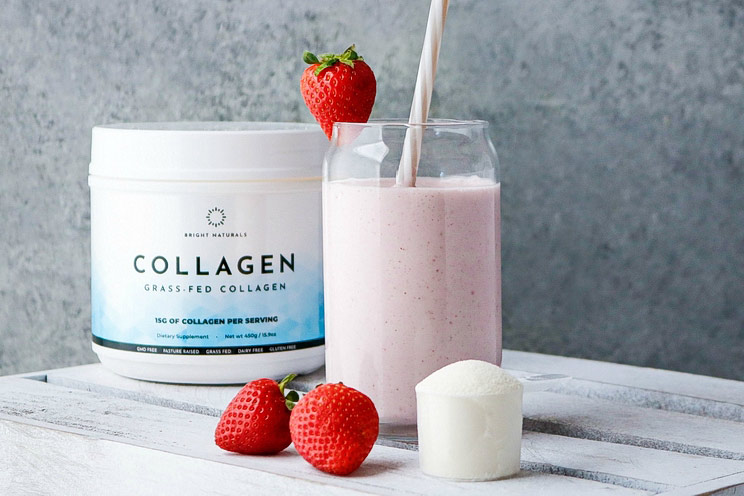 Prep Time:
5 mins
5 minutes
Nutrition facts:
9 grams of protein
30 grams of carbohydrates
5 grams of fat
Strawberry Collagen Smoothie
Blend up this 4-ingredient collagen smoothie for a nutritious, gut-healthy breakfast.
Ingredients
2 cups unsweetened full fat coconut milk

2 cups frozen strawberries

2 T raw honey

2 T Bright Naturals Collagen
Instructions
Combine ingredients in a blender and pulse on high speed until thick and creamy, about 30 seconds.

Divide between two glasses and serve right away.
Looking for Paleo ingredients? Here are a few we'd recommend:
Coconut milk (Native Forest)
Raw honey (Bee Farms)
Collagen (Bright Naturals)