Dive into this creamy 3-ingredient cashew butter by the spoonful!
Skip the preservatives (and the price!) of a store-bought jar of cashew butter and whip up this 3-ingredient homemade recipe instead. It's naturally sweet and ridiculously easy to make.
Start by roasting cashews in the oven. This step is important, as it brings out the oils in the cashews, which will help them break down in the food processor. Just be careful not to roast your cashews too long, as they will darken quickly and it will alter the taste. Roast until just fragrant, which is usually around 8-10 minutes. Remember that all ovens are different, so watch yours carefully!
Want to go Paleo? Not sure where to start?
Start with this FREE Paleo For Beginners Guide Today!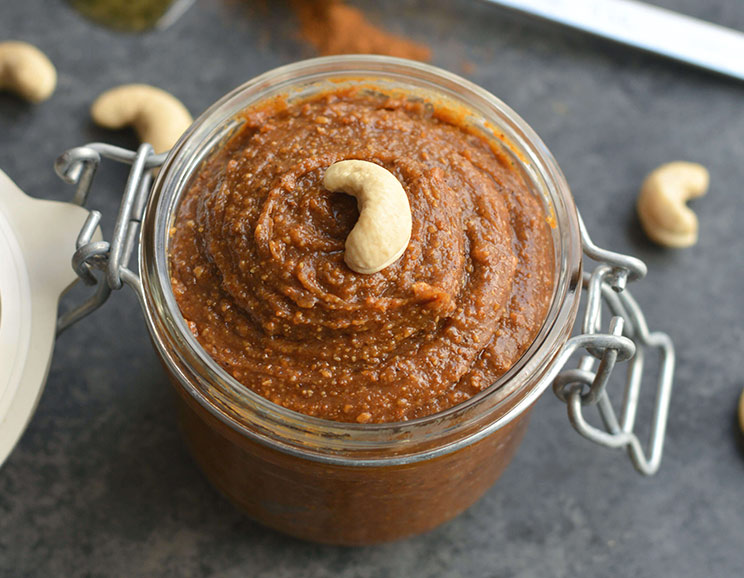 Next, blend the roasted cashews in a food processor with maple syrup and a dash of cinnamon. Patience is key here. It may take anywhere from 10-20 minutes for the creamy nut butter to appear in your food processor, but it will get there eventually! The wait is worth it – we promise.
Enjoy this homemade cashew butter on Paleo bread, dipped with fresh fruit and vegetables, or right out of the jar!
Megan Olson
3-Ingredient Cashew Butter

Cook Time:
10 mins
10 minutes
Prep Time:
10 mins
10 minutes
3-Ingredient Cashew Butter
Dive into this creamy 3-ingredient cashew butter by the spoonful!
Tools
Baking sheet

Food processor or high speed blender

Spatula

Glass jar
Ingredients
2 cups raw cashews

2 T maple syrup

1 t cinnamon

1-2 T water (as needed)
Instructions
Preheat the oven to 325°F. Spread the cashews out on a baking sheet.

Bake 8-10 minutes, or until fragrant.

Remove the pan from the oven and transfer the cashews to a food processor. Add the maple syrup and cinnamon, and blend on high for 2 minutes.

Scrape down the sides and blend again. Repeat this process until the cashew butter is creamy, about 10 minutes. Add water as necessary to get it to the desired consistency.

Store the cashew butter in a glass jar until ready to eat!

(You'll Also Love: The Easiest Almond Butter You'll Ever Make)