Move over takeout: Try this spicy, Paleo-friendly take on orange chicken for a sauce-lacquered favorite everyone will love.
Pan-fried coconut-crusted chicken captures the dishes' crispiness without turning to traditional cornstarch, while chili and garlic complement the oranges' sweetness.
Finally, Tamari rounds off the dish with its umami flavor. Serve atop a bed of cauliflower rice or with stir-fried vegetables.
Want to learn more about Paleo and how it can help you? Grab our FREE "What Is Paleo?" Guide by Clicking Here!
Courtney Hamilton
Paleo Spicy Orange Chicken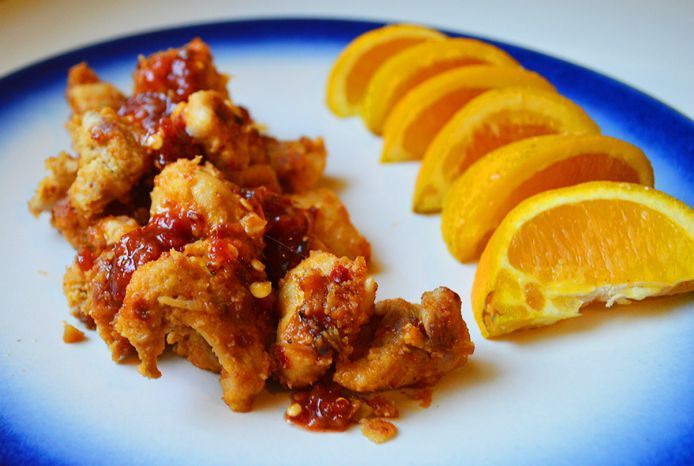 Cook Time:
30 mins
30 minutes
Prep Time:
15 mins
15 minutes
Paleo Spicy Orange Chicken
Ingredients
1 lb boneless chicken (darker meat is more flavorful!)

¼ cup coconut flour

½ cup shredded unsweetened coconut

2 T coconut oil

2 eggs, whisked

2 oranges, juiced and zested

2 cloves garlic, minced

2 T wheat-free Tamari

1 T maple syrup

Chili garlic sauce (or preferred Paleo hot sauce) to taste
1. Slice chicken into bite-sized pieces.
2. Whisk together orange juice and zest, minced garlic, Tamari, maple syrup and chili sauce in a shallow skillet. Bring to a boil.
3. Set up your dredging station with two bowls: one containing the whisked eggs, the other containing a blend of the coconut flour and shredded coconut. Dip pieces of chicken into eggs and then coconut, shaking off the excess.
4. Heat coconut oil until bubbling in a skillet. Carefully pan-fry chicken for 5-7 minutes a side.
5. The sauce should be boiling by now. While chicken is frying, reduce sauce to medium-high heat and stir frequently to thicken.
6. Coat chicken in sauce and serve.
(You'll Also Love: Paleo Sweet Potato Pad Thai Recipe)