If you love mayo, then you're gonna love this homemade Paleo mayo. A condiment favorite gone healthy!
The majority of market mayo's contain soybean oil, or other less healthy, polyunsaturated oils that can go rancid quickly. Luckily, whipping up your own mayonnaise at home is easy.
This healthy spin on the condiment favorite takes just 4 ingredients and a few turns of a blender – not to mention it's cheaper too. Egg yolks, Dijon mustard, apple cider vinegar and extra virgin olive oil combine into a creamy, smooth mayo.
Love apple cider vinegar? Boost your digestion and lose weight with our Apple Cider Vinegar handbook!
Click here to get your FREE copy of our ACV Guide!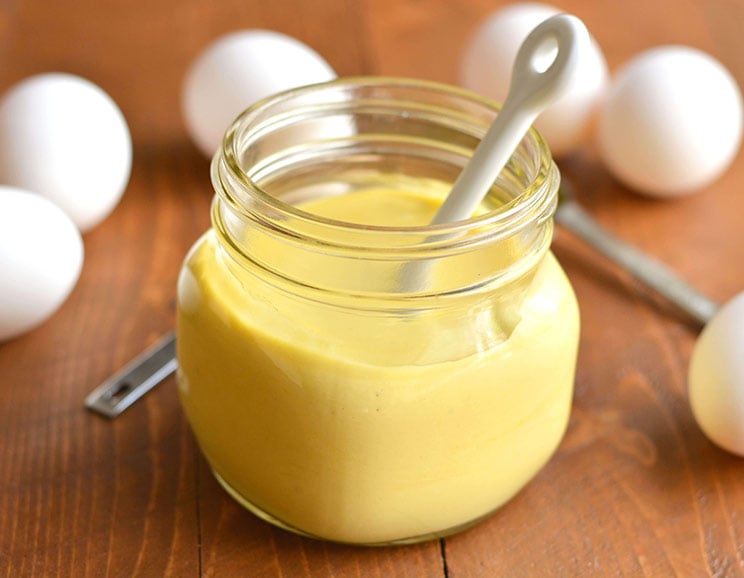 Helpful Tips To Get You Started:
Since this recipe is so simple, there are a lot of ways you can switch it up. For example, you can use whole eggs instead of the yolks. The texture won't be as thick if using whole eggs, but equally delicious. If you use whole eggs, only use two or three eggs instead of the five listed in the ingredients.
The extra virgin olive oil can be swapped for melted coconut oil or avocado oil. Extra virgin olive oil has a stronger flavor, so you may want to use avocado oil for a milder taste. Coconut oil can be swapped as well; however, it will solidify in the refrigerator, making it more difficult to use. Avocado oil has high levels of monounsaturated fat, which won't harden in the refrigerator.
If you prefer a sweeter mayo, add a little coconut sugar. If you like a bit of a kick, add some hot sauce or paprika powder. Experiment with your favorite flavors to make it your own.
Enjoy your Paleo mayo as a healthy spread on a grass-fed burger, mix in to thicken salad dressing, or use for your next chicken salad.
Megan Olson
Healthy Paleo Mayo with Apple Cider Vinegar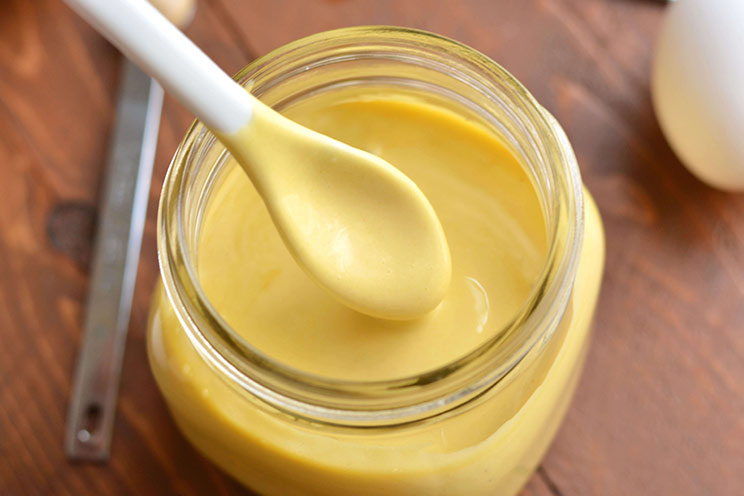 Prep Time:
15 mins
15 minutes
Serves:
25 servings, 1 T each
Healthy Paleo Mayo with Apple Cider Vinegar
This healthy spin on mayo takes just 4 ingredients and a few turns of a blender.
Ingredients
5 egg yolks, room temperature

2 T apple cider vinegar

4 t Dijon mustard

¼ - ½ cup extra virgin olive oil
Instructions
Place the egg yolks, apple cider vinegar and mustard in a food processor or high-speed blender. Blend on high 10 minutes until thick.

While the blender is still running, very slowly stream the extra virgin olive oil into the blender. Start with ¼ cup, then stop the blender to check the consistency. If it's too thick for you, add up to a ¼ cup more to thin it out.

Scrape down the sides of the blender and then transfer the Paleo mayo to a glass jar. Store covered in the refrigerator up to one month.
Watch the Recipe Video Below!

Looking for Paleo ingredients? Here's what we recommend:
Organic Apple Cider Vinegar (Bragg)

(You'll Also Love: Easy, Simple Homemade Sriracha)