Spicy, smoky chili gets beefed up with, yep, beef, mushrooms and kale. Made with mineral-rich bone broth, this kale chili makes for a healthy, flavorful and balanced meal.
As kale cooks down quite a bit, this chili is a bit more soup-like than stew-like.
Feel free to throw in heartier ingredients—cubed sweet potatoes works well—if you'd like something heavier. Paleo corn bread is obligatory, though.
How does bone broth fight inflammation AND promote weight loss? Download our Free Bone Broth Guide And Recipes To Find Out Now!
Click here to get your FREE Bone Broth Guide And Recipes Today!
Since this dish is a set-it and forget-it kind of deal, you don't have to worry about an overly complicated cooking process. It's a great recipe for days you're too impatient to cook. Just prep it ahead of time, let it sit, and enjoy when ready!
Courtney Hamilton
Spicy Mushroom Kale Chili Recipe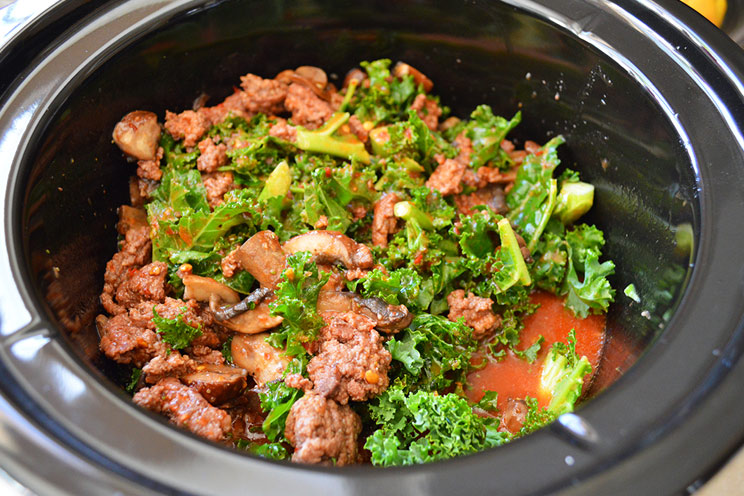 Cook Time:
2 hrs 15 mins
2 hours 15 minutes
Prep Time:
10 mins
10 minutes
Spicy Mushroom Kale Chili Recipe
Beef up your kale with this spicy chili recipe that includes mushrooms, peppers, tomatoes, and bone broth.
Tools
Frying Pan

Blender

Slow Cooker
Ingredients
1 lb grass-fed ground beef

10 oz Crimini mushrooms, sliced

10 oz kale, chopped

1 jar roasted red peppers

1 cup canned plum tomatoes

2 chipotle peppers in adobo sauce

2 t cumin

2 t chili powder

2 t salt and pepper

2 t oregano

2 garlic cloves

2 cups bone broth

½ cup water
Instructions
In a pan, brown ground beef and mushrooms for 15 minutes.

While meat and mushrooms cook, add to a blender red peppers, tomatoes, chipotle peppers, cumin, chili powder, salt, pepper, oregano, and garlic. Blend into a chili base.

Add to a slow cooker the ground beef, mushrooms, chili base, bone broth, water and kale. Cook mixture for a minimum of 2 hours on high, up to 6 hours on low.
Looking for Paleo ingredients? Here's what we recommend:
Beef Bone Broth (Kettle & Fire)

(You'll Also Love: 20 Easy Paleo Crock Pot Recipes)