Enjoy a Paleo, Thai-inspired meal in minutes with this Sweet Thai Chili Glazed Salmon — it's flavorful, filling, and just the right amount of spicy!
Since restaurant versions of this dish usually contain MSG, soy sauce, and other crazy additives, this dish is usually off the menu for most Paleo eaters. But by preparing your own and making a few tweaks, you can make a delicious and flavorful Asian-inspired meal in just 40 minutes or so.
Sweet Thai Chili sauce is exactly one of those recipes. Many times when you buy the pre-made sauce in the store, you'll see sugar as one of the first ingredients. But if you knew how easy and fast it is to make it on your own, you would never buy that store-bought junk again. And as a bonus, it's sweetened naturally with raw honey and tastes amazing!
Love slow cooker recipes?
Click here to get your FREE copy of our delicious Slow-Cooker Recipes!
The most challenging part of this recipe will most likely be finding the Thai chili peppers. Depending on where you live, you may be able to find them at your local Whole Foods. Otherwise, check a local Asian market. They'll be right with all the other produce and peppers.
If you have a really hard time finding them, you can try using a serrano pepper as a substitute. Just keep in mind that serranos are a little milder than Thai chilis, so if you like the extra heat, you may want to double up on the serranos!
Once the hard part it over, you'll just need to whip up the sauce — which takes only a minute. Throw some Thai peppers, fresh ginger and garlic, and honey and apple cider vinegar in a small saucepan and thicken it with a bit of arrowroot powder. Bring it to a quick boil and you're finished with this amazing sauce! (You'll even have extra for chicken or steak if you want!)
Allow the sauce to cool a little before drizzling it over your salmon fillets. Allow the salmon to marinate for about 10 minutes and then throw it in the oven to bake.
Fifteen minutes later, you'll have an incredibly moist and flavorful Asian creation. Serve it up with some asparagus and a lime wedge and you'll be dreaming of Thai beaches and sunshine!
Deanna Dorman
Sweet Thai Chili Glazed Salmon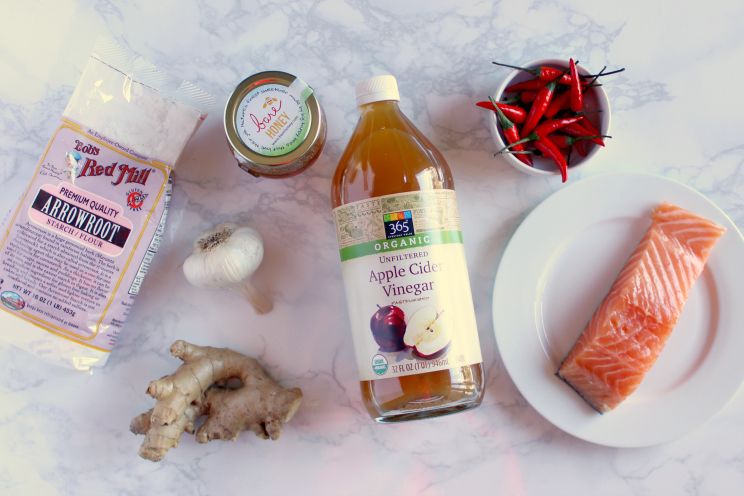 Cook Time:
15 mins
15 minutes
Prep Time:
15 mins
15 minutes
Sweet Thai Chili Glazed Salmon
Ingredients
For the Sweet Chili Sauce:

1/2 cup apple cider vinegar

1/4 cup raw honey

4 cloves garlic, minced

4-6 Thai chili peppers or 1 Serrano pepper, minced

2 t fresh grated ginger root

2 t arrowroot powder

For the Salmon:

2 - 6 ounce salmon fillets

1 T coconut oil

1 lime, cut into wedges for garnish

1 green onion, chopped for garnish
How To Make It
1. In a small saucepan, combine all the Sweet Chili Sauce ingredients together — the apple cider vinegar, honey, garlic, Thai peppers, ginger, and arrowroot powder — making sure to dissolve the arrowroot powder completely.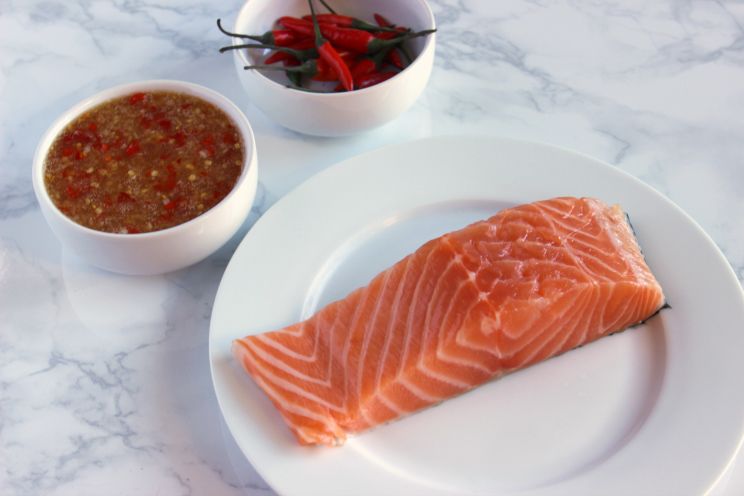 2. Bring the sauce to a boil over medium-high heat and allow the sauce to boil for about 1 minute to thicken. Remove from heat and allow to cool slightly before marinating the salmon.
3. Once the sauce has cooled slightly, pour the sauce over the salmon fillets and allow the salmon to marinate for at least 15 minutes.
4. Preheat oven to 400 ℉ and grease a glass baking dish or cast iron skillet with coconut oil.
5. Place the salmon in the baking dish and drizzle with the remaining marinade.
6. Bake for 12-15 minutes or until the salmon flakes easily with a fork.
7. Garnish with lime wedges and green onions and serve.

(You'll Also Love: Sweet Honey-Baked Salmon)