Jazz up your normal carrot snacking routine with these crispy, tasty carrot fritters!
Carrots are good for more than salads or baked into carrot cake, and this recipe proves it. This simple, crispy, and savory carrot fritters recipe transforms the humble veggie into a satisfying meal or hearty snack.
It uses ingredients that you probably already have on hand – carrots, scallions, garlic, eggs, tapioca starch, salt, pepper, and olive oil. They cook up quick, so long as you have a large skillet with room to pan-fry them. I suggest making a double batch and freezing them to enjoy whenever hunger strikes!
Love Paleo Breakfasts? Then you'll love our FREE Paleo Breakfast Recipes.
Click here to get your FREE copy of our delicious Breakfast Recipes!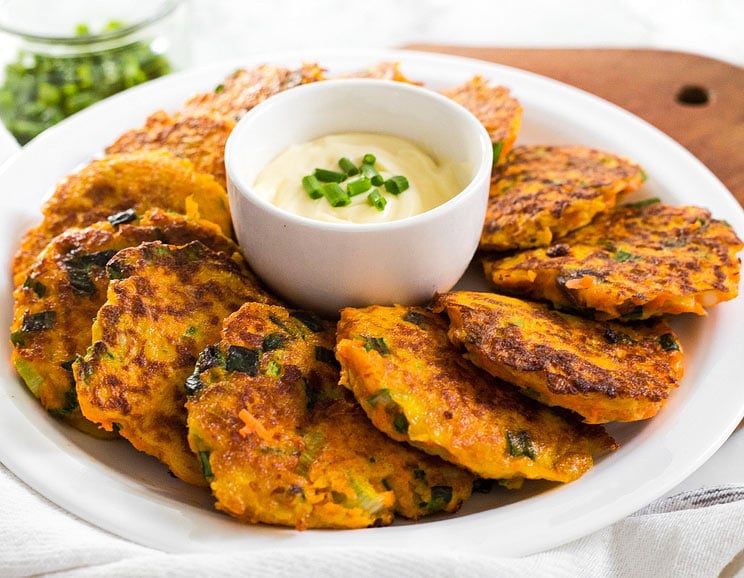 How To Grate Carrots
I find that grating the carrots on the smallest hole possible on the grater makes them easier to shape and creates more compact fritters.
This helps the fritters to hold well together during the frying process and prevents a sad, crumbly mess.
Helpful Tips To Get You Started:
Cook the fritters in batches. These fritters need space to cook, so cook them in batches of 3 or 4 fritters max. Depending on how large your skillet is, you may need to cook the fritters in 3 or more batches.
Swap the carrots for other vegetables. You can swap out the carrots in this recipe for shredded zucchini, butternut squash, or sweet potato.
Felicia Lim
Crispy Savory Carrot Fritters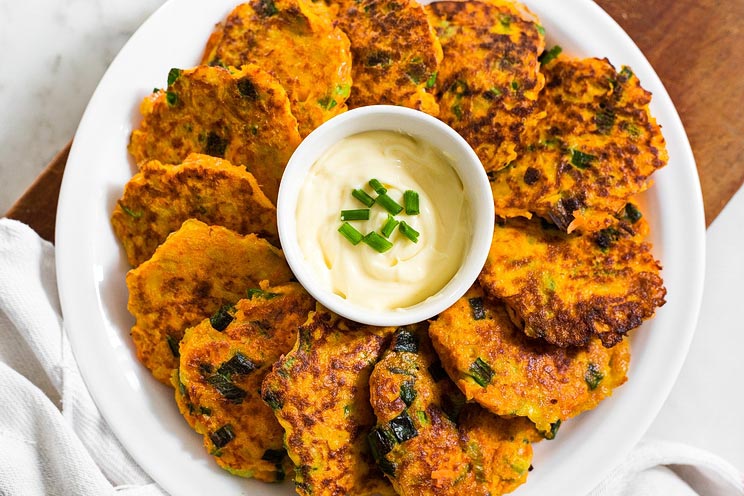 Cook Time:
20 mins
20 minutes
Prep Time:
10 mins
10 minutes
Nutrition facts:
4 grams of protein
49 grams of carbohydrates
20 grams of fat
Crispy Savory Carrot Fritters
Jazz up your normal carrot snacking routine with these crispy, tasty carrot fritters.
Tools
Large mixing bowl

Large skillet
Ingredients
3 cups shredded carrots

1 cup sliced scallions

1 T minced garlic

¾ cup tapioca starch

2 large eggs, beaten

1 t salt

1 t ground black pepper

2 T olive oil

Mayonnaise,

Chopped chives for garnish
Instructions
In a large mixing bowl, combine the shredded carrots, sliced scallions, minced garlic, tapioca starch, eggs, salt, and pepper. Mix well until combined.

In a large skillet, heat up the olive oil and scoop ¼ cup mounds of mixture into the pan in a single layer, spacing the mounds at least 1 inch apart and flattening them slightly.

Cook the fritters until they are golden brown and crispy on one side, about 2 to 3 minutes. Flip them and cook for another 1 to 2 minutes on the other side. Repeat until all the mixture is used up. Serve the carrot fritters immediately with mayonnaise and chopped chives.
Looking for Paleo ingredients? Here are a few we'd recommend:
Tapioca flour (Authentic Foods)
Black pepper (Frontier)
Olive oil (Sky Organics)
Primal mayonnaise (Primal Kitchen)
If you love veggie fritters, try our zucchini fritters or cauliflower fritters.