Let your slow cooker do the work with this keto breakfast casserole full of pork and veggies!
Casseroles are the perfect brunch option for a crowd. They feed hungry appetites and pack a ton of flavor.
This slow cooker version is a great, minimal prep breakfast, or as a keto recipe that makes weekday meals easy. It combines eggs with keto-friendly veggies, loads of spices, cheesy nutritional yeast, and fatty ground pork.
Looking for low carb keto recipes to burn fat and lose weight?
Click here to get your FREE Keto Breakfast Recipes Cookbook!
Why Ground Pork?
Before combining the ingredients in the slow cooker, ground pork gets browned with breakfast sausage seasonings like sage and black pepper. It brings the aroma and flavor that you would expect from breakfast sausage without the preservatives or high sodium levels.
Fatty ground pork keeps the casserole moist and flavorful. Look for pork with an 80/20 fat ratio to help fuel ketosis.
The pork doesn't have to be fully cooked at this point, but browning it ahead allows for the seasonings to marry with the pork. Dried basil, fennel seed, or oregano can also be added.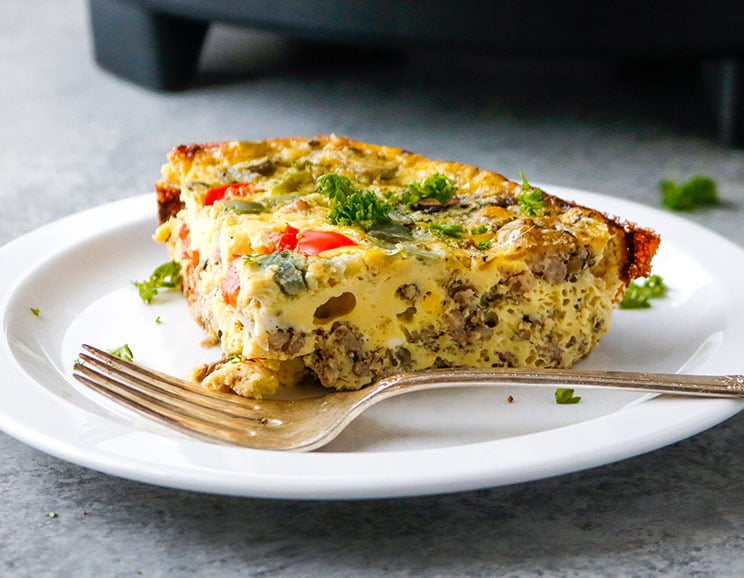 How To Make Your Casserole Keto
You'll stir in keto-friendly bell peppers and onions into your pork, then transfer the mixture to the slow cooker. Next comes the eggs.
We use a dozen eggs to ensure plenty of servings and also bind the casserole together. To amp up the fat content and stretch the volume of eggs, full-fat coconut milk gets whisked with the eggs, along with cheesy nutritional yeast.
Canned coconut milk is thick and creamy, creating a custard-like texture to the eggs. You can also use almond milk if you'd prefer.
Helpful Tips To Get You Started:
Pack in the veggies. This casserole is versatile. To keep it keto, try adding in other low-carb veggies like sliced mushrooms, chopped kale, sliced zucchini, or cauliflower florets.
Check the meal after 2 hours. Slow cooker temperatures may vary, so check eggs after 2 hours for doneness.
Make it meal prep-friendly. Store slices of casserole in an airtight dish for easy portioning and reheating. Reheat the slices in the oven at 300ºF in an oven-safe dish for 12 to 15 minutes.
Jennafer Ashley
Slow Cooker Keto Breakfast Sausage Casserole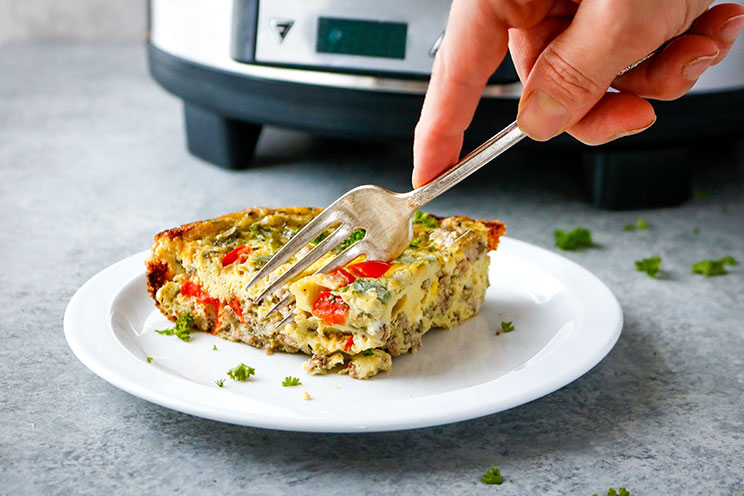 Cook Time:
3 hrs 10 mins
3 hours 10 minutes
Prep Time:
10 mins
10 minutes
Nutrition facts:
27 grams of protein
5 grams of carbohydrates
37 grams of fat
Slow Cooker Keto Breakfast Sausage Casserole
Let your slow cooker do the work with this keto breakfast casserole full of pork and veggies.
Tools
Medium cast-iron skillet

Slow cooker
Ingredients
1 lb pork sausage

1 t dry rubbed sage

1 t dried thyme

1/2 t garlic powder

1/2 t ground black pepper

1/2 t salt

1/2 cup chopped red onion

1/2 cup chopped green bell pepper

1/2 cup chopped red bell pepper

1 T ghee

12 large eggs

1/2 cup coconut milk

1 T nutritional yeast
Instructions
Heat a medium cast-iron skillet over medium heat for 2 minutes. Add the pork sausage and break it into small crumbles. Cook for 3 minutes.

Stir in the sage, thyme, garlic powder, black pepper, and sea salt. Cook 5 minutes longer. Turn the heat off. Stir in the chopped onion and bell peppers.

Grease the bowl of the slow cooker with ghee. Pour the pork and vegetable mixture into the bottom of the slow cookert. In a large mixing bowl, whisk the eggs, coconut milk, and nutritional yeast until the eggs are thoroughly combined. Pour it into the slow cooker over the pork mixture.

Cover and cook on low for 2 to 3 hours, until the eggs are cooked through. Slice into 6 servings. Serve hot.
Looking for Paleo ingredients? Here are a few we'd recommend:
Garlic powder (Frontier)
Black pepper (Frontier)
Coarse sea salt (AztecSeaSalt)
Ghee (Pure Indian Foods)
Coconut milk (Native Forest)
Nutritional yeast (NOW Foods)