These chewy cookies are the perfect treat to have on hand, with chunks of dark chocolate and creamy almond butter.
For those of you who prefer chewy cookies over crispy cookies, this recipe is your answer. Thick and studded with dark chocolate chunks, these cookies are addictively good and perfect for an in-between meal snack.
These cookies are made with a base of high-fiber coconut flour and protein-rich almond butter, so they keep you satiated. All you need is 25 minutes to whip up a fresh batch, then you can tuck in and enjoy!
Love Coconut Flour Recipes? Then you'll love our FREE Coconut Flour Recipes.
Click here to get your FREE copy of our delicious Coconut Flour Recipes!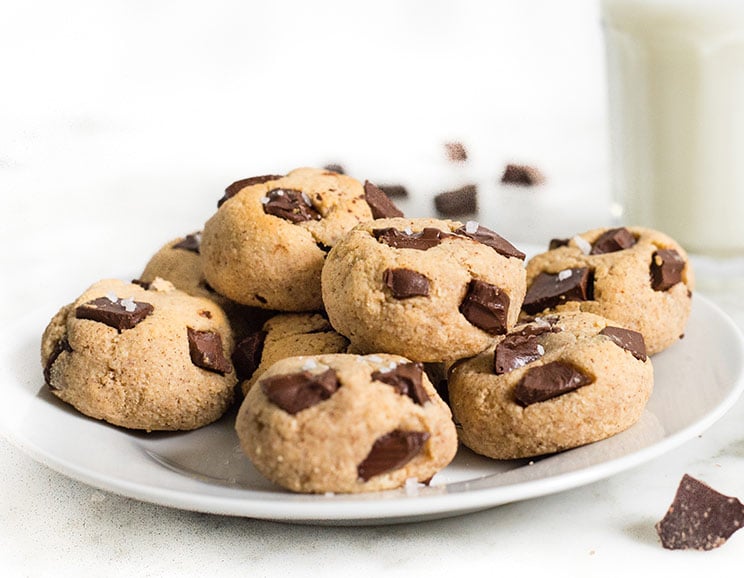 Why Use Coconut Flour?
In this recipe, I use coconut flour for of its absorptive capabilities. It absorbs any extra moisture and adds extra fiber to the cookies.
Remember that with coconut flour, a little goes a long way. While a bag of coconut flour may not be inexpensive, it will sure last a long time.
Helpful Tips To Get You Started:
Add some nuts for extra crunch. If you'd prefer a bit more crunch in your cookies, feel free to add half a cup of chopped nuts such as walnuts, almonds, or pistachios.
Sub in your favorite nut butter. Don't have any almond butter on hand? Most nut butters work well here, like cashew, hazelnut, and even nut-free options like sunflower seed butter or tahini.
Felicia Lim
Chewy Chocolate Chunk Almond Butter Cookies with Coconut Flour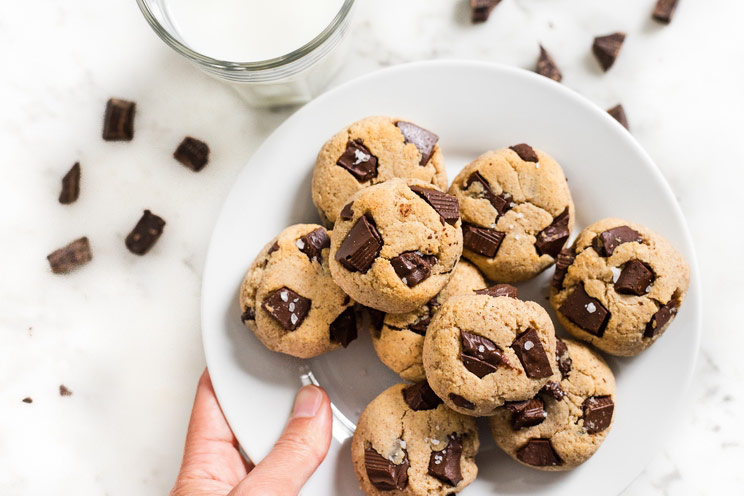 Inactive Time:
10 mins
10 minutes
Cook Time:
10 mins
10 minutes
Prep Time:
15 mins
15 minutes
Nutrition facts:
9 grams of protein
29 grams of carbohydrates
26 grams of fat
Chewy Chocolate Chunk Almond Butter Cookies with Coconut Flour
These chewy cookies are the perfect snack to have on hand, with chunks of dark chocolate and creamy almond butter.
Tools
Large baking sheet

Parchment paper

Large mixing bowl
Ingredients
1 egg

¼ cup honey

¼ cup almond butter

2 T coconut oil, melted and cooled

¾ cup almond flour

⅓ cup coconut flour

½ t baking powder

¼ t salt

½ cup coarsely chopped dark chocolate

Coarse sea salt, for sprinkling on top
Instructions
Preheat the oven to 350°F and line a large baking sheet with parchment paper.

In a large mixing bowl, beat the egg, honey, almond butter, and coconut oil until smooth.

Whisk in the almond flour, coconut flour, baking powder, and salt. Mix well until you get a cookie dough consistency. Let the dough sit for 5 minutes for the coconut flour to absorb the moisture. Fold in the dark chocolate chunks until they are evenly distributed.

Scoop 1 heaping tablespoon of cookie dough and roll it into a small ball between your palms. Place the cookie dough balls in a single layer on a baking sheet, leaving at least 2 inches of space between each ball. Press each ball down slightly to form the shape of a cookie.

Bake the cookies for 10 minutes, until just golden. Remove the baking sheet from the oven and sprinkle sea salt over the cookies.

Allow the cookies to cool completely before removing from the sheet, approximately 10 minutes.
Looking for Paleo ingredients? Here are a few we'd recommend:
Raw honey (Bee Farms)
Almond butter (Barney)
Cold pressed coconut oil (Viva Naturals)
Almond flour (Hodgson Mill)
Coconut flour (Nutiva)
Baking powder (Hain)
Sunspire baking chocolate (SunSpire)
Coarse sea salt (AztecSeaSalt)
More in a brownie mood? Whip up these fudgy olive oil brownies with flaky sea salt, or keep your cookies low-carb with these keto chocolate cloud cookies.