Enjoy all the flavor of a loaded baked potato but without all the carbs in this high protein, filling breakfast bake!
This easy low-carb keto breakfast bake serves up loaded baked potato flavor without the hefty carb count of traditional potatoes. Instead, cauliflower rice steps in, adding a dose of antioxidants and hash brown texture to the recipe. Pasture-raised bacon adds smoky flavor while green onion adds a pop of herby flavor. Thick-cut bacon is recommended to ensure lots of meaty flavor throughout.
To keep this breakfast bake low in carbs and Paleo-friendly, nutritional yeast is used instead of dairy cheese for a hint of cheesy flavor. Nutritional yeast is ideal for using in low-carb recipes that you want to be Paleo-compliant because it's dairy-free and low-carb. You can also add in a cup of your favorite non-dairy shredded cheese.
Looking for low carb keto recipes to burn fat and lose weight?
Click here to get your FREE Keto Breakfast Recipes Cookbook!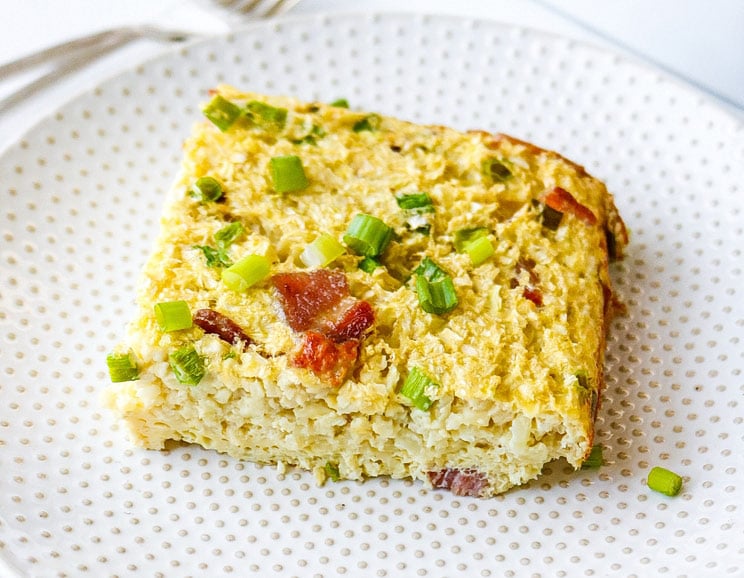 The addition of cauliflower rice helps to add bulk and satiating fiber to the recipe without using starchy potatoes. Cauliflower makes a great substitute for spuds in mashed potatoes and casseroles, giving the texture you crave of potatoes without all the carbs. You can find fresh cauliflower rice in the produce department of many grocery stores for quick and easy prep.
Other great herbs for this breakfast bake include chives, dried thyme, and red pepper flakes.
Helpful Tips to Get Started:
Keep this recipe handy for meal prep. There are six hefty servings that make for a great repeatable breakfast throughout the week.
To reheat: Preheat the oven to 325ºF and place a slice of the breakfast bake on a small sheet pan. Bake for 12–15 minutes.
Store in an airtight container in the refrigerator. Enjoy within 7 days.
Jennafer Ashley
Keto Cauliflower Breakfast Bake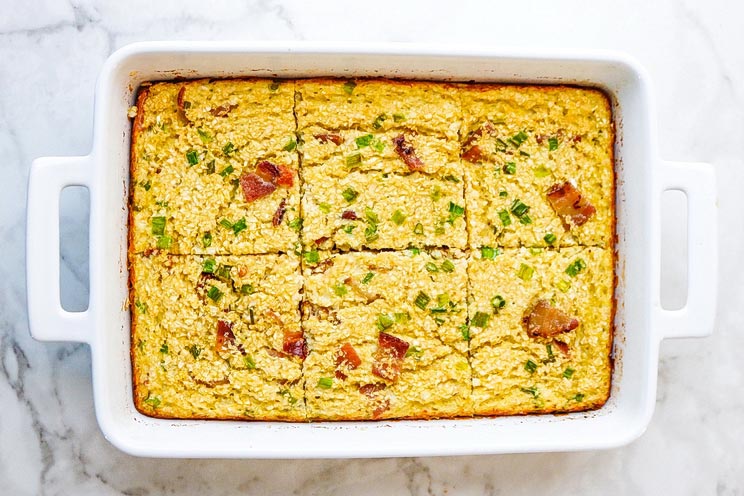 Cook Time:
45 mins
45 minutes
Prep Time:
10 mins
10 minutes
Nutrition facts:
13 grams of protein
3 grams of carbohydrates
17 grams of fat
Keto Cauliflower Breakfast Bake
Enjoy all the flavor of a loaded baked potato but without all the carbs in this high protein, filling breakfast bake.
Tools
8-by-11-inch baking dish

Large mixing bowl
Ingredients
Ghee for greasing

10 large pasture-raised eggs

½ cup full-fat unsweetened coconut milk

1 t minced garlic

2 T nutritional yeast

1 t sea salt

4 strips pasture-raised bacon, cooked and chopped

¼ cup chopped green onion

4 cups cauliflower rice
Instructions
Preheat the oven to 350ºF and grease the casserole dish with ghee.

Whisk the eggs, coconut milk, garlic, nutritional yeast, and sea salt in a large mixing bowl until smooth.

Stir in the bacon, green onion, and cauliflower rice.

Pour the mixture into the prepared dish and bake for 40-45 minutes or until the eggs are cooked through.

Cool the casserole at room temperature for 10 minutes before slicing into 6 servings.
Looking for Paleo ingredients? Here are a few we'd recommend:
Ghee (Pure Indian Foods)
Coconut milk (Native Forest)
Nutritional yeast (Antyhony's)
Sea salt (REDMOND)
Can't get enough keto breakfast goodness? Try one of these low-carb recipes…