Simply mix and pour your way to a chocolatey and deliciously fluffy keto lava cake.
This easy molten chocolate lava cake will satisfy your indulgent cravings without breaking any keto rules. You'll layer on the chocolatey flavors with raw cacao powder and sugar-free chocolate chips, and keep things sweet without the carbs thanks to monk fruit. Unsweetened almond milk and almond flour add a subtle nuttiness.
This lava cake couldn't be easier to throw together. You'll combine your wet and dry ingredients separately, bringing them together with a sifter. After that, simply transfer the batter to the slow cooker and let it do all the work.
Love Paleo Desserts? Then you'll love our FREE Paleo Dessert Cookbook.
Click here to get your FREE copy of our delicious Dessert Recipes!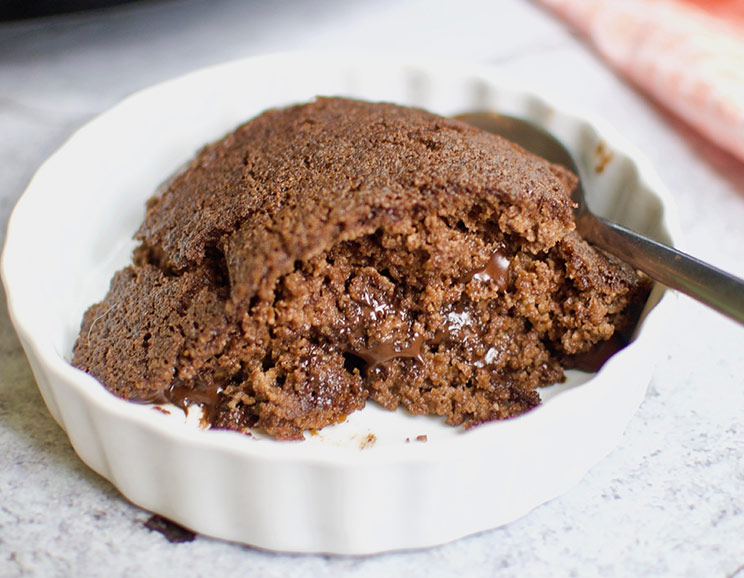 Time Matters
Some people like the ooey-gooey center of a lava cake. Others like a moist, cake-like lava cake. The difference between the two is simply the amount of time it spends in the slow cooker.
If you're going for that pudding-like center, then stick to the lower end of the cooking time. For a firmer cake, let it go a little longer.
Grease The Slow Cooker
Even though your slow cooker insert is non-stick, add an extra light layer of coconut oil. This is helpful for serving, especially if you're trying to keep the cake intact when removing it from the pan.
Helpful Tips To Get You Started:
Don't skip the sifting. Sifting the dry ingredients together not only produces a uniform consistency but also helps to evenly incorporate all the ingredients throughout.
Stir lightly. This batter doesn't need a lot of time with the whisk to come together. Mix until just incorporated.
Danielle Moore
Slow Cooker Keto Molten Lava Cake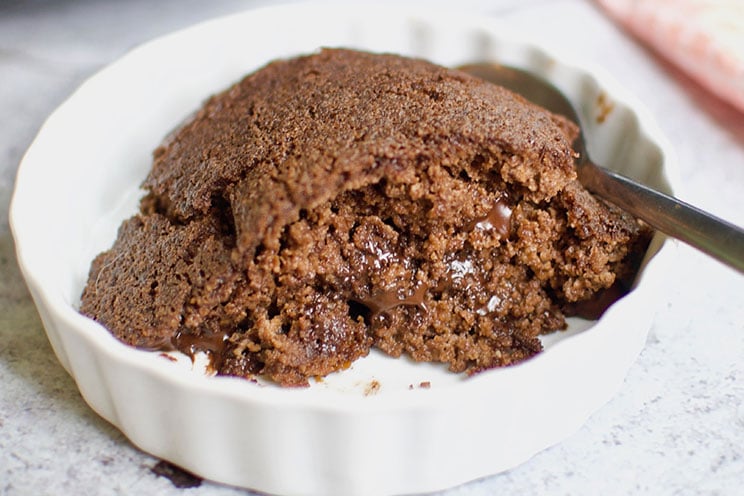 Inactive Time:
10 mins
10 minutes
Prep Time:
10 mins
10 minutes
Nutrition facts:
2 grams of protein
1 grams of carbohydrates
10 grams of fat
Slow Cooker Keto Molten Lava Cake
Simply mix and pour your way to a chocolatey and deliciously fluffy keto lava cake.
Tools
6-quart slow cooker

Large mixing bowl

Sifter
Ingredients
6 T melted coconut oil, plus extra for greasing

3 eggs

½ cup unsweetened almond milk

2 t vanilla extract

¾ cup almond flour

¼ cup monk fruit

3 T raw cacao powder

1 T baking powder

¼ cup sugar-free dark chocolate chips
Instructions
Lightly grease the slow cooker insert with the coconut oil.

In a large mixing bowl, whisk together the eggs, almond milk, melted coconut oil, and vanilla extract until combined.

Into the wet ingredients, sift the almond flour, monk fruit, cacao, and baking powder. Whisk just until a smooth batter forms.

Fold in the chocolate chips.

Transfer the mixture into the slow cooker and smooth into an even layer.

Cook on low for 2 hours, until set.

Cool in the slow cooker for 10 minutes. Scoop onto a plate and enjoy warm.
Looking for Paleo ingredients? Here are a few we'd recommend:
Cold pressed coconut oil (Viva Naturals)
Vanilla extract (Frontier)
Almond flour (Hodgson Mill)
Monk fruit powder (Julian Bakery)
Raw cacao powder (Healthworks)
Baking powder (Hain)
Semi-sweet chocolate chips (Enjoy Life)
Looking for even more keto indulgences? Whip up this light keto bread, or sink your teeth into these creamy and sweet keto PB&J cups.