Want a quick breakfast or lunch full of protein and spring veggies? You'll love this hearty sausage quiche with zucchini and juicy tomatoes!
When I was a kid, I loved sleeping over at a friend's house. One of our favorite breakfasts was a hearty egg quiche made with ham, eggs, tomatoes, and veggies. It was the perfect satisfying breakfast to follow up a late night of movies and fun.
While you're probably past binge-watching movies well into the wee hours of the night (at least usually, right?), starting your day with a delicious and protein-packed breakfast is always a good idea. This Paleo version of quiche nixes the wheat-based crust and uses sausage instead of ham for more flavor. It's quick and easy, but tastes gourmet. It can be made ahead, too — no more excuses not to eat in the morning!
Love Paleo breakfast recipes? Get our free breakfast recipe cookbook here!
Sourcing the best-quality free-range eggs and pastured pork sausage for this recipe will guarantee that you're getting the best possible protein, fat, and nutrient profile in this dish. Fresh zucchini and tomatoes from the garden or farmer's market are the best choices for the plant-based components of this simple dish.
While this quiche has just a few key ingredients, they come together in this recipe perfectly. The salty sausage balances the light veggies, and the eggs and coconut milk add an irresistible creaminess.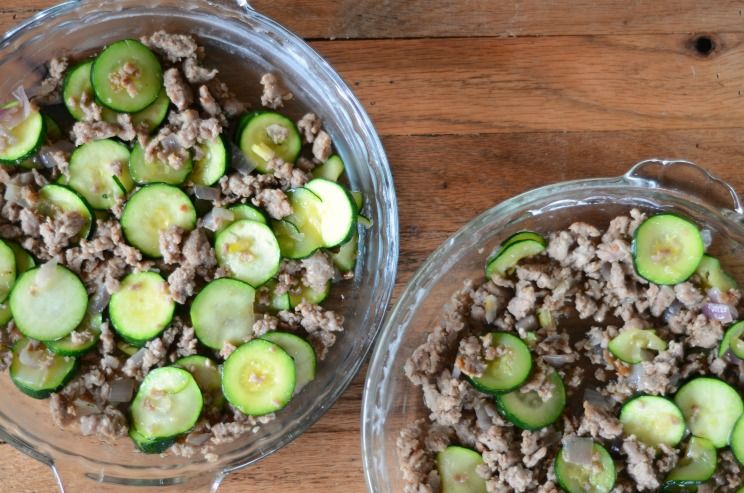 I prefer to make this recipe in two pie pans. The result is an egg bake that's lighter and cooks in record time! If you only use one dish for baking, a 9"x11" glass baking dish will work, just add a few extra minutes to bake.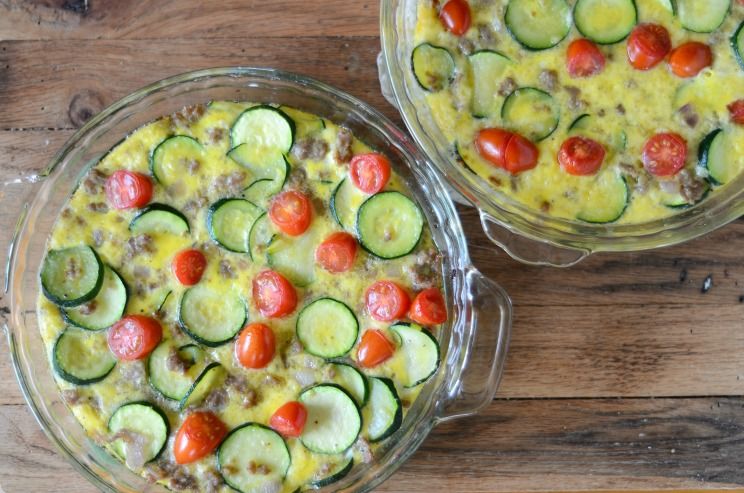 So if you're looking for a well-balanced breakfast, look no further than this recipe!
Heather Resler
Breakfast Sausage Quiche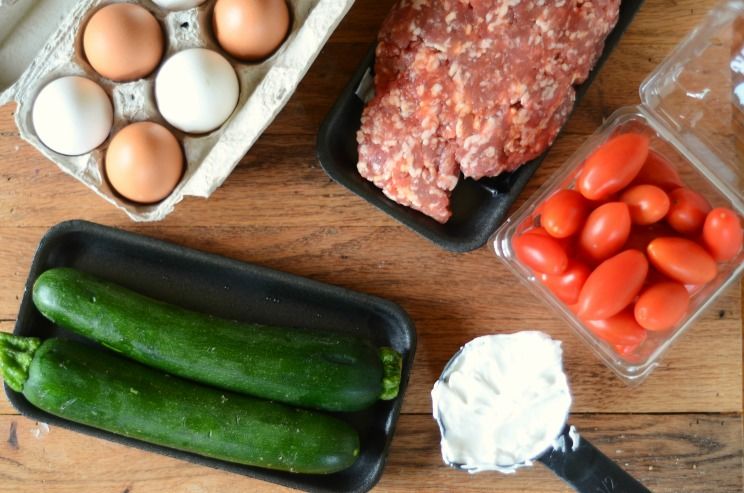 Cook Time:
25 mins
25 minutes
Prep Time:
20 mins
20 minutes
Breakfast Sausage Quiche
A quick breakfast full of protein and spring veggies.
Ingredients
6 eggs

2 small zucchinis, thinly sliced

1/2 red onion, diced

1 pound bulk pork sausage

1 T coconut oil

1/2 cup coconut milk

1/2 cup halved grape tomatoes

Freshly ground black pepper, to taste
Instructions
Preheat the oven to 350° F and grease two 9" pie pans.

Heat up a large skillet over medium heat.

Add the coconut oil and sausage; cook and stir until meat is about halfway cooked.

Add the onions and zucchini; cook and stir until meat is cooked and veggies are crisp-tender.

Divide the meat and veggie mixture between the prepared pie pans.

In a mixing bowl, whisk the eggs with the coconut milk and pepper until a bit frothy.

Divide the eggs evenly between the two pie pans, pouring evenly. Press the meat and veggies down a bit with a spatula to evenly cover with eggs.

Sprinkle the tops of the quiches with halved grape tomatoes.

Bake for 20-25 minutes.

Cool a bit.

Slice, serve, and enjoy!

(You'll Also Love: Paleo Bacon Spinach Quiche)