Ditch the bread and turn ordinary eggs into round breakfast buns with this single ingredient hack!
If you're looking for the ultimate keto breakfast that is full of protein and plenty of satiating fats while keeping carbs to a minimum, then this recipe is for you. Mashed avocado, smoky bacon, and chipotle mayo are layered between egg buns for a breakfast that is full of flavor and keeps hunger at bay.
Rather than serve eggs between two slices of bread, the eggs become the bread by first scrambling them until smooth before cooking inside Mason jar lids. That's right, the bands of wide-mouth Mason jar lids create a round egg bun that is perfect for making a breakfast sandwich that's just the right size. This method also works for cooking eggs sunny side up, creating a perfectly round cooked egg.
Looking for low carb keto recipes to burn fat and lose weight?
Click here to get your FREE Keto Breakfast Recipes Cookbook!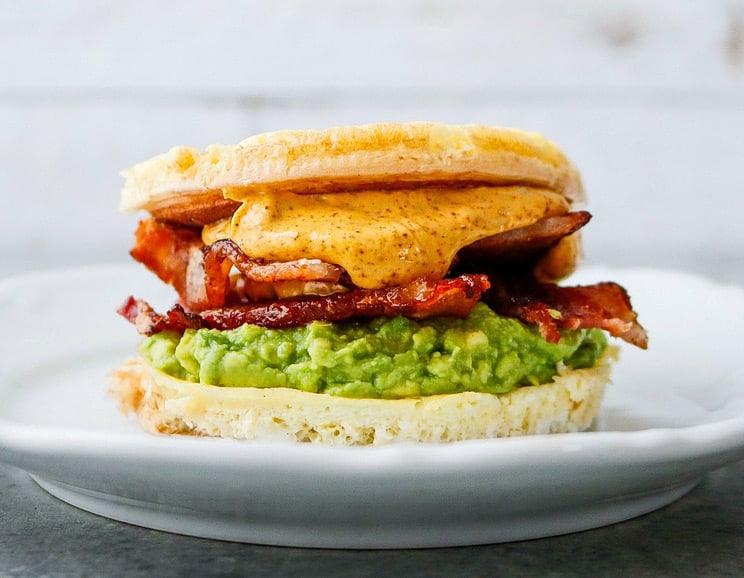 Once the egg buns are ready, mashed avocado, crisp, pasture-raised bacon, and a spicy chipotle mayonnaise are piled on top. Be sure to use bacon and mayonnaise that are sugar-free and Paleo-friendly. Turmeric adds a dose of antioxidants to the mayonnaise and the creamy texture takes the place of cheese.
Chipotle powder is made from smoked jalapeño, and adds a smoky aroma and flavor to recipes. Chipotle powder is great for using in chili, as a rub for meat before barbecuing, or adding spicy smoky flavor to veggies like sweet potatoes before roasting. If you prefer less heat, chili powder or smoked paprika can be used instead. Other great toppings include sliced tomatoes, fresh spinach, and a pork breakfast sausage patty.
Helpful Tips To Get Started:
The mason jar bands will be very hot after cooking the eggs; allow them to cool for 5 minutes before handling.
To remove the eggs from the Mason jar bands, slide a sharp knife around the perimeter of the ring and gently lift to remove egg bun.
This breakfast sandwich is best served right after assembling for the best texture.
Jennafer Ashley
Bunless Keto Breakfast Burger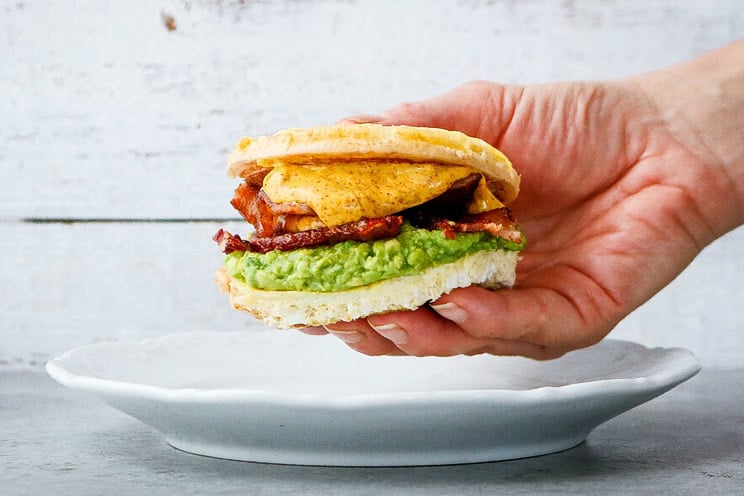 Cook Time:
8 mins
8 minutes
Prep Time:
5 mins
5 minutes
Nutrition facts:
30 grams of protein
4 grams of carbohydrates
50 grams of fat
Bunless Keto Breakfast Burger
Ditch the bread and turn ordinary eggs into round breakfast buns with this single ingredient hack.
Tools
Cast-iron skillet

2 wide-mouth Mason jar lid bands
Ingredients
For the Chipotle Mayonnaise:
2 T Paleo mayonnaise

¼ t ground turmeric

⅛ t chipotle powder

Pinch of black pepper
For the Egg Buns:
2 large eggs

1 t ghee for cooking

⅓ cup mashed avocado

2 strips pasture-raised bacon, cooked and cut in half
Instructions
Stir together the mayonnaise, turmeric, chipotle powder, and black pepper in a small bowl. Set aside.

Heat ghee in a medium cast-iron skillet over medium heat for 2 minutes. In a small bowl, whisk the eggs until smooth. Place 2 wide-mouth Mason jar lid bands on the hot skillet upside down, and divide the egg mixture between the center of each ring. Cover the pan with a lid. Cook for 5 to 6 minutes or until the eggs are cooked through. Use a spatula to transfer the eggs to a plate. Cool for 5 minutes before removing the eggs from the bands.

Layer one egg "bun" with avocado, bacon, and a drizzle of chipotle mayonnaise. Top with the remaining egg bun and enjoy.
Looking for Paleo ingredients? Here are a few we'd recommend:
Primal mayonnaise (Primal Kitchen)
Turmeric (Simply Organic)
Black pepper (Frontier)
Ghee (Pure Indian Foods)
You'll Also Love: Mini Keto Egg Burgers with Bacon and Avocado