Fall in love with a Keto Blueberry Lemon Mug Cake you can bake up in just 25 minutes!
Mug cakes are the perfect way to treat yourself without overindulging. Easy and simple to make, these keto cakes are loaded with grain-free nutrients to boost your mood and improve your digestive health.
Blueberries and lemon juice join together for a sweet and tart flavor that pairs perfectly with coconut oil. The base of this cake is made with a combination of hazelnut flour and coconut flour to create a light and fluffy texture, turning golden brown when baked.
Love Paleo Desserts? Then you'll love our FREE Paleo Dessert Cookbook.
Click here to get your FREE copy of our delicious Dessert Recipes!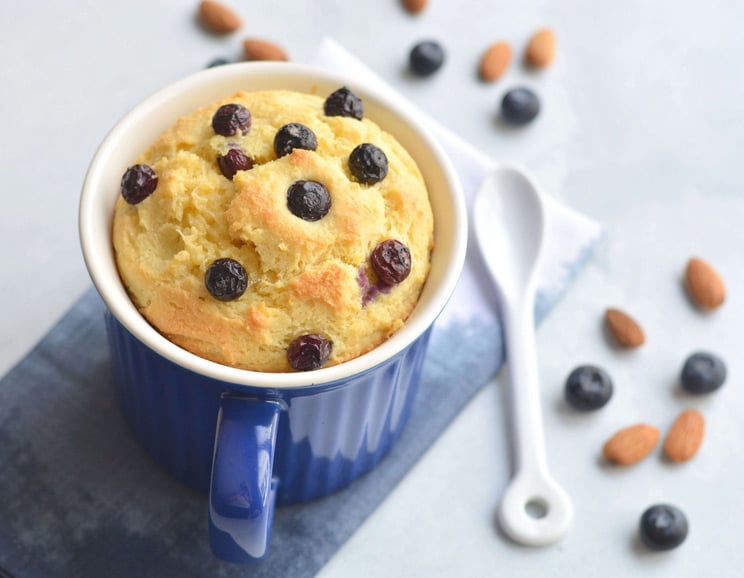 You'll need an oven-safe mug for this recipe. So before starting, check the bottom of your mug to make sure it's oven-safe. To get started, combine the wet ingredients in one bowl and the dry ingredients in another. Mix both dry and wet ingredients together, then gently stir in the coconut oil and blueberries last. Do not mix the coconut oil with the initial blending of the wet ingredients since this will cause the mixture to harden.
After the cake batter is mixed, pour it into the oven-safe mug and bake for 25 minutes. Once the cake is complete, serve immediately and enjoy warm!
Megan Olson
Keto Blueberry Lemon Mug Cake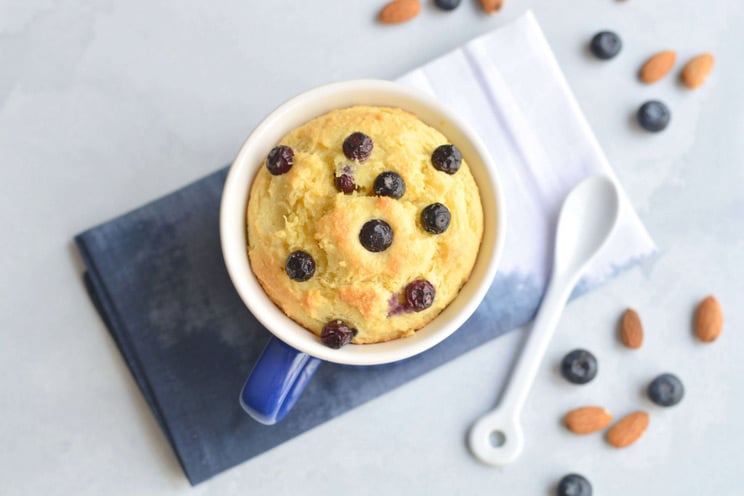 Cook Time:
25 mins
25 minutes
Prep Time:
10 mins
10 minutes
Keto Blueberry Lemon Mug Cake
Fall in love with a Keto Lemon Blueberry Mug Cake you can bake up in just 25 minutes.
Tools
2 Mixing medium bowls

20 oz. oven-safe mug
Ingredients
1 cup hazelnut flour

¼ cup coconut flour

4 large eggs, room temperature

½ cup coconut oil, melted plus more for greasing

1 t baking powder

2 T lemon juice, freshly squeezed

3 T blueberries
Instructions
Preheat the oven to 350°F and grease the inside of a 20-ounce oven-safe mug with melted coconut oil.

Place the eggs and lemon extract in a mixing bowl and whisk until the yolk is broken down.

Place the hazelnut flour, coconut flour, and baking powder in a separate mixing bowl and sift together to incorporate the dry ingredients.

Add the wet ingredients to the dry ingredients, then add the melted ½ cup of coconut oil. Whisk the ingredients together until it forms a thick dough.

Stir in the blueberries then transfer the dough to the prepared mug.

Place the mug on a baking sheet with a ¼ cup of water and bake for 23-25 minutes, or until a toothpick can be inserted clean.

Serve warm out of the oven and enjoy!
Tips:
Place the mug onto a baking sheet to prevent it from cracking or spilling during the baking process.
While we used a 20oz. mug for this recipe, feel free to divide the batter between two smaller mugs, or divide the ingredients in half and serve the recipe in one smaller mug.
Looking for Paleo ingredients? Here are a few we'd recommend:
Coconut flour (Nutiva)
Cold pressed coconut oil (Viva Naturals)
(You'll Also Love: The Gluten-Free Red Velvet Mug Cake
)