Let your slow cooker do the work while fresh stuffed peppers filled with savory beef jerky and kale simmer in a rich tomato sauce.
Everything you love about stuffed peppers is packed into this no-fuss keto recipe, but with one surprising ingredient: beef jerky! Since the jerky pieces slow cook in a savory tomato sauce with lots of fresh veggies, it cooks up moist and full of flavor, pleasing even the pickiest eaters.
Beef jerky is a delicious swap for ground meat when you're in a pinch. Make sure to use high-quality, nitrate-free, grass-fed jerky to get the most flavor and nutritional value (we recommend Paleo-approved Chomps). For this recipe, the jerky gets broken down in a food processor to resemble ground beef and tastes amazing when soaked in the savory veggie flavors.
Love slow cooker recipes?
Click here to get your FREE copy of our delicious Slow-Cooker Recipes!
Start by removing the tops of your bell peppers and scoop out the seeds. Warm ghee in a skillet and sauté carrots and minced red onion for 5 minutes until the onions start to tenderize. Add kale and continue to cook for 2 minutes.
Meanwhile, remove the thin casing from the beef jerky sticks and chop them into small pieces. It's important to remove the casings from the jerky to help the tomato sauce moisten the meat as it cooks. Pulse the jerky in a food processor until crumbled and add to the skillet along with the tomato sauce. Stir well.
Carefully spoon the beef jerky mixture into the peppers and place into your slow cooker. Add water to help steam the peppers as they cook and set to low for 4 hours. Enjoy your jerky stuffed peppers while they're hot!
Tip: This recipe reheats well for easy weekday meals. Just cover with foil in an oven safe dish and reheat at 350°F for 20-25 minutes.
Jennafer Ashley
Slow Cooker Jerky and Kale Stuffed Peppers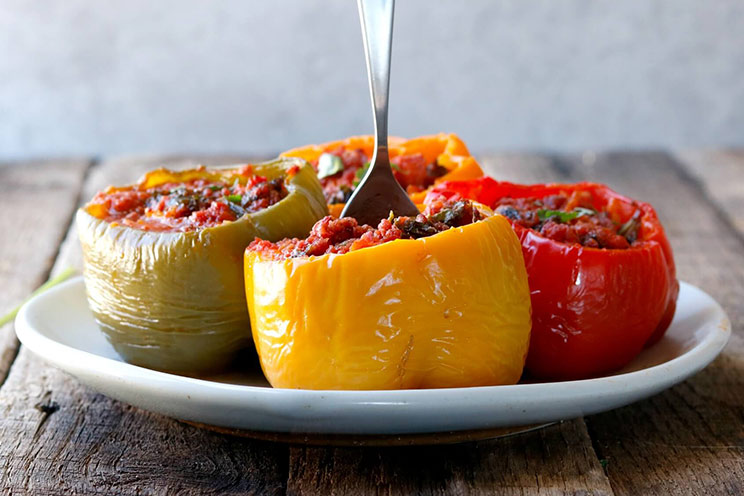 Prep Time:
10 mins
10 minutes
Slow Cooker Jerky and Kale Stuffed Peppers
Let your slow cooker do the work while fresh bell peppers stuffed with savory beef jerky and kale simmer in a rich tomato sauce.
Tools
Skillet

Food processor

Slow cooker
Ingredients
4 bell peppers

1 t ghee

½ cup red onion, minced

2 carrots, chopped

2 cups kale, finely chopped

4 grass-fed beef sticks (We used Chomps)

2 cups tomato sauce

½ t sea salt

1 t dried oregano

2 cups water
Instructions
Hollow out the bell peppers by cutting off the tops and removing the seeds. Set aside.

Melt the ghee in a skillet over medium heat. Add the onion and carrots, then sauté for 5 minutes. Add the kale and cook for 2 minutes longer.

While the vegetables cook, remove the casing from the beef sticks and chop into small pieces. Place in a food processor or high speed blender and pulse until crumbled.

Add the crumbled beef and tomato sauce to the skillet; season with sea salt and oregano. Stir well.

Spoon the beef mixture into the bell peppers and place into slow cooker. Add 2 cups of water and cook on low for 4 hours.
Looking for Paleo ingredients? Here are a few we'd recommend:
Ghee (Pure Indian Foods)
Grass-fed beef sticks (Chomps)
This post is sponsored by our friends at Chomps. Our goal is to always bring you healthy, Paleo-friendly articles that we know you'll love. We only feature trusted brands approved by the PaleoHacks team.
You'll Also Love: Keto Low Carb Jerky Tacos