Chow down on these keto jerky tacos filled with jalapeño-spiced beef.
For the quickest taco meat ever, try beef jerky! Since it isn't raw, it only needs to be heated, spiced and served with your favorite taco toppings for some seriously satisfying tacos.
To keep this recipe keto-friendly, serve the taco fillings on a keto "tortilla". It's great for breakfast! For those on a less strict diet, you can use these warm, crispy Paleo tortillas made with tapioca starch and almond meal.
Love Paleo Breakfasts? Then you'll love our FREE Paleo Breakfast Recipes.
Click here to get your FREE copy of our delicious Breakfast Recipes!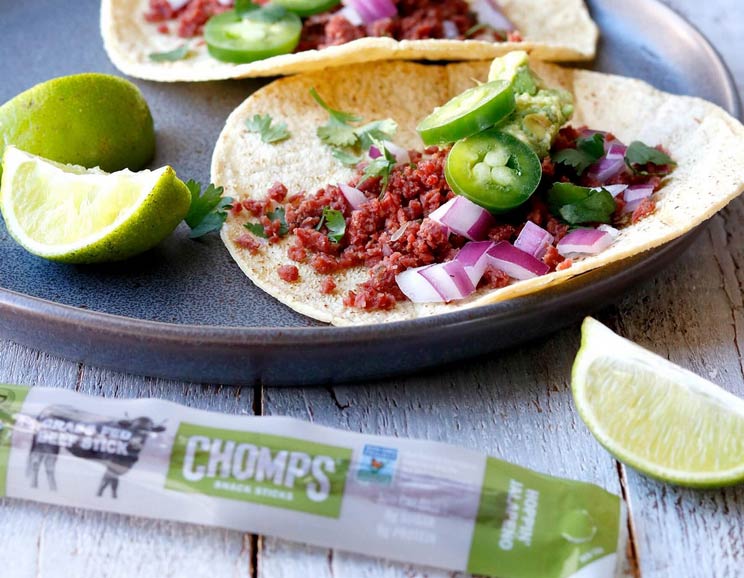 The key to creating the best jerky tacos is using high quality meat without any toxic additives or hormones. We recommend finding trusted brands like Chomps jerky that are not only grass-fed but Whole30-approved too. We used their Hoppin' Jalapeño flavor for these tacos, but if you prefer a little less spice, the original flavor works just as well.
Start by removing the casing on each jerky strip by scoring with a knife and then peeling off. Chop the jerky into pieces and pulse in a food processor until crumbled. Add the taco meat to a hot skillet with ghee and add cumin and sea salt. Cook for 3-4 minutes, stirring often.
Spoon the spicy taco meat onto the Paleo-friendly tortilla of your choice and top with mashed avocado, red onion, cilantro and jalapeño.
Jennafer Ashley
Keto Low Carb Jerky Tacos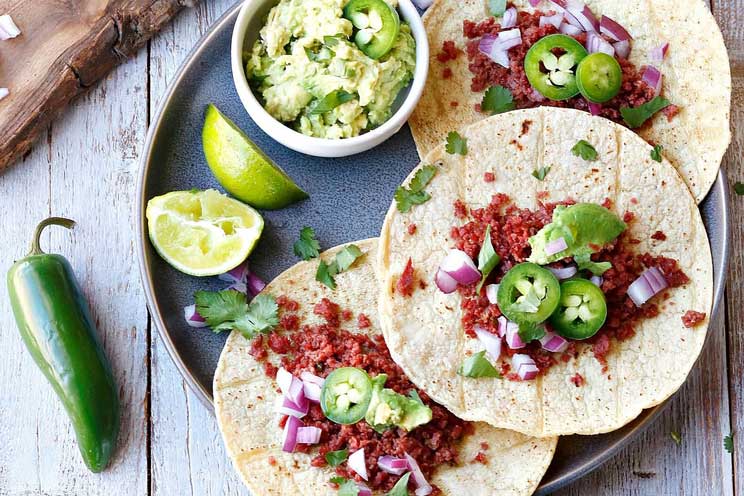 Cook Time:
5 mins
5 minutes
Prep Time:
5 mins
5 minutes
Keto Low Carb Jerky Tacos
Chow down on these keto tacos filled with jalapeño-spiced beef jerky.
Tools
Food processor

Medium skillet
Ingredients
4.5 oz of jerky (or 4 Chomps jerky sticks)

1 t ghee

½ t ground cumin

¼ t sea salt

4 Paleo tortillas

½ a ripe avocado, mashed

⅓ cup red onion, minced

½ a jalapeño, thinly sliced

Chopped cilantro
Instructions
Remove the casing from the beef sticks and chop into small pieces. Place in a food processor and pulse until crumbled.

Heat the ghee in a skillet over medium heat until melted. Add the crumbled jerky, cumin and sea salt. Heat for 3-4 minutes until well moistened and hot.

Serve jerky taco meat on Paleo tortillas topped with avocado, jalapeño, red onion and cilantro.
Looking for Paleo ingredients? Here's what we recommend:
Ghee (Pure Indian Foods)

This post is sponsored by our friends at Chomps. Our goal is to always bring you healthy, Paleo-friendly articles that we know you'll love. We only feature trusted brands approved by the PaleoHacks team.
For more unique Paleo jerky dishes, try one of these recipes…