If you're not already convinced that coconuts are a caveman's best friend then you will be about two seconds after your first bite of one of these beauties.
Coconut macaroons have always been an all-time favorite of mine but most recipes use shredded coconut which I feel can impart somewhat of a 'bitty' texture; I prefer to use flakes for more of a 'bitey' mouth feel. If you have no idea what I'm talking about then compare the two and you'll see (or feel) the difference for yourself!
This really is another one of those recipes that you might want to experiment with just a little when it comes to the quantities and cooking time. It mainly depends on how powerful your oven is and how crispy you like your macaroons to be, but either way you should be able to come up with some life-changing treats on your first attempt, no problem!
Love Paleo Desserts? Then you'll love our FREE Paleo Dessert Cookbook.
Click here to get your FREE copy of our delicious Dessert Recipes!
Have a few of these Paleo coconut macaroons with an ice cold glass of almond milk and you'll be in Heaven.
Rebecca Maclary
Paleo Coconut Macaroons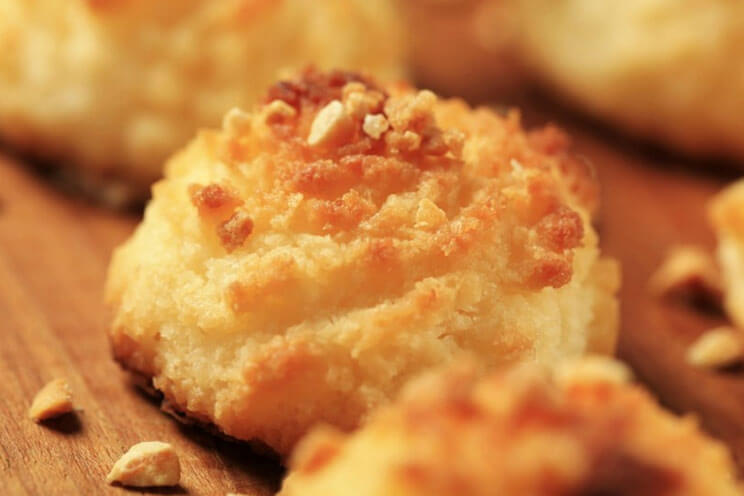 Cook Time:
15 mins
15 minutes
Prep Time:
35 mins
35 minutes
Paleo Coconut Macaroons
Ingredients
2 ½ cups coconut flakes

¼ tsp sea salt (flaked varieties complement the sweetness of the honey wonderfully)

2 – 3 egg whites

¼ cup raw honey
Directions:
Begin by pre-heating your oven to around 325 – 350F.
Thoroughly mix together the egg whites and honey with a whisk or fork. Once thoroughly mixed, add the coconut flakes and salt and then cool in your refrigerator for a half hour or so.
Take 2 Tbsp of the now-cooled mixture and compress it together into a ball or small patty with your fingers.
This recipe should make 6 – 8 macaroons, so portion each one out individually based on the size you prefer and then lay them out onto a greased and/or lined baking tray.
Once you're happy with the shape of your macaroons, put them into your pre-heated oven and bake at 325 – 350F for 10 – 15 minutes.
Depending on how cooked you want your macaroons to be, you might like to check on them at the 10-minute mark, especially if you have a powerful fan-assisted oven.
Here's the really hard part: Remove your macaroons from the oven and leave them to cool for an hour or so before serving.
Ok, let's be honest, the amazing smell is almost definitely going to be overpowering, so you can have one while they're still warm. Just make sure you let them cool for a few minutes so you don't burn your mouth!
You could easily customize this simple recipe by swapping out the honey in favor of maple syrup, or perhaps by adding a dash of cinnamon.
Either way, you're going to love the one-two punch of the crunchy, flaky outside and the softer, more familiar texture of the insides, so keep everything as it is for your first attempt and you're almost sure not to want to change anything!