Prepare yourself for the most fall-apart, tender and juicy turkey you've ever made – slow-cooked right in the crockpot!
If you are intimidated by the daunting task of cooking a turkey for Thanksgiving, then this easy crockpot recipe is for you. When the turkey is finished, the result is fall-off-the-bone flavorful turkey that doesn't even need a carving knife (I used my hands to completely debone it).
Here are the key tips of the trade to ensure you get a perfect turkey every time.
Love slow cooker recipes?
Click here to get your FREE copy of our delicious Slow-Cooker Recipes!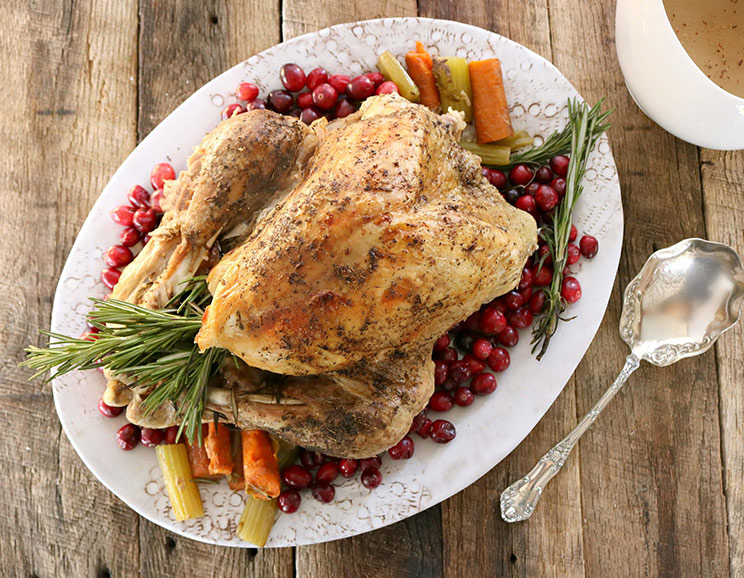 The Bird
Purchase a turkey that is hormone-free and pasture-raised. Many health food stores offer these turkeys a month in advance of Thanksgiving and some carry them year round. You'll need to let a frozen 8-9 pound turkey defrost for 2-3 days in the refrigerator. It took my 9 pound turkey 3 days to fully defrost.
The Slow-Cooker
It is very important to use a turkey that will fit in your slow-cooker. For a 6.5 quart oval slow-cooker, use a turkey that is 9 pounds or under. If you get your turkey home and find that the breast sticks out a little higher and you are unable to cover it with a lid, don't fret; tightly cover it with aluminum foil for the first few hours until the turkey cooks down enough to cover it completely with the lid.
Preparing the Turkey
Remove any giblets from the cavity of your turkey. Give the turkey a good rinse under cool water, as it can get a bit slimy while defrosting. Pat dry with a paper towel so the herbs will stick. Line the bottom of your crockpot with any veggies you'd like to use. I recommend the traditional pairing of celery and carrots, but leeks and onions would also be delicious. Tip: Don't pile veggies too high or there won't be room for the turkey!
Next, place aromatic fresh herbs like rosemary, thyme or sage in the cavity of the turkey. As the turkey cooks, the herbs will steam inside releasing their flavor and aroma throughout the bird (yum!). Use your hands to rub ghee or grass-fed butter on the outside of turkey and under the skin, then rub dry herbs and sea salt on the breast and legs. Tie the legs together with kitchen twine (if they aren't already tied) and tuck the wings behind the turkey. Place the turkey inside the slow-cooker and cover. There is no need to add water or stock to the slow-cooker; in a matter of hours there will be a ton of drippings and natural broth created from the turkey and veggies. Set the temperature to high and cook for 6-7 hours or until internal temperature reaches 165°F. If you prefer to cook on low, allow 8-9 hours for cooking.
Finish Like a Pro
Once the turkey is finished, gently remove from the slow cooker and place it in an oven safe pan. Because the slow-cooker creates such a tender turkey, some of the bones may fall out as you lift the turkey. Turn the broiler on and broil the turkey for 6-7 minutes or until the skin is golden brown.
Slice it Up
Carving is a breeze with a slow-cooked turkey. Once the turkey has rested 20-30 minutes, use a sharp carving knife to slice the breast. I used my hands to pull the drum sticks apart and then effortlessly was able to pull hunks of the meat off until it was completely deboned, much like you would a rotisserie chicken. Serve the turkey with veggies from the pan or use those tender veggies along with drippings from the slow-cooker to create a flavor-packed gravy. Simply add veggies and 1-2 cups of drippings/juices to a blender and pulse until smooth and thick.
Jennafer Ashley
Slow Cooker Whole Turkey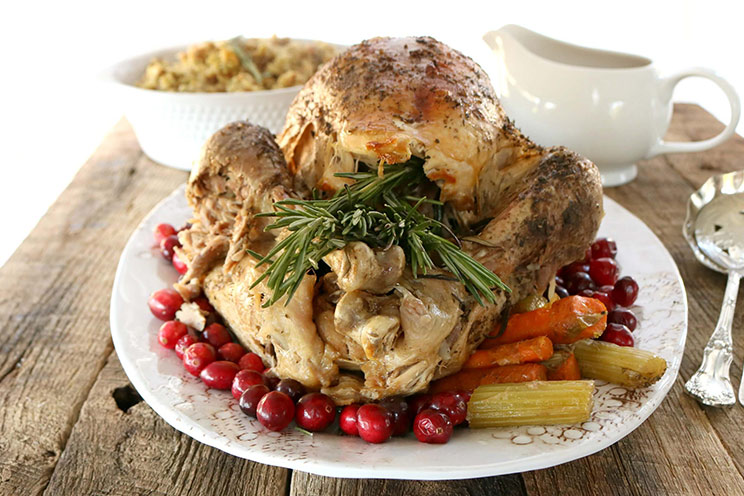 Prep Time:
10 mins
10 minutes
Slow Cooker Whole Turkey
Prepare yourself for the most fall-apart, tender and juicy turkey you've ever made - slow-cooked right in the crockpot.
Tools
6.5 quart slow-cooker

Paper towel

Carving knife

Kitchen twine

Oven safe pan
Ingredients
8-9 lb turkey, defrosted

2 T ghee or grass-fed butter

1 T dried herbs (sage,basil, thyme, oregano)

1 t garlic, minced

1 t sea salt

Fresh herbs (rosemary, thyme)

2 cups celery, coarsely chopped

2 cups carrots, coarsely chopped
Instructions
Rinse the outside of the turkey and pat it dry. Rub the turkey liberally with ghee and cover with dry herbs, garlic and sea salt.

Stuff fresh herbs inside the turkey cavity. Fold back the wings and tie the legs with kitchen twine if necessary.

Add all vegetables to the crockpot, and place the turkey on top. Set to High and cook for 6-7 hours.

Heat the oven to broil. Carefully remove the turkey from the crockpot and set it in a large oven safe pan. Broil for 5-7 minutes or until the skin is golden brown.

Allow the turkey to rest for 25-30 minutes to redistribute the juices before slicing.
Looking for Paleo ingredients? Here's what we recommend:
Ghee (Pure Indian Foods)
You'll Also Love: 41 Paleo Thanksgiving Desserts Better Than Pecan Pie

Lose weight, fight inflammation, and soothe your digestion with delicious meals like juicy skirt steak with cucumber & radish salad, succulent pulled pork, and more!
FREE Cookbook:
80 Gourmet Paleo Recipes from
a Professional Chef trained at Le
Cordon Bleu in Paris
FREE Cookbook:
80 Gourmet Paleo Recipes
from a Professional Chef
trained at Le Cordon Bleu
in Paris