Sweet, creamy, nutty and just a little bit ooey-gooey, pecan pralines get enrobed in super dark chocolate in these Paleo candies. The best part? They're made with a handful of simple, wholesome ingredients with no processed junk in sight.
Made with only five main ingredients, you'll be surprised how easy these guilt-free candies come together. While they're inspired by the caramel chocolate turtles of your childhood, we nix all the stabilizers, processed sugars, corn syrup and more found in the store-bought version. Pecans serve as the "sandwich bread" to a simple date caramel, then the whole thing gets drizzled in dark chocolate. We opted for 90 percent, and for good reason. With a super-sweet date caramel, you need something a little bitter to balance that out. Of course, go with the darkest chocolate you enjoy.
Love Paleo Desserts? Then you'll love our FREE Paleo Dessert Cookbook. Click here to get it!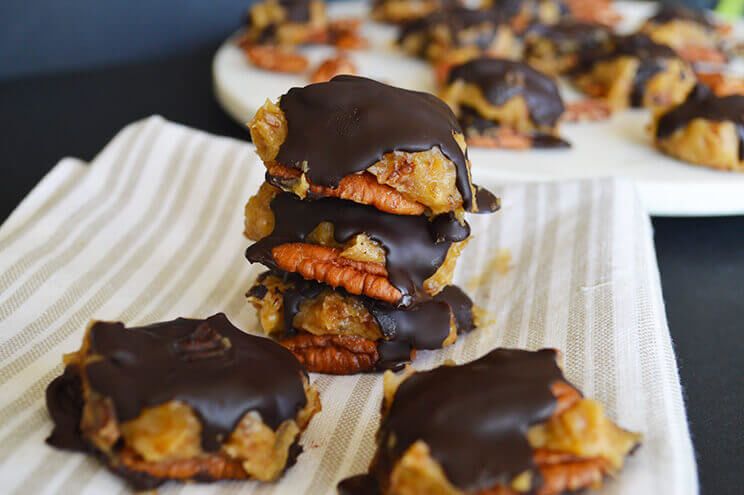 Rather than go through the often-tricky caramel-making process, we opt for a foolproof coconut milk and date-based caramel made in the food processor. It has a good bit more texture than the original stuff, but it's equally delicious. It's also critical that your dates are ripe, soft and somewhat sticky to the touch so that the food processor can handle them. If not, be sure to soak your dates for 10 minutes (and discard the water) prior to processing them.
Be sure to keep your treats refrigerated. Otherwise, they may end up a (probably still delicious) melted mess on your kitchen counter.
These make for a delicious dessert and great homemade gifts. In fact, you can combine them with a few other candy recipes like Paleo Snickers, Milky Ways, and Kit Kats for a Paleo chocolate variety box—make it for the best of friends, or keep it in the house for emergencies.
Courtney Hamilton
Dark Chocolate Pecan Pralines Recipe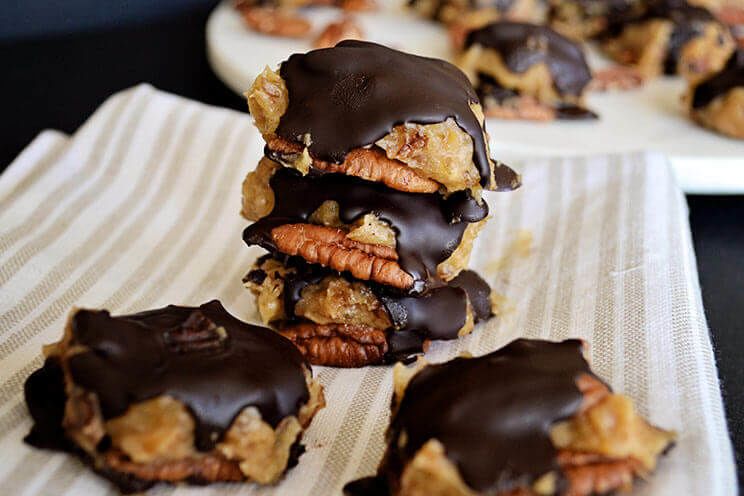 Cook Time:
40 mins
40 minutes
Prep Time:
15 mins
15 minutes
Dark Chocolate Pecan Pralines Recipe
Sweet, creamy, nutty and just a little bit ooey-gooey, pecan pralines get enrobed in super dark chocolate in these Paleo candies.
Ingredients
4 oz pecan halves

1 lb Medjool dates, pitted (must be ripe and sticky, otherwise soak 10 minutes)

¾ cup coconut milk

1 t vanilla extract

8 oz dark chocolate

Water, as needed
Instructions
In a food processor, combine Medjool dates, coconut milk and vanilla extract. Process until smooth and creamy, adding water as needed to thin it out. This is your date caramel.

Build your pecan clusters. Try two pecans on the bottom, a layer of caramel, and one pecan on top.

Freeze pecan clusters for 20 minutes, until caramel is firm.

Melt chocolate. Drizzle chocolate over the top. Return to freezer for ten minutes until chocolate sets.


(You'll Also Love: Dark Chocolate Bacon Bark)