Love candy, but hate all those chemicals? Now you can make your own Paleo Kit Kat bars that are gluten-, grain-, dairy- and refined sugar-free.
There are moments when I crave a chewy, salty, chocolatey goodness. Luckily, these healthy candy bars made with wholesome ingredients satisfy that craving!
With a buttery, coconut-based crust reminiscent of a shortbread cookie, a sweet, gooey caramel sauce in the middle and rich dark chocolate on top, these magical bars come together in one delicious crunch! Chewy and crispy all in one bite!
Love Coconut Flour Recipes? Then you'll love our FREE Coconut Flour Recipes.
Click here to get your FREE copy of our delicious Coconut Flour Recipes!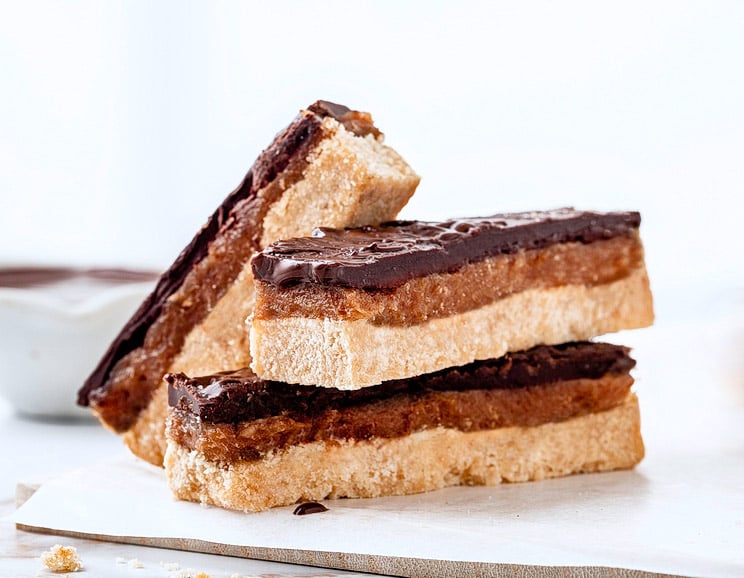 Now these bars do take a little elbow grease to make; however, each layer is pretty simple. Just be sure to follow the method in the instructions carefully. But I guarantee these decadent treats are worth the wait.
Tip: When slicing the bars, be sure to slice the bars in one stroke versus rotating the blade front to back, as that will break the chocolate.
Megan Olson
Homemade Kit Kat Bars Recipe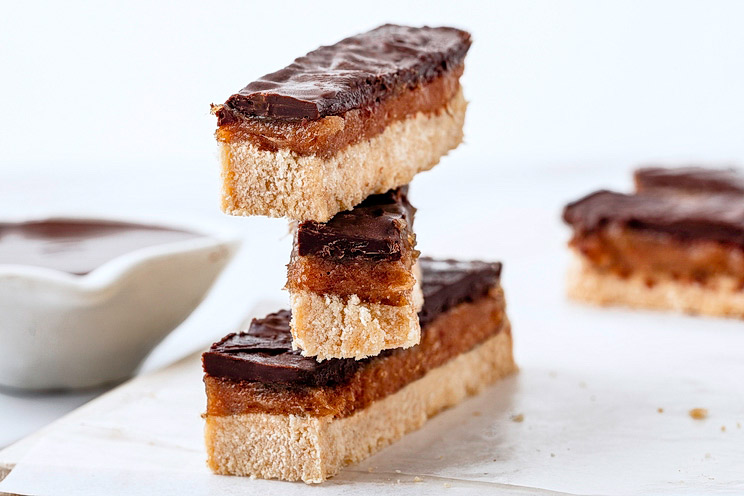 Inactive Time:
2 hrs
2 hours
Cook Time:
10 mins
10 minutes
Prep Time:
40 mins
40 minutes
Nutrition facts:
2 grams of protein
29 grams of carbohydrates
16 grams of fat
Homemade Kit Kat Bars Recipe
Love candy, but hate all those chemicals? Now you can make your own Paleo Kit Kat bars that are gluten-, grain-, dairy- and refined sugar-free.
Tools
Large mixing bowl

Small mixing bowl

9x5-inch baking pan

Microwave

Small saucepan
Ingredients
For the Crust Layer:
1 cup coconut flour

½ cup coconut oil, melted

3 T honey
For the Caramel Sauce Layer:
1 cup dates, pitted and soaked in water

1 T unsweetened coconut milk

1 t vanilla extract

1 T coconut oil, melted
For the Chocolate Layer:
½ cup dark chocolate

½ t coconut oil, melted
Instructions
Place dates in a large bowl and fill with water to soften 1-2 hours. Drain water from dates, set aside.

In a small bowl, combine melted coconut oil, honey and coconut flour until it becomes a gooey mixture.

Place the dough in plastic wrap 20 minutes to set. Do not place in the refrigerator or the coconut oil will harden and separate from the dough.

While the dough settles, preheat oven to 350°F. Line a 9x5-inch loaf pan with parchment paper, allowing the paper to hang over the edges for easy removal.

Transfer the crust mixture to the pan and spread into an even layer into the corners of the pan.

Place crust in the oven to bake 10 minutes until slightly raised and browned. Cool crust 30 minutes before proceeding.

While the crust bakes, place the dates in the microwave to warm 1-2 minutes. Then add all ingredients for the caramel layer in a blender, placing the dates in first.

Blend on high until the ingredients are broken down and becomes a sticky, smooth mixture.

Spread the caramel sauce into an even layer over the crust. Place in refrigerator for 2 hours.

Once set, make the chocolate layer by melting chocolate and coconut oil in a small saucepan over low heat.

Spread the chocolate into an even layer over the bars. Place back in the refrigerator to set 1 hour.

Remove from the refrigerator and gently lift the bar out of the pan with the parchment paper and place on a hard surface. Slice into 12 bars using a large knife.
Looking for Paleo ingredients? Here are a few we'd recommend:
Coconut flour (Anthony's)
Cold pressed coconut oil (Viva Naturals)
Raw honey (Bee Farms)
Coconut milk (Native Forest)
Vanilla extract (Frontier)
Sunspire baking chocolate (SunSpire)
If you have a sweet tooth that just won't quit (even after these unbelievable Kit Kat bars), you'll love our Paleo Sweets cookbook! You'll get 70 delicious and nutritious desserts that you'd swear came from your local bakery. Bake your family mouth-watering brownies, whip up decadent cakes and churn out creamy dairy-free ice creams. Get your FREE copy HERE (just pay for shipping)!