Craving something sweet? You'll love this simple Paleo Snickers Bar, made with coconut butter, coconut caramel, crunchy chopped nuts, and delicious dark chocolate.
Sometimes, you just want a piece of candy. But traditional confections are full of refined sugars and grains. But, by making easy ingredient swaps and using nutrient-dense foods like coconut butter and dates, you can make your own Paleo-friendly candy!
I know you're probably thinking that making candy sounds like a ton of work. Good news: When you get rid of refined sugars, you also get rid of the need for crazy food colorings and weird flavorings you can't buy anywhere. And you don't have to boil white sugar on your stove for what seems like an eternity. Making homemade candy just got a lot easier!
Love Coconut Flour Recipes? Then you'll love our FREE Coconut Flour Recipes.
Click here to get your FREE copy of our delicious Coconut Flour Recipes!
This simple recipe requires just a few ingredients, a food processor, and a glass baking dish. That's it! The layers of these mock Snickers bars are made by simply blending some whole-food-based ingredients together and chilling them in the freezer. The recipe makes twelve "fun-size" candy bars, so one batch will go a long way. They're the perfect after-lunch, after-dinner, or whenever-you-feel-like-treating-yourself sweet!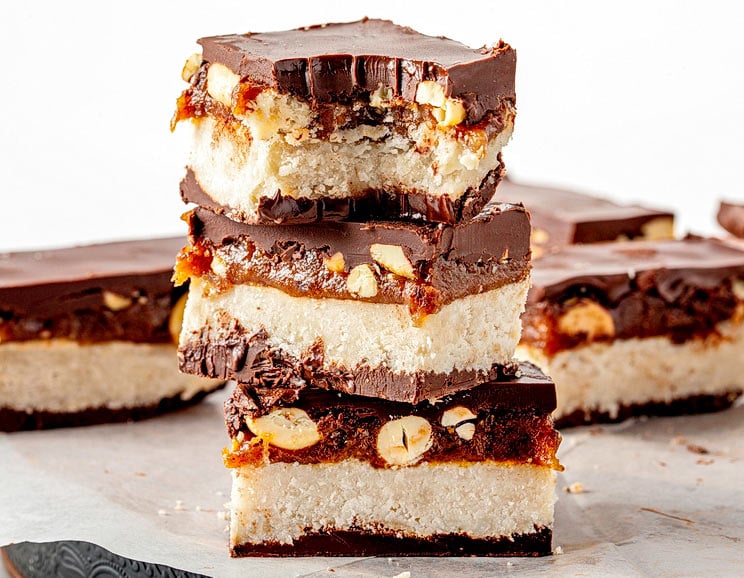 How To Make Coconut Caramel
Making caramel can seem daunting, but it's actually quite easy if you are careful and work quickly. When melting the coconut sugar, keep a close eye on the edges and make sure that the temperature is not too hot (set it to medium). As soon as the coconut sugar has melted, remove it from the heat and whisk in the coconut cream. Keep whisking until the mixture stops bubbling, and stir in the salt. Make sure that the mixture has cooled for at least 10 minutes before you pour it over the set nougat layer.
Helpful Tips To Get Started:
Swap the almonds for chopped nuts of your choice. The wonderful thing about this recipe is that you can be creative. If you don't have almonds, you can use any other chopped nuts instead!
Be patient with cooling times. To get beautiful layers, it's important to allow each layer to cool completely. Chill times vary depending on the fridge, so be sure to check that each layer has firmed up and set properly before you add the next one.
Use a hot knife to slice the bars. To prevent the chocolate from cracking, use a hot knife when slicing. You can heat the knife in hot water, but be sure to dry it off before using it to slice the bars.
PaleoHacks Team
Paleo Snickers Bar Recipe

Inactive Time:
1 hr 40 mins
1 hour 40 minutes
Cook Time:
15 mins
15 minutes
Prep Time:
20 mins
20 minutes
Nutrition facts:
10 grams of protein
38 grams of carbohydrates
41 grams of fat
522 calories
Paleo Snickers Bar Recipe
You'll love this simple Paleo Snickers Bar, made with coconut butter, coconut caramel, crunchy chopped nuts, and delicious dark chocolate.
Tools
9-by-12-inch baking dish

Baking paper to line the baking dish + extra for rolling

Rolling pin

1 medium mixing bowl

1 small saucepan
Ingredients
Base Layer:
1½ cups almond flour

½ cup cacao powder

1 t baking powder

1 egg

2 T maple syrup

1 t vanilla

2 T coconut oil
Nougat Layer:
¾ cup raw cashews, soaked in hot water for 30 minutes

⅓ cup coconut butter

⅓ cup coconut cream

2 T maple syrup

2 T coconut oil

¼ cup coconut flour

½ cup almonds, roughly chopped
Caramel Layer:
1 cup coconut sugar

1 cup full fat coconut cream - the thick white top

¼ t salt
Chocolate Coating:
¼ cup coconut oil

200g unsweetened dark chocolate

1 T maple syrup
Instructions
Line a 9-by-12-inch tray with baking paper and preheat the oven to 320°F.

To Make the Base Layer: Combine the almond flour, cacao powder, and baking powder.

Stir in the egg, maple syrup, vanilla, and coconut oil and mix into a dough. Chill the dough in the fridge for 10 minutes.

Place the dough on a piece of baking paper and place another piece of baking paper on top. Use a rolling pin to roll out the dough to ¼-inch thick.

Place the rolled out dough into the prepared dish and trim the edges. Bake in the oven for 10–15 minutes. Remove and allow to cool completely.

To Create the Nougat Layer: Drain and rinse the cashews. Add the cashews, coconut butter, coconut cream, maple syrup, and coconut oil to a food processor.

Blend on high until completely smooth. Finally, add in the coconut flour and blend to combine. Spread the nougat onto the cooled base and then press in the chopped almonds on top.

Chill in the fridge to firm up while you make the caramel.

To Make the Caramel: Add the coconut sugar into a small saucepan and heat on medium for 4–5 minutes until it starts to melt - make sure that it doesn't burn on the sides.

Remove from the heat and quickly whisk in the coconut cream. Whisk continually until it stops bubbling. Stir in the salt.

Allow to cool for 10 minutes, then pour over the top of the nougat, and allow to set in the fridge for 30 minutes.

To Make the Chocolate Layer: Combine the coconut oil, chocolate, and maple syrup in a glass bowl and heat over a saucepan of water until melted and smooth.

Allow the chocolate to cool for 5 minutes then pour over the top of the caramel layer. Set in the fridge for at least 1 hour or overnight. Use a hot knife to cut into bars so that the chocolate doesn't break.
Looking for Paleo ingredients? Here are a few we'd recommend:
Almond flour (Anthony's)
Raw cacao powder (Healthworks)
Baking powder (Hain)
Vanilla extract (Frontier)
Cold pressed coconut oil (Viva Naturals)
Raw cashews (Terrasoul Superfoods)
Coconut butter (Artisana)
Coconut cream (Native Forest)
Coconut flour (Anthony's)
Raw almonds (NOW Foods)
Sugar-free dark chocolate chips (Pascha)
If you just can't get enough of these candy bars, you'll love the healthy treats in our Paleo Sweets cookbook! You'll get 70 delicious and nutritious desserts that you'd swear came from your local bakery. Mix up mouth-watering brownies, whip up decadent cakes and churn out creamy dairy-free ice creams. Get your FREE copy HERE (just pay for shipping)!