Who doesn't love a good candy bar? These Paleo Milky Way bars are especially delicious thanks to their soft marshmallow insides and gooey caramel.
Unfortunately, regular candy bars are full of high-fructose corn syrup, hydrogenated oils, and their chocolate has very little real cacao in it. So, have fun in the kitchen and make your own candy bars instead!
The marshmallows in these Paleo Milky Way Bars are made with gut-healing gelatin and are sweetened with just little bit of maple syrup. The "caramel" is made with nutritious almond butter and coconut cream.
Love Paleo Desserts? Then you'll love our FREE Paleo Dessert Cookbook.
Click here to get your FREE copy of our delicious Dessert Recipes!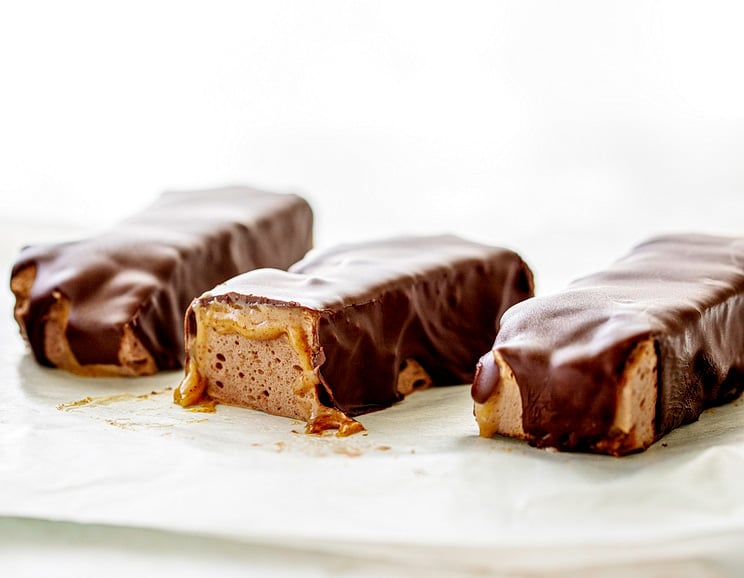 Tip: The darker chocolate you use on top, the more antioxidants you'll get from it. Find one that doesn't have milk fat, added oils, or soy lecithin it it. It's best to use chocolate that's at least 70 percent cacao, but you can go as high as 90 percent and the finished treat will still be amazing.
If you prefer a lighter caramel flavor, you can swap the maple syrup with honey. Also, since there are no preservatives or stabilizers to keep these bars fresh, make sure you keep them chilled in the refrigerator.
This recipe would make a wonderful weekend project with the kids. It takes a bit of elbow grease, but it's definitely a very rewarding (and tasty!) endeavor.
Heather Resler
Paleo Milky Way Bars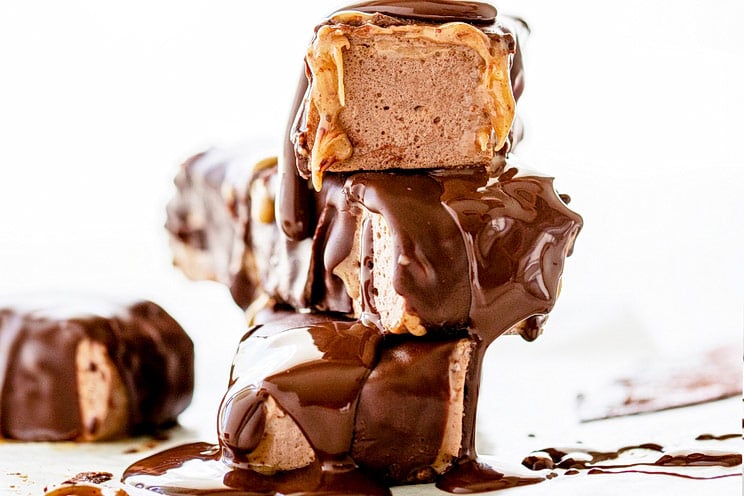 Cook Time:
40 mins
40 minutes
Prep Time:
20 mins
20 minutes
Nutrition facts:
13 grams of protein
38 grams of carbohydrates
30 grams of fat
Paleo Milky Way Bars
Ditch the refined sugar and trade-up your Milky Way Bars with this Paleo version instead.
Tools
Metal mixing bowl

Small saucepan

Hand mixer

Loaf pan

Cookie sheet
Ingredients
1/4 cup coconut cream

3 T unflavored grass-fed beef gelatin

2 T + 1/2 cup pure maple syrup

2 T cacao powder

1/4 cup creamy almond butter

1/2 cup + 6 T water

1/4 t salt

1/2 cup chopped dark chocolate, melted
Instructions
Marshmallows: In a large metal mixing bowl, stir together the ½ cup water and gelatin and let sit 10 minutes.

Meanwhile, combine the 6 tablespoons water, 2 tablespoons maple syrup, and cacao powder in a small saucepan. Bring to a boil.

Use a hand mixer to beat the hot liquid into the gelatin mixture. Keep beating on highest speed for about 10 minutes. The goal is to beat as much air as possible into the mixture before the gelatin starts to set. (If you don't get enough air beaten in, the mixture will be chocolate jello!) Beat until peaks start to form. Don't over-beat or it will set up too quickly.

Working quickly, spread the mixture evenly in a standard-sized loaf pan and pop it in the freezer to set up (don't let the marshmallows freeze).

Now Make the Caramel: In a small saucepan, combine the 1/2 cup maple syrup, almond butter, coconut cream, and salt. Simmer for 10-15 minutes, stirring occasionally. Let cool most of the way.

Cut the marshmallows into squares about the size of a fun-size candy bar. Place them about 1/2 inch apart on a cookie sheet or large plate. Spoon a dollop of caramel onto each square (you might have a little leftover caramel, never a bad thing). Place in the freezer for 10 minutes.

Now drizzle chocolate over. You want the chocolate to run down the sides to encase the caramel. It might be a little messy, that's ok. Freeze until set.
Looking for Paleo ingredients? Here are a few we'd recommend:
Coconut cream (Native Forest)
Unflavored grass-fed gelatin (Great Lakes)
Raw cacao powder (Healthworks)
Almond butter (Barney)
Sunspire baking chocolate (SunSpire)