For this chocolate tart recipe, think crisp, buttery shortbread cookies with a hint of coconut. Add to that a decadent, impossibly creamy chocolate pudding filling. Do we have your attention?
This tart gets its start with a super simple, versatile shortbread crust that comes together in minutes. Then comes the chocolate pudding filling: Alone, it's a delicious pudding worthy of a quick dessert any night of the week. But pour it into the tart and patiently let it set in the fridge? You've got a dessert worthy of any potluck – Paleo or otherwise.
The best part: With natural sweeteners, antioxidant-rich cocoa powder and cinnamon, the healthy fats of coconut oil and gluten-free, Paleo-friendly flours, it's a completely guilt-free treat.
Love Paleo Desserts? Then you'll love our FREE Paleo Dessert Cookbook.
Click here to get your FREE copy of our delicious Dessert Recipes!
If you've ever made pudding from scratch before, you'll recognize the cooking process. Don't be alarmed: Heating and stirring helps thicken the mixture. While typical puddings call for corn starch, this recipe subs in Paleo-friendly tapioca starch, which thickens the filling in a pinch. Pureed coconut milk and bananas lend the pudding its luscious mouthfeel while the bananas and a little maple syrup sweeten the pudding just enough. Chocolate and cinnamon impart its rich, slightly spicy flavor.
This tart keeps it simple, topped only with a dusting of extra cocoa powder and cinnamon. Nobody will judge you if you get fancy with it, though. We suggest layering it with bananas and coconut like a chocolate version of banana cream tart, or with strawberries and a whipped coconut cream for a more berry-oriented iteration.
Finally, this tart is simple to make, but takes a pretty long sabbatical in the fridge to set properly. If you absolutely can't wait 3 hours, send it to the freezer for half the time. Or, if you're really impatient, serve it parfait style with the shortbread crust crumbled over the top, fruit obligatory.
Coutney Hamilton
Buttery Paleo Chocolate Tart Recipe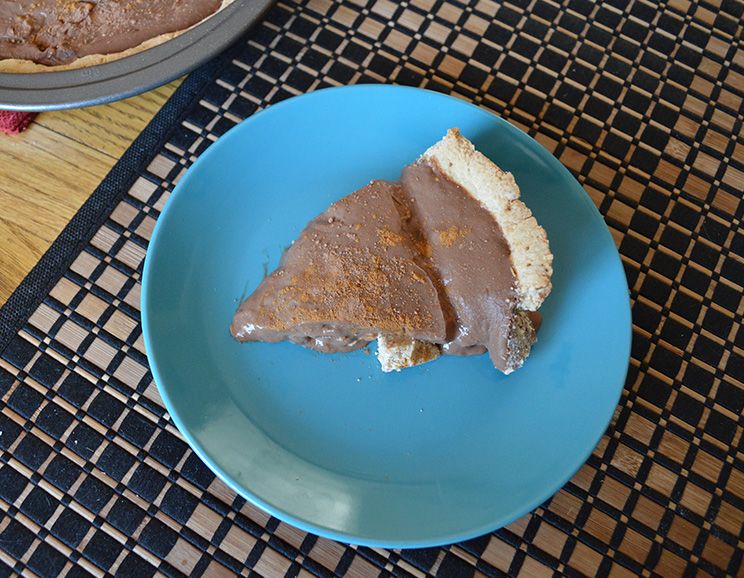 Cook Time:
3 hrs 45 mins
3 hours 45 minutes
Prep Time:
15 mins
15 minutes
Buttery Paleo Chocolate Tart Recipe
This chocolate tart hits all the dessert checkboxes: a shortbread cookie-like crust, a deep chocolate flavor, and a rich, creamy texture.
Tools
Large Mixing Bowl

Whisk

Fork or Pastry Cutter

Round Pie or Tart Pan

Large Saucepan
Ingredients
¼ cup coconut sugar

½ cup + 1 T coconut oil, divided

1 egg

1 ¾ cups tapioca flour, divided

½ cup coconut flour

3 very ripe bananas

1/3 cup raw cacao powder

1 can full-fat coconut milk

2 T maple syrup

Cinnamon to taste
Instructions
Preheat oven to 375°F. In a bowl, whisk together coconut sugar, egg, and ½ cup coconut oil.

Add in 1 ½ cups tapioca flour and coconut flour. With a fork or a pastry cutter, incorporate dry ingredients into wet. When you have small, crumbly balls of flour combined with the wet mixture, use your hands to form dough into a ball.

Grease a round pie or tart pan with coconut oil. Spread dough evenly throughout pan, forming a tart shape. Bake tart for 15 minutes.

While tart bakes, combine bananas, cocoa powder, coconut milk, 1 tbsp. coconut oil, maple syrup and cinnamon in a food processer. Blend until smooth.

Transfer filling into a large saucepan. Bring filling to a boil, stirring frequently. In a small cup or bowl, whisk water into ¼ cup tapioca flour to make a slurry. Stir slurry into filling. It will thicken instantly. You'll be left with a pudding-like filling.

Transfer filling to a bowl and allow it to cool for at least 15 minutes. Pour filling into tart and refrigerate for at least three hours, up to overnight. (If you're impatient, freeze it for no longer than an hour and half.) Sprinkle with extra cocoa powder and cinnamon and serve.
Looking for Paleo ingredients? Here's what we recommend:
Coconut Flour (Native)
Cold Pressed Coconut Oil (Viva Naturals)
Raw Cacao Powder (Healthworks)
Coconut Milk (Native Forest)
(You'll Also Love: Rustic Pumpkin Pie Pop-Tarts)