These healthy Dark Chocolate Raspberry Scones are naturally sweetened and a breeze to make!
Made from a base of coconut flour and eggs, these protein-packed raspberry scones are dairy-free and gluten-free. Just eight wholesome ingredients make these scones thick and dense—just like your favorite coffee shop treat. Each bite packs fresh, tart raspberries and melt-in-your-mouth dark-chocolatey goodness. It's the perfect treat to satisfy your sweet tooth!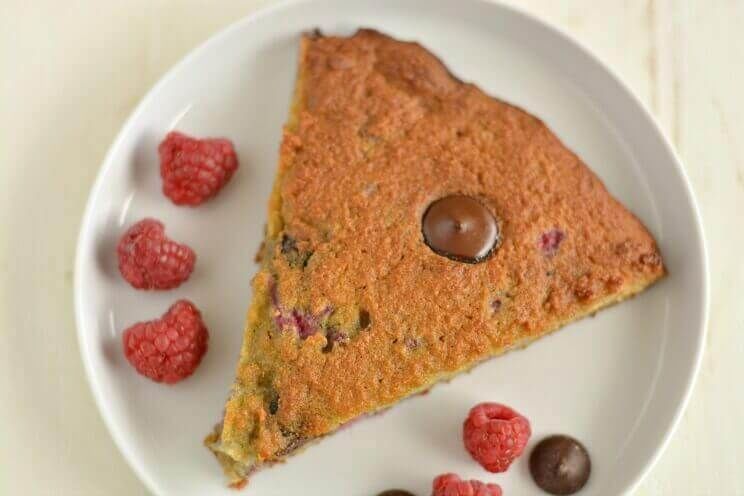 These scones come together in less than 10 minutes—by separately mixing the wet and dry ingredients, then folding them together. Next, the batter gets poured into a baking sheet and sliced into triangles.
Love Paleo Desserts? Then you'll love our FREE Paleo Dessert Cookbook. Click here to get it!
They're perfect for a Paleo-friendly breakfast or snack—or anytime you're craving something sweet. PS: Feel free to swap the raspberries with blueberries, which pair just as well with the dark chocolate.
Megan Olson
Dark Chocolate Raspberry Scones Recipe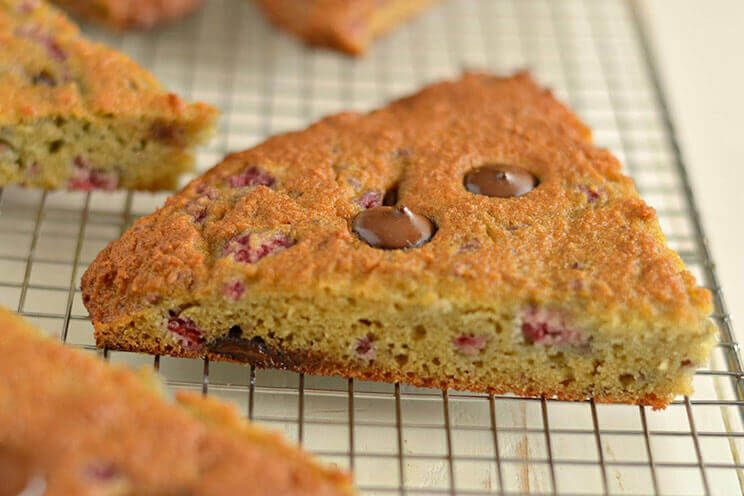 Cook Time:
25 mins
25 minutes
Prep Time:
10 mins
10 minutes
Dark Chocolate Raspberry Scones Recipe
These healthy Dark Chocolate Raspberry Scones are naturally sweetened and a breeze to make!
Ingredients
8 large eggs

½ cup honey

½ cup melted coconut oil

1 cup coconut flour

½ t baking powder

¼ t salt

½ cup fresh raspberries

¼ cup dark chocolate baking chips
Instructions
Preheat the oven to 350°F. Prepare a baking sheet, lined with parchment paper.

In a small bowl, sift the coconut flour, baking powder, and salt.

In a separate larger bowl, whisk together the eggs and honey.

Slowly add the flour mixture to the bowl with the wet ingredients—one tablespoon at a time, until fully incorporated into the batter.

Next, fold in the melted coconut oil. Adding it last will prevent it from hardening throughout the batter. It will be a bit runny. Keep stirring until the batter reaches a sponge-like consistency.

Gently fold in the raspberries and dark chocolate, breaking up the raspberries a bit throughout the batter.

Pour the batter into the prepared baking sheet, spreading it into an even layer. Using a knife, slice the batter into triangles. You do not need to separate them; it simply creates a line in the batter. Then you can slice it again once baked, without cracking the scones.

Bake 25 minutes or until the edges are brown—and until a toothpick inserted in the middle comes out clean.

Remove from the oven, and immediately slice along the pre-cut lines. Cool for 5 minutes by transferring each scone to a wire rack.

Serve while still warm.
Tip: Try topping the scones with maple syrup, coconut cream, or a drizzle of melted dark chocolate!

(You'll Also Love: Almond Butter Cup Cookies Recipe)