This melt-in-your-mouth shortbread cookie recipe bakes grain-free cookies in the oven before dipping in rich, dark chocolate and sprinkling with sea salt.
Made with just nine ingredients, these grain-free cookies come loaded with healthy fats and zero refined oil or sugar. After mixing together the ingredients, simply pop them in the oven for about 15 minutes and they're ready to eat! For extra decadence, dip them in melted dark chocolate and garnish with sea salt.
Love Paleo Desserts? Then you'll love our FREE Paleo Dessert Cookbook. Click here to get it!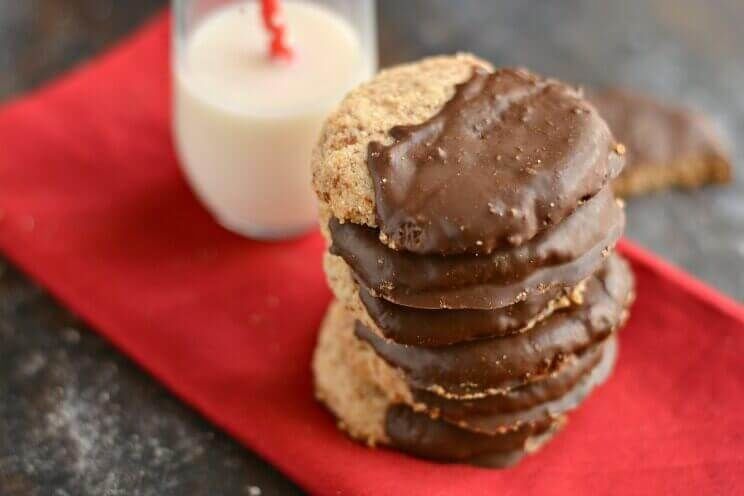 P.S. Forming the dough into cookies is a bit tricky since the texture is crumbly. A simple trick to make it easier to mold is to store the dough in the fridge for 20 minutes to harden.
To keep your cookies fresh, store them in the refrigerator in an airtight container with parchment paper in between each cookie. This prevents the chocolate from sticking together and keeps them just as delicious as the day they were made.
Megan Olson
Dark Chocolate-Dipped Shortbread Cookie Recipe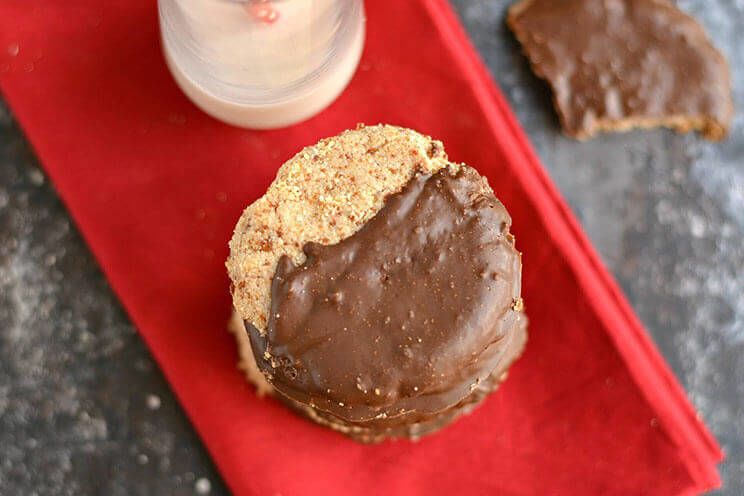 Cook Time:
15 mins
15 minutes
Prep Time:
15 mins
15 minutes
Dark Chocolate-Dipped Shortbread Cookie Recipe
Made with just nine ingredients, these grain-free cookies are loaded with healthy fat and dipped in dark chocolate for extra decadence!
Ingredients
5 oz. dark chocolate baking chips

½ t melted coconut oil

¼ cup coconut sugar

½ cup melted coconut oil

1 t vanilla extract

2 cups almond flour

¼ cup tapioca flour

¼ t baking soda

Sea salt for topping
Instructions
Preheat oven to 325°F. Prepare a baking sheet with parchment paper.

In a small bowl, whisk together melted coconut oil and vanilla extract. Set aside.

In a larger bowl, sift together almond flour, tapioca flour, baking soda and coconut sugar until ingredients are evenly combined.

In the dry ingredients bowl, form a well and pour in the wet ingredients. Slowly stir to combine and form into a ball. Dough will be sticky.

Place in refrigerator for 20 minutes to harden.

Remove from refrigerator and drop 2 tablespoons of batter onto the baking sheet. Flatten batter to form into a cookie. Repeat until all the batter is gone.

Bake for 15 minutes or until edges are slightly browned.

Remove from oven and keep cookies on baking sheet to cool.

While cookies are cooling, place dark chocolate baking chips and coconut oil in a small bowl fitted over a pot of boiling water. Once water is boiling, stir chocolate chips until completely melted. Turn off stove.

Dip cookies halfway in the chocolate, return to baking sheet and sprinkle with sea salt. Place cookies in the refrigerator for 30 minutes to harden before enjoying.


(You'll Also Love: Coconut Flour Shortbread Cookies)