Whip up these bite-sized flavor bombs with a trifecta of coconut, dark chocolate, and peppermint.
Shredded coconut and almond flour come together to make perfectly moist and chewy macaroons. Their natural sweetness is enhanced by a refreshing peppermint dark chocolate coating.
With just a handful of ingredients and less than an hour, you can enjoy these Paleo coconut macaroons.
Love Almond Flour Recipes? Then you'll love our FREE Almond Flour Recipes.
Click here to get your FREE copy of our delicious Almond Flour Recipes!
Whisk, Don't Whip
A lot of times when we're dealing with egg whites, we're whipping them until we see peaks. This is not one of those recipes.
Your goal with whisking the eggs is simply to get them a bit frothy and incorporate the maple syrup. This should take less than a minute.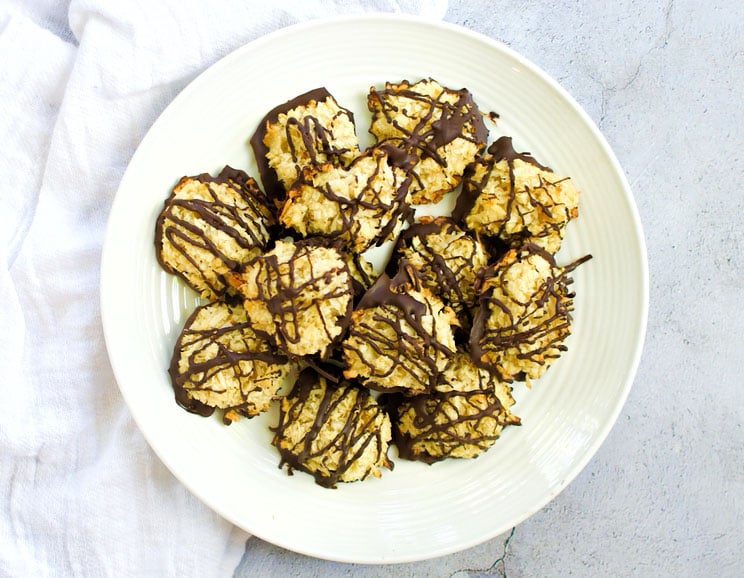 Get Messy
These cookies are not meant to be perfect. In fact, the messier the better. Every little "imperfect" piece of shredded coconut sticking out of the cookie is an opportunity for toasty deliciousness.
The same goes for the chocolate drizzle, have fun with it!
Helpful Tips To Get You Started:
Drizzle with your whisk. Your whisk is the perfect tool to drizzle the remaining chocolate over the tops of your macaroons. Just twirl it around in the chocolate and then move in a back-and-forth motion over the cookies.
Speed up the cool down. If you're feeling impatient, pop the cookies in the refrigerator so that the chocolate sets faster.
Danielle Moore
Dark Chocolate Peppermint Coconut Macaroons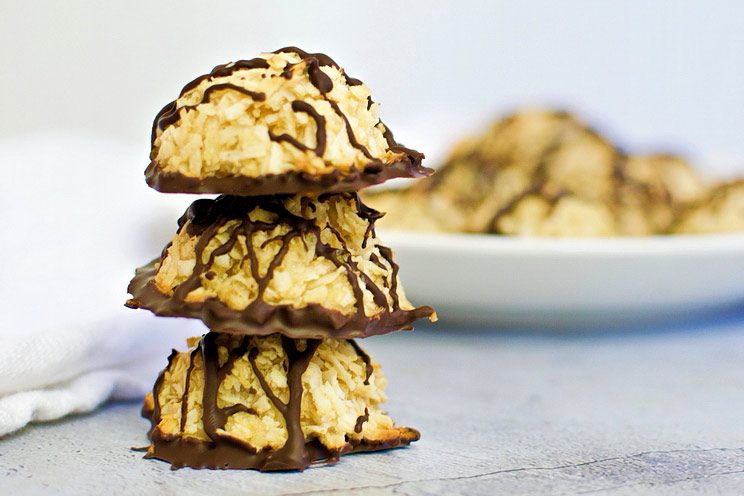 Inactive Time:
20 mins
20 minutes
Cook Time:
22 mins
22 minutes
Prep Time:
15 mins
15 minutes
Nutrition facts:
4 grams of protein
8 grams of carbohydrates
9 grams of fat
Dark Chocolate Peppermint Coconut Macaroons
Whip up these bite-sized flavor bombs with a trifecta of coconut, dark chocolate, and peppermint.
Tools
Baking sheet

Parchment paper

Large mixing bowl

Wire rack

Double boiler
Ingredients
2 room temperature egg whites

3 T maple syrup

2 T almond flour

1¼ cup unsweetened shredded coconut

1/3 cup dark chocolate chips

1/2 t peppermint extract
Instructions
Preheat oven to 325°F. Line a baking sheet with parchment paper and set aside.

In a large mixing bowl, whisk the egg whites and maple syrup for 1 minute, until frothy.

Add the almond flour and the shredded coconut. Mix with a rubber spatula until combined.

Use a tablespoon to scoop out mixture onto the prepared baking sheet to make 16 macaroons.

Bake for 18 to 20 minutes, until golden.

Carefully transfer from the pan to a wire rack to cool slightly.

In a double boiler, melt the chocolate chips with peppermint extract.

Lay out a fresh sheet of parchment paper. Carefully dip the bottom of each macaroon in the melted chocolate, then place on the prepared parchment paper.

Drizzle the top of each cookie with the remaining chocolate. Cool until the chocolate is set.
Looking for Paleo ingredients? Here are a few we'd recommend:
Almond flour (Hodgson Mill)
Semi-sweet chocolate chips (Enjoy Life)
Peppermint extract (Flavorganics)

Want more quick, tasty desserts? Whip up these hazelnut meringue cloud cookies or these red velvet crinkle cookies.