Soft and creamy on the inside with crisp chocolate on the outside, peppermint patties are a classic treat.
Unfortunately, the type that you can purchase at the store are full of refined sugar and industrial seed oils, not to mention that the typical chocolate bar contains dairy and soy.
Luckily, peppermint patties are extremely easy to make at home, and you can control the ingredients! This recipe for Paleo Peppermint Patties is made with high-quality dark chocolate, coconut butter, and maple syrup. No refined ingredients here, just lots of healthy fats and great flavor!
Love Paleo Desserts? Then you'll love our FREE Paleo Dessert Cookbook.
Click here to get your FREE copy of our delicious Dessert Recipes!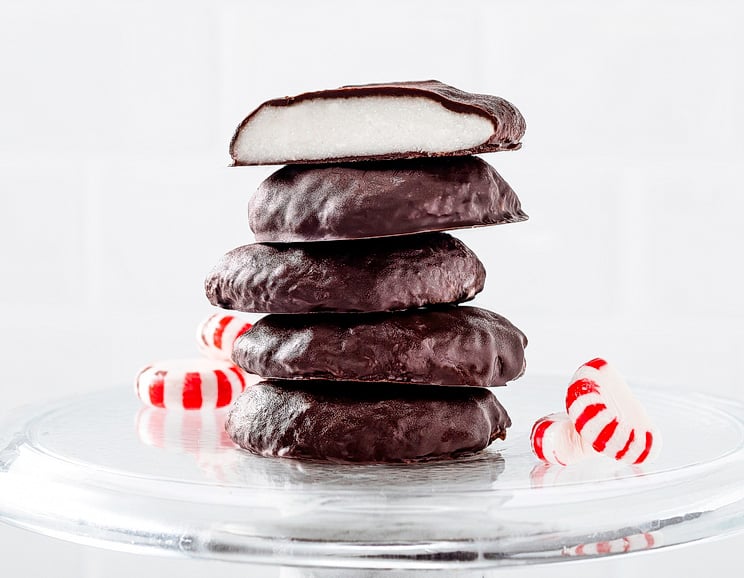 The coconut butter used in this recipe is often sold as "coconut manna". It's different from coconut oil because it still contains the coconut fiber. Think of coconut butter as a coconut version of almond butter. It's used in this recipe because coconut oil would melt much too easily. You can make your own coconut butter by processing 2 cups of unsweetened coconut flakes in a food processor until they turn buttery.
If you don't want to use peppermint extract, you could use a bit of food-grade peppermint oil, although you'll want to start with a smaller amount since peppermint oil is stronger. Tip: Some people prefer their peppermint patties less sweet, and some like them more sweet. Taste the filling as you're making it to ensure that's it's to your liking.
These peppermint patties need to be stored in the refrigerator to keep them firm.
Heather Resler
Paleo Peppermint Patties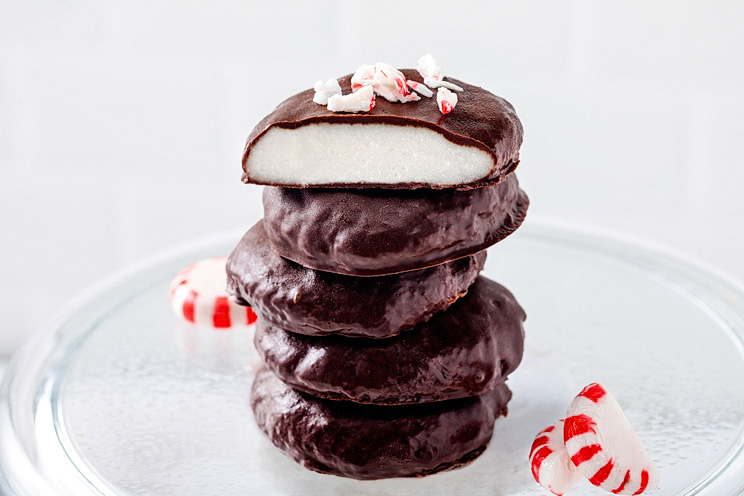 Inactive Time:
15 mins
15 minutes
Cook Time:
5 mins
5 minutes
Prep Time:
15 mins
15 minutes
Nutrition facts:
1 grams of protein
6 grams of carbohydrates
15 grams of fat
Paleo Peppermint Patties
Soft and creamy on the inside with crisp chocolate on the outside, peppermint patties are a classic treat.
Tools
Medium mixing bowl

Small saucepan

Baking sheet
Ingredients
½ cup coconut butter, softened

⅓ cup coconut cream

2 T coconut oil, melted

2-4 T maple syrup

½ t peppermint extract

¾ cup chopped dark chocolate
Instructions
In a medium-sized mixing bowl, combine coconut butter, coconut cream, coconut oil, maple syrup, and peppermint extract and mix well.

Form heaping tablespoons of mixture into little balls and flatten them out a bit. Freeze for 10 minutes, or until firm.

Meanwhile, melt the chocolate in a small saucepan over low heat. Remove from heat.

One by one, drop the peppermint patties into the melted chocolate and flip them with a spoon so they get completely coated in chocolate. Quickly remove from the chocolate onto the baking sheet.

Once all of the patties are coated in chocolate, freeze them for 5 minutes to firm up.

Enjoy and store the leftovers in an airtight container in the refrigerator.
Looking for Paleo ingredients? Here are a few we'd recommend:
Coconut butter (Artisana)
Coconut cream (Native Forest)
Cold pressed coconut oil (Viva Naturals)
Peppermint extract (Flavorganics)
Keto & Paleo chocolate chips (sugar free) (Lily's Stevia Sweetened)