Elevate your mornings with this delicious stack of Honey Lemon Coconut Pancakes!
Dressed in a touch of lemon and honey instead of typical maple syrup, these lightly sweet pancakes are full of citrusy flavor that'll have you coming back for more.
All you need to do is whisk together seven ingredients in a large mixing bowl before scooping the batter onto a hot skillet. When assembling the batter, be sure to sift your coconut flour and measure it properly by spooning it into a measuring cup. This ensures you get the right amount needed for the recipe. Coconut flour is super absorbent, so it's important to get the quantity just right!
Love Paleo Breakfasts? Then you'll love our FREE Paleo Breakfast Recipes.
Click here to get your FREE copy of our delicious Breakfast Recipes!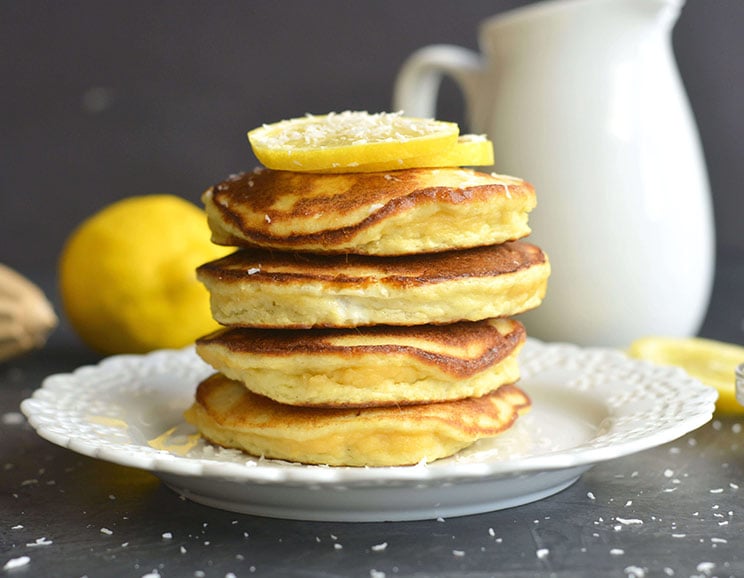 The batter will be thick, but this is what makes these pancakes fluffy! Since coconut flour pancakes won't spread like traditional ones, be sure to shape the batter into a round shape with a spatula and press the batter down slightly when you first place it on the hot skillet. This helps it cook smooth and evenly.
It will take slightly longer for these pancakes to cook compared to pancakes made with traditional flours. When you see the batter start to bubble (about 5 minutes), you know it's time to carefully flip. Cook another 4-5 minutes on the other side, or until nice and golden brown.
Serve your sweet and decadent honey lemon pancakes with more freshly squeezed lemon juice and a sprinkle of shredded coconut. Pair them with protein-rich bacon and eggs for the ultimate sweet and savory breakfast!
Megan Olson
Honey Lemon Coconut Paleo Pancakes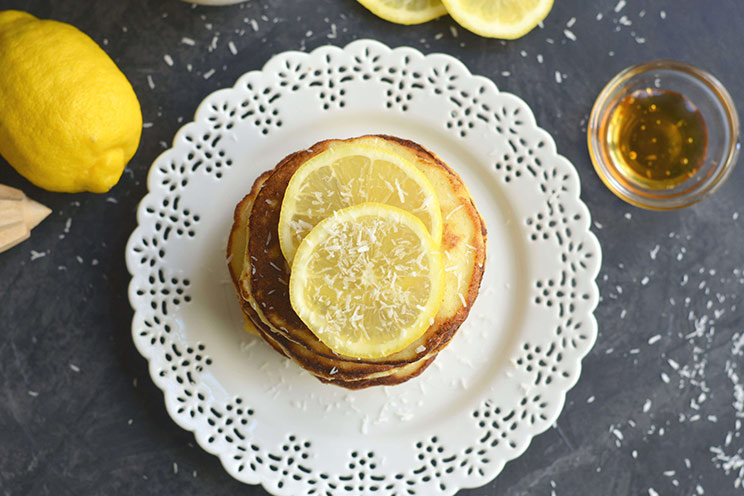 Cook Time:
15 mins
15 minutes
Prep Time:
10 mins
10 minutes
Honey Lemon Coconut Paleo Pancakes
Elevate your mornings with this delicious stack of Honey Lemon Coconut Pancakes!
Tools
Large skillet

Mixing bowl

Blender
Ingredients
Coconut oil, for frying

1 1/3 cups coconut flour

8 large eggs

1 cup unsweetened, non-dairy milk

1 T raw honey

2 T unsweetened coconut flakes

2 T freshly squeezed lemon juice

½ t baking soda
Instructions
Preheat a large skillet to medium heat and grease with coconut oil.

Add all the ingredients in a mixing bowl and combine until smooth.

Scoop out ¼ cup of the batter and add to the preheated skillet. Form into a circle with a spatula. Cook 5-6 minutes, then flip and cook another 4-5 minutes.

Repeat for the remaining batter.

Serve topped with lemon juice, coconut flakes, and raw honey.
Looking for Paleo ingredients? Here are a few we'd recommend:
Cold pressed coconut oil (Viva Naturals)
Coconut flour (Nutiva)
Coconut milk (Native Forest)
Raw honey (Bee Farms)

(You'll Also Love: 20 Mix-Ins to Instantly Upgrade Your Pancakes)