Top this dreamy Paleo Cinnamon Raisin Bread with your favorite Paleo topping for a healthy breakfast or dessert!
Waking up to a hearty loaf of gluten-free bread is every breakfast lover's dream. Especially when it's filled with all-natural raisins on the inside and cinnamon crisp coating on the outside. Every bite is bursting with warm sweet flavors, without the need of refined sugars or carb-heavy grains.
Made with nine ingredients, this recipe has an almond flour base that's packed with fatty acids for better heart health. It uses maple syrup and cinnamon for natural sweetness and rivals most traditional raisin bread recipes.
Love Almond Flour Recipes? Then you'll love our FREE Almond Flour Recipes.
Click here to get your FREE copy of our delicious Almond Flour Recipes!
Tip: Sift the almond flour before measuring to ensure you get a light and fluffy texture. Like many grain-free flours, almond flour has a tendency to clump together as it sits in your pantry.
Cinnamon is a wonderful way to sweeten foods and can naturally lower sugar (great for diabetics and those with metabolic issues) while increasing antioxidants. It's an easy, everyday spice that protects against blood clotting and can even help improve your memory.
To get started, combine all ingredients (except for the raisins) into a food processor and pulse. Blend on high until smooth. Next, transfer the batter to a mixing bowl and fold in the raisins, using a spatula. Pour the batter into a prepared loaf pan lined with parchment paper. Then, place in the oven to bake for 40-45 minutes, or until an inserted toothpick comes out clean.
When finished, remove loaf from the oven and let it cool in the pan for 15 minutes before handling. Take the bread out of the pan and transfer to a wire rack. Let it set for an additional 20 minutes. Pair your cinnamon raisin bread warm with homemade ghee on top.
Megan Olson
Paleo Cinnamon Raisin Bread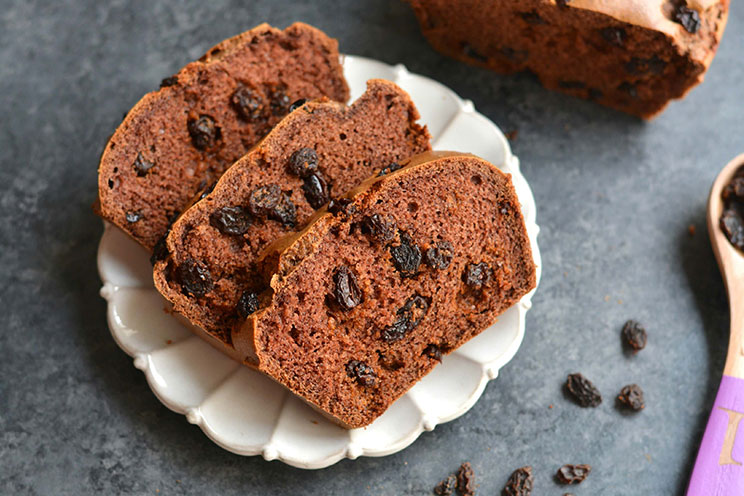 Inactive Time:
35 mins
35 minutes
Cook Time:
40 mins
40 minutes
Prep Time:
10 mins
10 minutes
Paleo Cinnamon Raisin Bread
Top this dreamy Paleo Cinnamon Raisin Bread with your favorite Paleo topping for a healthy breakfast or dessert.
Tools
9"x5" loaf pan

Parchment paper

Medium mixing bowl

Food processor
Ingredients
5 large eggs, room temperature

¼ cup maple syrup

¼ cup coconut oil, melted

1 t vanilla extract

2 cups almond flour

2 T ground cinnamon

1 t baking soda

¼ t sea salt

½ cup raisins
Instructions
Preheat oven to 350°F and line a loaf pan with parchment paper.

Place all the ingredients (except raisins) into a food processor and process on high, until smooth.

Transfer the batter to a medium mixing bowl and fold in the raisins using a spatula.

Place the batter in the prepared bread pan and smooth into an even layer.

Bake for 40-45 minutes or until a toothpick can be inserted into the center clean.

Remove from the oven and cool in the loaf pan for 15 minutes.

Remove the bread from the pan and place onto a wire cooling rack to cool for another 20 minutes.

Cut into 12 slices and serve immediately. Refrigerate leftovers in an airtight container for up to seven days or 30 days in the freezer.
Looking for Paleo ingredients? Here are a few we'd recommend:
Cold pressed coconut oil (Viva Naturals)
Vanilla extract (Frontier)
Almond flour (Hodgson Mill)
Ground cinnamon (Simply Organic)
Baking soda (Bob's Red Mill)
Sea salt (REDMOND)
(You'll Also Love: Fresh Strawberry Bread Recipe
)