If you're a fan of broccoli soup, you'll love this veggie-packed, "cheesy" broccoli bread!
Hearty and flavorful, a side of this cheesy bread is exactly what your dinner table needs! Grain-free, nut-free and 100% Paleo, all you need is six ingredients to make it.
Broccoli rice makes the base of this recipe. Yes, it's just like the cauliflower kind, just in broccoli form! To make it, simply toss fresh broccoli florets into a high-speed blender and pulse until it resembles the texture of rice. Tip: You can add a half teaspoon of water to the blender to prevent it from sticking to the sides of the blender.
Love Coconut Flour Recipes? Then you'll love our FREE Coconut Flour Recipes.
Click here to get your FREE copy of our delicious Coconut Flour Recipes!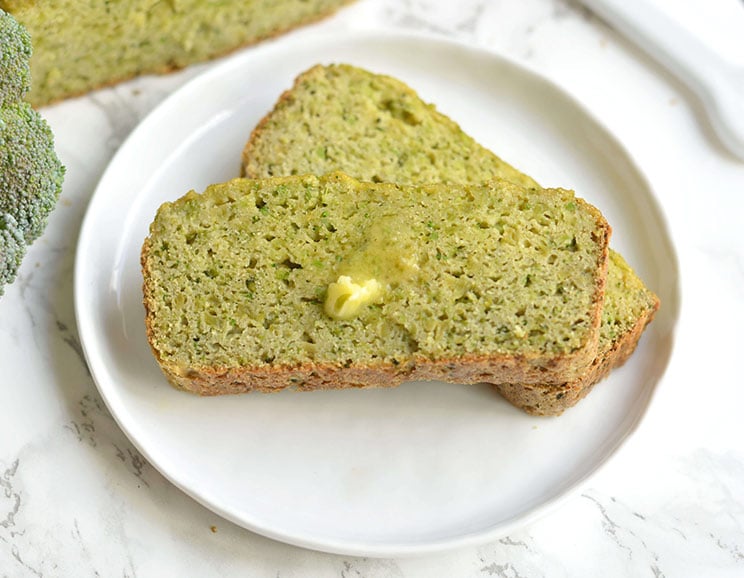 Since cheese always goes so well with broccoli, we added nutritional yeast for a touch of "cheesy" flavor. It's perfect for keeping this recipe dairy-free!
Tip: Be sure to measure the coconut flour properly by spooning the flour into a measuring cup. Scooping directly from the measuring cup may yield almost double the amount (since this method usually packs in the flour tightly), resulting in dry bread. Measuring coconut flour properly ensures the bread will come out super soft, fluffy and moist!
Use a standing mixer to make prepping this bread super easy. Simply mix the riced broccoli with eggs, apple cider vinegar, nutritional yeast, tapioca powder and the measured coconut flour until well combined. Then, pour the mixture into a parchment paper lined baking pan and bake for 35 minutes!
Serve this Paleo broccoli bread as a side dish at dinner, grab it for a quick breakfast on the go, or even use it to make healthy sandwiches!
Megan Olson
Paleo 'Cheesy' Broccoli Bread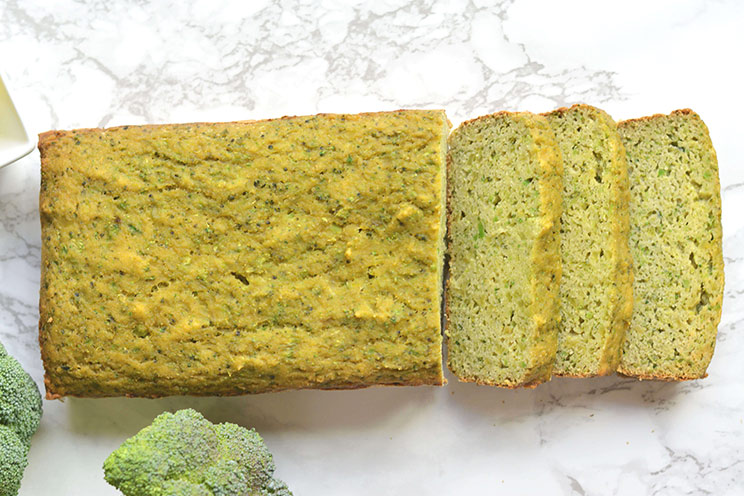 Cook Time:
35 mins
35 minutes
Prep Time:
15 mins
15 minutes
Paleo 'Cheesy' Broccoli Bread
If you're a fan of broccoli soup, you'll love this veggie-packed broccoli and "cheese" bread.
Tools
9"x 5" Baking pan

Parchment paper

Blender

Standing mixer or large bowl
Ingredients
¾ cup broccoli, riced

5 large eggs, room temperature

1 T apple cider vinegar

⅓ cup + 2 T coconut flour

⅛ cup tapioca powder

2 T nutritional yeast

⅛ t sea salt
Instructions
Preheat the oven to 350°F. Line a 9"x 5" baking pan with parchment paper.

Place the broccoli in a blender and pulse until it resembles rice.

In a standing mixer or large bowl, whisk together the eggs, apple cider vinegar and broccoli rice.

Add the coconut flour, tapioca flour, nutritional yeast and salt and mix until combined.

Transfer the mixture to the prepared baking pan and bake for 35 minutes, or until the edges are browned and a toothpick can be inserted from the center clean.
Watch the Recipe Video Below!

Looking for Paleo ingredients? Here are a few we'd recommend:
Apple Cider Vinegar (Bragg)
Coconut flour (Nutiva)
Nutritional yeast (Sari Foods Co)
You'll Also Love: This Cranberry Orange Bread Is Deliciously Grain-Free

Eat cinnamon apple-crusted doughnuts… zesty lemon scones… and even breakfast chili all while staying healthy with the Paleo diet!
Enjoy 101 delicious Paleo
Breakfast recipes that melt fat, fight inflammation, and keep
you healthy
Enjoy 101 delicious Paleo
Breakfast recipes that melt
fat, fight inflammation, and
keep you healthy