Everyone likes a good party, right? I know I do. Besides getting to spend time with people whose company I genuinely enjoy, I really like parties because of the food. Not just any food though—party food. Like these honey lime chicken skewers!
While these chicken skewers could be served at a family dinner, they're also a great party food option. Case in point: I had friends over last weekend and served them this chicken. While our get together was hardly a party, I thought the skewers were very appropriate. Thankfully, they agreed. Not only did they agree, but they kept asking "What's on this chicken?" "MMM…what is this dipping sauce?" Both are good questions to be asked when you've just whipped up dinner, unless asked with a disgusted tone, which never of these were (thankfully).
I told them honey and lime and then proceeded to discuss how much I adore the combination. Honey and lime go together like PB&J—perfectly.
Trying to figure out exactly what to eat on Paleo? Look no further than our FREE 21 Day Paleo Meal Plan Click here to get your copy!
The other key ingredient that makes these perfect is the dipping sauce! Specifically, the avocado. In my opinion, avocado makes everything better because it makes everything creamier. Who doesn't want a creamy dipping sauce? I know I do.
So whether you're planning a party or just looking for a fun family dinner, these chicken skewers are sure to please your taste buds!
Erin Druga
Honey Lime Chicken Skewers with Avocado Dipping Sauce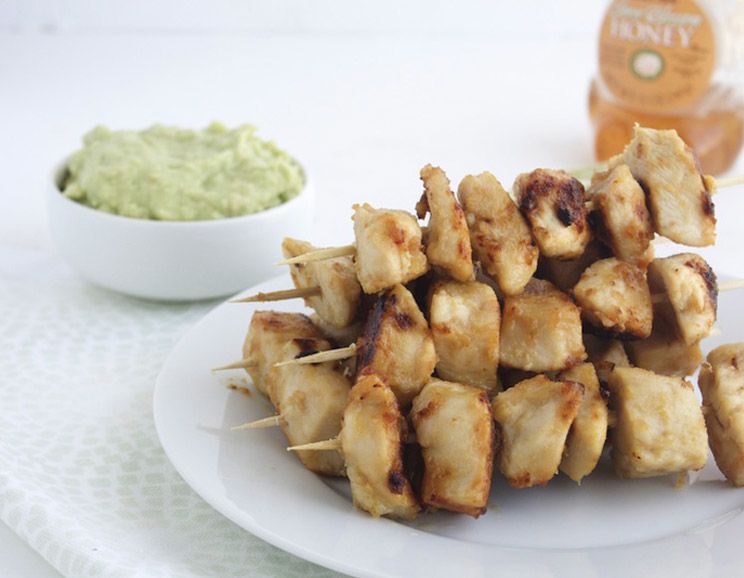 Cook Time:
15 mins
15 minutes
Prep Time:
5 mins
5 minutes
Honey Lime Chicken Skewers with Avocado Dipping Sauce
These chicken skewers are a great party food option!
Ingredients
3 organic chicken breasts

2 T olive oil

¼ cup honey

2 garlic cloves, minced

Juice from 1 lime

2 ripe avocados

¼ cup coconut cream

Juice from ½ lime
Instructions
Cut up chicken into bite-size cubes.

Heat olive oil in a skillet and place chicken in skillet. Once pink is no longer showing, add honey, garlic and lime juice to the chicken.

While chicken is cooking, make the dipping sauce. Do so by smashing the avocado in a bowl with a fork.

Add coconut cream and lime juice to the avocado and mix with an electric mixer until creamy and smooth.

Once the chicken is cooked, remove from heat.

Once it's a bit cooler, put chicken cubes on skewers.

Serve with avocado dipping sauce.
Enjoy with a side of crispy garlic Brussels sprouts!
Watch the Recipe Video Below!

(You'll Also Love: Spicy Honey "Soy" Chicken Skewers)