This Paleo rainbow bread recipe will brighten you up any day of the week. Once sliced, you'll get a stunning pattern of colors using the natural pigments found in fruits and vegetables.
The Internet is full of colorful recipes, from brightly dyed cookies and cupcakes to bread and frosting. Most of the time, these bright colors are achieved using artificial dyes and food colorings. With a little time in the kitchen, you can create your own natural food dye to use in your favorite recipes.
The Paleo bread for this recipe is very versatile and can be used to make sandwiches or French toast, or can simply be toasted with a pad of grass-fed butter. The top of the bread bakes up crisp while the inside stays soft and chewy. This recipe starts off with the dough as a base, adding extra tapioca starch when dying the dough to keep the texture elastic without making it loose. Patience is key when making this rainbow bread because there are many moving parts. Although this is a quick baking bread, it does require time to prep the dyes and incorporate them into the dough. Your hard work will pay off with a beautiful bread you can show off. No two rainbow breads are the same, making this a fun recipe for kids to help make.
Want to go Paleo? Not sure where to start?
Start with this FREE Paleo For Beginners Guide Today!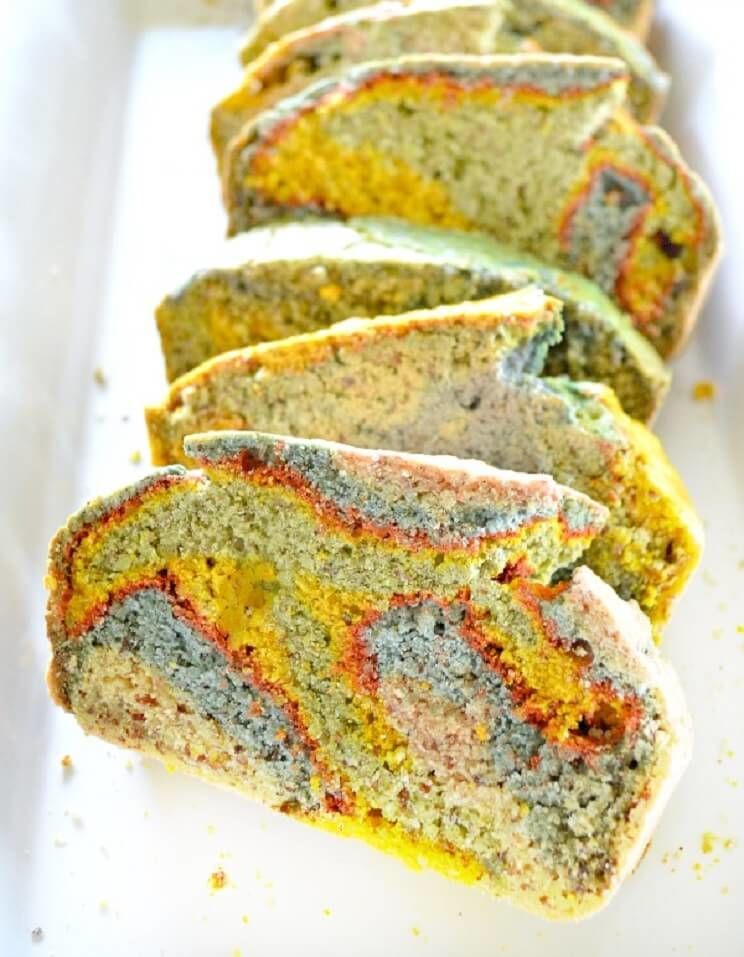 If you're into food science, you will get a kick out of creating these natural dyes. I quickly found out when creating this recipe that when baking soda or baking powder is added to purple dye, it turns blue. So although blueberries and cabbage make purple dye, they will both turn a different shade of blue once they are in contact with baking soda or powder. Once all the dyes are cooled, they are slowly added to individual portions of the dough to create layers. These layers are gently rolled into a log and placed into the baking pan. As the bread bakes, some of the colors will change slightly. This is a natural part of the process. After the bread cools, you can slice it and witness the swirls of color even Rainbow Brite would be proud of.
Jennafer Ashley
Paleo Rainbow Bread

Cook Time:
35 mins
35 minutes
Prep Time:
45 mins
45 minutes
Paleo Rainbow Bread
Once sliced, this Paleo bread displays a rainbow of colors using the natural pigments found in fruits and vegetables.
Ingredients
2 cups + 1/4 cup tapioca starch

1/2 cup extra tapioca starch

1 cup almond meal

3 eggs

1.5 t baking powder

1/2 t sea salt

2/3 cup water

5 colored dyes (recipes below)
Instructions
In a large mixing bowl, combine 2¼ cups tapioca starch, almond meal, baking soda and sea salt. Stir and break up any clumps.

In the center of flour mixture, add eggs. Mix with a fork.

Gradually add water. It is better to keep dough on the dry side as you will be adding extra liquid when adding the dye. Use hands to knead dough into a large ball.

Divide dough into five equal balls in separate bowls.

In each bowl, add a small amount of one color of dye (dye recipes below). Work dye into dough, adding dye as you go to achieve desired color. Use extra 1/2 cup tapioca starch to add in case dye makes dough too loose.

Preheat oven to 350ºF and spray a bread pan with non-stick spray.

Roll out each dyed dough on top of one another. Dough should spread but not be runny. Gently roll dough into a log. Place into baking pan. Dough will spread in pan. Bake 30-35 minutes.

Allow to cool 15 minutes before slicing.
Jennafer Ashley
Paleo Rainbow Bread Dyes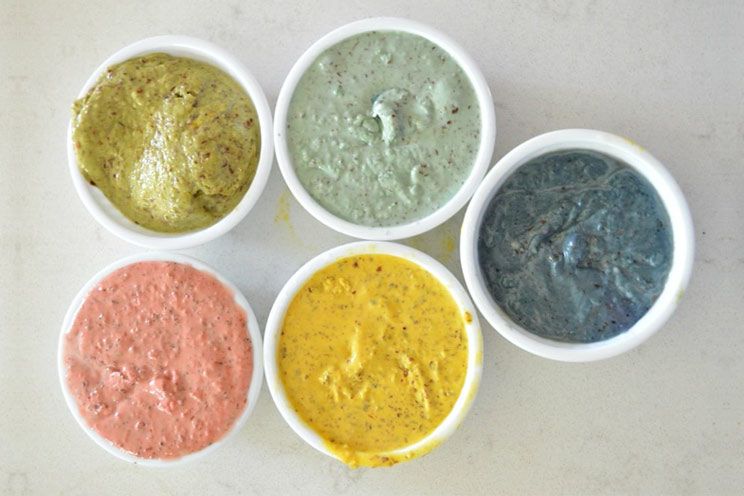 Cook Time:
20 mins
20 minutes
Prep Time:
20 mins
20 minutes
Serves:
5 jars colored dyes
Paleo Rainbow Bread Dyes
Use these natural dyes to add color to the Paleo Rainbow Bread.
Ingredients
1/2 cup blueberries

About 3 cups water, divided

1 cup purple cabbage

1/4 t baking soda

1 t matcha powder

1 t turmeric

1 medium beet, quartered
Instructions
For Mint Green Dye:

Place blueberries in a saucepan with 1/2 cup water. Bring to a boil.

Mash blueberries with fork. Reduce heat and simmer 20 minutes.

Strain liquid into a jar. Cool completely.

For Blue/Teal Dye:

Combine 2/3 cups water and cabbage in a saucepan over low heat. Bring to a boil. Simmer 20 minutes.

Strain liquid into a jar. Stir in baking soda to achieve blue color. Cool completely.

For Green Dye:

Mix matcha powder and 2 T hot water. Allow to cool completely.

For Yellow Dye:

Mix turmeric and 2 T hot water. Cool completely.

For Red/Pink Dye:

Place quarter beets in 1 cup water. Cover and bring to a boil over low heat. Simmer 20 minutes.

Strain liquid into a jar. Cool completely.

(You'll Also Love: Coconut Flour Bread Recipe)